Nearly free for life: T-Mobile clarifies its 200MB monthly data offer for tablets
Financing makes it a little different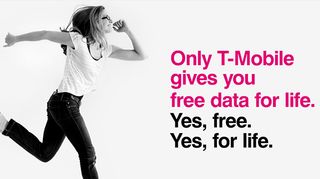 T-Mobile shook things up when it offered 200MB of monthly data for free for the iPad Air and iPad mini 2 with Retina display, and did it again when it extended the deal to all tablets - new and old.
There was just one tiny problem with that: a glitch in the company's system indicated that customers would be charged a less-than-reasonable $10 a month.
That "executional error" has been fixed and the US carrier insisted this week that it isn't pulling the old switcheroo, reaffirming on its website that T-Mo tablets get a modicum of free data for the life of the device.
"You can buy a tablet from us, or bring your own device. Either way, you will get 200MB free data for the time you own the device and use it on our network."
T-Mobile promised to credit any customer who was erroneously charged a fee and reiterated that the small amount of monthly data is free going forward.
Charge on
If you decided to finance your tablet, things get a little more complicated because you're paying for the device over the course of several months with an Equipment Installation Plan, or EIP.
"As with our smartphones, there are conditions that apply to EIP financing," explained T-Mobile.
"Well-qualified new customers can finance their tablet if they establish a paying service agreement with us on the tablet, with plans starting at $20 per month."
The plan works a little bit differently for current subscribers.
"Existing T-Mobile voice customers who are on a postpaid plan can also get $0 down financing for their tablet, even if don't take a paid plan on the tablet."
The carrier stated that all of this is optional, as you can always buy the tablet outright from T-Mobile, the device maker or a third party and automatically receive 200MB of free monthly data.
That pesky $10 SIM card kit fee
There is a $10 fee that T-Mobile isn't erroneously charging customers. It's the $10 SIM card kit fee that's a one-time occurrence.
The carrier reminded customers that it's not specific to tablets and that rivals AT&T, Verizon and Sprint have pricier (as much as $36) activation fees.
"It is a one-time purchase of a SIM card kit instead of a much higher activation fee (that our competitors charge) to get your device readied to work on the T-Mobile network."
The "legacy elements" in T-Mobile's system and training activities are said to be the source of the erroneous $10/month confusion.
That's a small price to pay, the company pointed out, when you "can send approximately 800 Instagram photos, more than 2,500 emails or stream 200 minutes of music - all for free."
Sign up to receive daily breaking news, reviews, opinion, analysis, deals and more from the world of tech.