New high-end OLED TVs have a secret weapon, and it makes a massive difference
Companies aren't talking about the new reflection-busting tech, but they should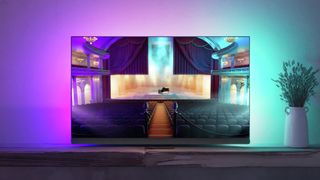 (Image credit: Philips / TP Vision)
I just had the chance to see the Philips OLED+908, which is the latest high-end OLED TV announced by Philips as part of its new range, and uses the new next-gen OLED panel from LG Display that includes Micro Lens Array tech for improving brightness, as well as a brightness-boosting algorithm called META.
We already knew about these parts of the OLED screens, partly because we've already seen the technology in the Panasonic MZ2000 and, unofficially, in the LG G3 OLED. (I say 'unofficially' because it's effectively an open secret, but LG Electronics won't confirm on the record that it's using this panel in the G3. However, it's the only thing that makes logical and technical sense, and I've spoken to people in the industry about it who are certain this is the case.)
However, what no one had mentioned to me until I spoke with Philips is that there's a third part to the new next-gen OLED panel – and seeing this in action is what really blew me away when checking out the new TV.
The third part is a new polarizer known as 'Vanta Black', and it makes a huge difference to how strongly the TV reflects light. In comparison to the Philips OLED+907, which launched at the end of 2022, reflections on the new panel look about half as bright to me.
There seems to be an even more dramatic roll-off of reflectivity when things get darker – at one point, I stepped from light into a shadow while looking at my reflection, and I disappeared completely. It's not just that I went darker – I couldn't see myself at all.
And this has been achieved without using a matte finish, or any other techniques that tend to limit brightness. In fact, as mentioned above, the brightness has been improved in a way that's immediately visible.
Whites pop a lot more from the Philips OLED+908, even when compared to the Philips OLED+907, which is available now, and uses the most advanced OLED panel that was available last year. It's the same with colors – they're more vibrant and more realistic at the same time (though the new Philips TV also has a new processor, which may contribute to that).
What this means is that you're getting a brightness double-whammy from the new OLED panels – they deliver objectively brighter pictures from the higher light output, but also subjectively brighter pictures, because in a light room, the picture will be less washed out by reflections.
The relatively low brightness of OLED compared to Full Array LED (previously) or mini-LED (currently) has been its Achilles heel if you need to watch in bright rooms – whether that's having lots of lights on yourself that might reflect in it, or because you're watching during the daytime. While we happily rate OLEDs among the best TVs, they come with that caveat.
What I've seen from the Philips OLED+908 could be a game-changer here, and as I mentioned above, the tech isn't unique to Philips; it's in the Panasonic MZ2000, it's in the LG G3, and it could come to many more TVs.
But that's not likely right away, because being a new high-end OLED panel means it's more expensive. You won't find this tech in the more affordable LG C3 – but after only a short time with it, I'm wishing hard that it could be in more of the best OLED TVs.
My hope for next year is that even if LG Display (which is the only producer of this kind of OLED TV screen) can't make the high-brightness tech cheap enough to work in more affordable TVs, it will still bring this new polarizer to its cheaper panels.
When I tried the LG C3 at CES, I noted that it looks barely distinguishable from the currently available LG C2. If this anti-reflection tech could be added to mid-range OLEDs, they'd get a great picture quality upgrade, even if their own brightness doesn't change.
With Samsung's QD-OLED technology chasing down regular OLED, this is exactly the kind of innovation the older tech needs to survive – but it'll have to become more accessible.
Sign up for Black Friday email alerts!
Get the hottest deals available in your inbox plus news, reviews, opinion, analysis and more from the TechRadar team.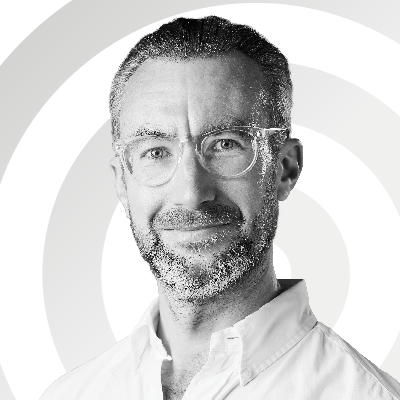 Managing Editor, Entertainment
Matt is TechRadar's Managing Editor for Entertainment, meaning he's in charge of persuading our team of writers and reviewers to watch the latest TV shows and movies on gorgeous TVs and listen to fantastic speakers and headphones. It's a tough task, as you can imagine. Matt has over a decade of experience in tech publishing, and previously ran the TV & audio coverage for our colleagues at T3.com, and before that he edited T3 magazine. During his career, he's also contributed to places as varied as Creative Bloq, PC Gamer, PetsRadar, MacLife, and Edge. TV and movie nerdism is his speciality, and he goes to the cinema three times a week. He's always happy to explain the virtues of Dolby Vision over a drink, but he might need to use props, like he's explaining the offside rule.