Philips' new OLED TVs might actually dethrone LG as the best gaming TV
Or there's big brightness for movie lovers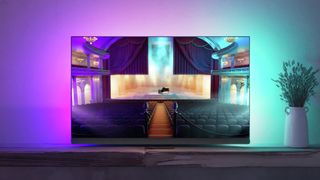 (Image credit: Philips / TP Vision)
Philips has just announced its latest generation of OLED TVs, featuring two new models: the Philips OLED808, which has been upgraded to be a gaming powerhouse and comes in a new 42-inch size; and the high-end Philips OLED+908 (pictured above), which promises groundbreaking brightness to match the best OLED TVs coming this year.
These TVs share an upgrade to their image processor, with the Philips P5 7th generation included in all three TVs. The new processor has a big focus on real-time adjustments to the image based on ambient lighting conditions, including adjusting the colour temperature of the screen based on the colour of the lighting in your room. This is the same principle as Apple's True Tone tech used in products such as the iPad Pro 12.9-inch (2022) and the MacBook Pro 16-inch (2023) – and I'm a huge fan of it there. The idea is to make sure that white on the TV looks like white in the room around you, easing eye-strain. There are also improvements to the detail processing in the new chip.
Aside from the new processor these TVs also share a big upgrade to their gaming features compared to previous Philips OLED models, adding a seriously comprehensive checklist of gaming-friendly tech, including becoming only the second set of TVs to offer Dolby Vision gaming in 4K 120Hz outside of LG's range. This used to be a feather in LG's cap when it came to Xbox Series X gaming in particular, but now Philips has truly crashed the (LAN) party.
On top of the Dolby Vision upgrade, you've got support for every key flavour of Variable Refresh Rate tech (including the HDMI 2.1 default, AMD FreeSync Premium, and Nvidia G-Sync), plus Auto Low Latency Mode.
This all basically matches what you get from LG TVs, and is more features than you get from Samsung or Sony, so we could be looking at new options for anyone looking for the best gaming TVs here. The big question is whether Philips will include more than two HDMI 2.1 ports – this hasn't been confirmed yet.
The thing that might put Philips's sets above LG's if they have mostly the same features is Philips' extremely unsecret weapon: Ambilight. LEDs around the frames of these TVs shine coloured light matching what's on-screen onto the walls around the TV, giving the picture an even bigger and more epic feel.
I've used Ambilight, and while it sounds gimmicky, it's genuinely fantastic, and it's not something you want to give up once you've tried. It works with games as well as movies, and is what could push these TVs over the edge for gamers, who famously love anything with RGB lights (according the manufacturers of every PC gaming accessory ever).
Next-gen brightness
While the OLED808 get its most impactful upgrades from its gaming features, the OLED+908 gets a major screen technology upgrade that's going to interest home cinema nerds very much. It's using a new OLED panel that includes Micro Lens Array technology, which focuses the light from the pixels more directly towards you, wasting less of it, and delivering higher brightness levels.
Philips is claiming potential peak HDR brightness levels of 2,100 nits, which would be a huge upgrade on any OLED TV that's been released so far – and would be even better than the claimed brightness of the next-gen QD-OLED screen we're getting in the Samsung S95C, which blew us away at CES.
This new panel is essentially the same one that you'll find in the LG G3 (though LG refers to 'Light Control Architecture' rather than 'Micro Lens Array'), and the Panasonic MZ2000.
It'll be an interesting battle between the Philips and the two TVs mentioned above in 2023 – all use the same panel created by LG Display, but Philips has proven itself capable of eking seriously impressive brightness from the same OLED panels as everyone else using its processing, while Panasonic has been able to push brightness to class-leading levels using heat-management technology.
Now, I'm not expecting 2,100 nits to be anything typical from this TV – perhaps in its brightest mode in a tiny window. But if it can get even in the region of 1,500 nits in an accurate, movie-friendly mode, that would be ground-breaking.
Like the Panasonic MZ2000, Philips is also putting a focus on audio here, ensuring that the OLED+807 will be one of the best TVs for sound as well as being hot for visuals: the TV has a 3.1-channel sound system from Bowers & Wilkins at the bottom in a thin bar.
We expect the OLED808 to be available within the next few months, and the OLED+908 later in the year. There's no word on official pricing yet, but it's expected to be in line with last year's equivalent models from Philips, which you can find below.
Finally, sadly, these Philips OLED TVs still won't be available in the US – these will get launches in Europe and Australia certainly. Based on Philips' previous models, this will almost certainly rank among the best TVs available this year, and it's a huge shame that the US misses out on them.
Swipe to scroll horizontally
Philips OLED807 and OLED+907 launch prices

| | Philips OLED807 | Philips OLED+907 |
| --- | --- | --- |
| 48-inch | £1,199 | £1,799 |
| 55-inch | £1,299 | £1999 |
| 65-inch | £1,899 | £2,999 |
| 77-inch | £3,499 | N/A |
Get daily insight, inspiration and deals in your inbox
Get the hottest deals available in your inbox plus news, reviews, opinion, analysis and more from the TechRadar team.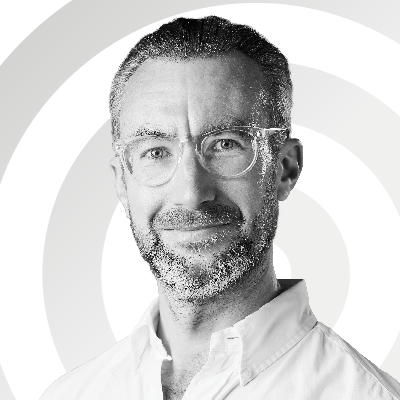 Managing Editor, Entertainment
Matt is TechRadar's Managing Editor for Entertainment, meaning he's in charge of persuading our team of writers and reviewers to watch the latest TV shows and movies on gorgeous TVs and listen to fantastic speakers and headphones. It's a tough task, as you can imagine. Matt has over a decade of experience in tech publishing, and previously ran the TV & audio coverage for our colleagues at T3.com, and before that he edited T3 magazine. During his career, he's also contributed to places as varied as Creative Bloq, PC Gamer, PetsRadar, MacLife, and Edge. TV and movie nerdism is his speciality, and he goes to the cinema three times a week. He's always happy to explain the virtues of Dolby Vision over a drink, but he might need to use props, like he's explaining the offside rule.