Experience portable gaming like never before with the best MSI gaming laptop. MSI's line of notebooks are among the cream of the crop when it comes to gaming, those at the top of the pile packing flagship internals to deliver unrivaled performance. With one of these on your desk, you can run any game you want no matter how graphically intensive.
We're not just talking about the premium models touting high-end CPUs and GPUs. MSI's gaming laptops lineup cover different types and budgets – from pricey ones that will tackle the best PC games without even breaking a sweat to those lighter on the pocketbook and are better suited for gaming at lower settings. Since MSI has so many options, the manufacturer will have something for all sorts of gamers.
Of course, there's still the matter of choosing what's ideal for you. That's where we come in. Whatever your needs are, we're to help you find the best MSI gaming laptop. Whether you want to play the newest Far Cry at the highest settings or you're looking for a budget option for casual gaming, there's something here for you.
There's this traditional image that many people have for gaming laptops: a thick brick of a device that you can't carry around in your backpack. And, while there are a couple MSI gaming laptops like that, the MSI GS65 Stealth is the exact opposite. Measuring just 1.16 inches thick and weighing 4.19 pounds, this laptop will let you take up to an Nvidia RTX 2080 on the road, without blowing your back out. It also helps that it's gorgeous: an all-black design with gold accents and RGB lighting. If you can afford it, you can't go wrong here.
Read the full review: MSI GS65 Stealth
Sometimes you just need a tank to get the job done. Sure, there are all kinds of gaming laptops out there that are thin and light and can get the job done. But, what if you're looking for something with a bit of extra juice? Well, the MSI GT75 Titan is the MSI gaming laptop for you. This beast features full-fat Nvidia RTX graphics and up to 32GB of RAM, meaning that no matter which game you're playing, nothing will slow you down. Even professional video editors will be smooth as butter, too, so you can record and edit your gaming highlights without breaking a sweat.
Read the full review: MSI GT75 Titan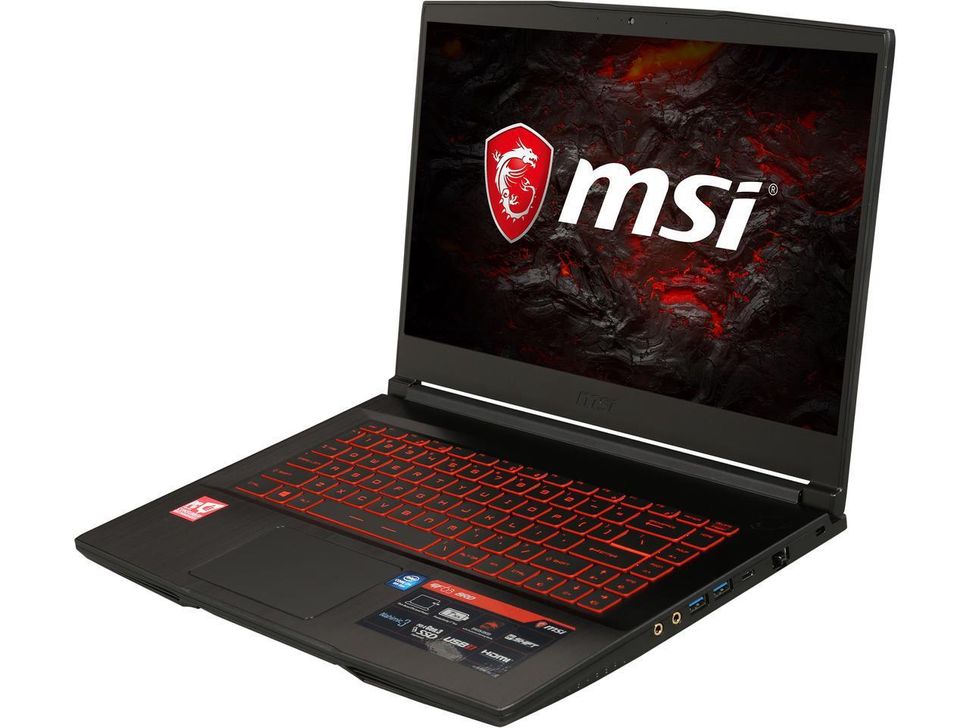 Gaming laptops, especially since Nvidia's RTX lineup hit the street, are more expensive than ever. Packing a thin and light package with powerful hardware gets expensive, so when we find an MSI gaming laptop that offers a prodigious value, we take note. The MSI GF63 isn't the most powerful laptop on the market, far from it, but with up to an Nvidia GeForce GTX 1050 Ti, you'll be able to get great frame rates in your favorite esports titles without paying a fortune. Add that to the attractive chassis and super-thin bezels and it's not hard to see why it's just a great buy. It doesn't come with an SSD out of the box, but with a screwdriver and 15 minutes of your time, you can fix that.
It's easy to find an MSI gaming laptop that really grabs your attention, the svelte design of the GS65 Stealth, the titanic performance of the GT75 Titan. However, sometimes finding something right down the middle is the best move. And, while we haven't reviewed the MSI GE75 Raider quite yet, the high-end specs should deliver comparable performance to a much thicker laptop without sacrificing portability. It's not quite "thin and light", but you should be able to carry it around. And, that space you're getting over something like the GS65 Stealth means you can upgrade it however you want – you can even fit two NVMe drives in there.
The 240Hz displays are trending these days, so if you've been looking to get on that bandwagon, there's no better than the MSI GS66 Stealth. One of the best MSI gaming laptops in 2020, this portable boasts a brilliant 240Hz screen and great internals, as well as impressive ergonomics and connectivity. It's battery life and cooling solution could be better, but that's hardly surprising considering all that power under the hood, starting with the Super RTX graphics cards it's rocking. Need to go higher than 240Hz? It's even got a staggering 300Hz refresh rate option.
Read the full review: MSI GS66 Stealth