New AOL Play app launches tomorrow exclusively for Kindle Fire
Better: The no-ad version will cost nothing on launch day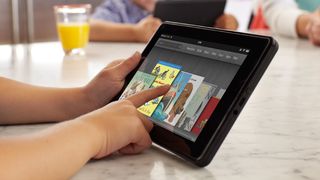 AOL has taken its Play music app for Android and iOS and completely redesigned it for tablets – well, technically, just one tablet, Amazon's Kindle Fire.
The app, available Wednesday, is the first such reconfiguring of the previously smartphone-only app, and it gives Kindle Fire users the ability to jam to their onboard music alongside a slew of social features that help them share what they're rocking or hunt down new music from Twitter and Facebook friends.
But why design up an exclusive version of the album cover-loving app for the 1024-by-600-resolution Kindle Fire instead of, say, any of the more popular tablets on the market right now?
"Because our Mobile Ninjas here at AOL love the heck out of the Fire and we love the way Play looks and feels on that glorious 7-inch screen," reads a blog post by AOL's Emily Hom, posted today.
'Play'-ing with Fire
Additional features built into Play include its "CD Listening Party" service, which gives users completely free albums to jam to – that change on a weekly basis, we note.
AOL's enthusiasm for streaming capabilities doesn't stop there, however, as the app also allow enthusiasts to tap into more than 55,000 Shoutcast radio stations.
"The Kindle Fire can't get much more awesome, but somehow we made beautiful babies together with PLAY," said AOL Mobile First Senior Director Sol Lipman in a statement. "It's the best social music experience on the Fire, and I say that because I'm only mostly unbiased."
How to play
The app's free for the Kindle Fire, but only if you don't mind having advertisements accompany your musical experience.
Those looking for a version of Play sans ads will have to pony up $0.99 for the paid version of the app.
However, Amazon will be offering the premium version of Play for the low cost of nothing as part of its daily app promotion Wednesday – snooze and lose, as the popular saying goes.
AOL's Play, released in July of last year, has been download more than one million times across its iOS and Android versions.
There's no word on when – or whether – AOL will be developing a tweaked version of Play for other tablets.
Sign up to receive daily breaking news, reviews, opinion, analysis, deals and more from the world of tech.