Long-awaited Surface 2 with 4G LTE coming to AT&T
In stores Tuesday, but not at Ma Bell locations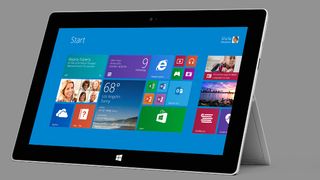 Microsoft is scratching off one more excuse for not buying its Windows tablet hardware with the introduction of an 4G LTE model that glides into US retail stores this week.
Microsoft and AT&T announced the launch of a new Surface 2 model that comes out-of-the-box with 4G LTE mobile broadband and 64GB of onboard storage. It's a sweet buy, but consumers won't find one at their local AT&T store.
Instead, the Surface 2 with 4G LTE) will be available tomorrow for $679 at Microsoft's own retail and online stores as well as Best Buy's website and brick-and-mortar retail locations.
The launch includes Best Buy Mobile outlets, but curiously leaves AT&T's own stores out of the mix for now. The carrier was more than happy to crow about being the first to provide LTE connectivity for what it called "the nation's premier Windows tablet."
No more tethering
The addition of built-in 4G LTE is likely to offer a significant boost in sales for Microsoft and the Surface 2, especially when the tablet can be added to an existing AT&T Mobile Share plan for $10 per month.
Powered by Windows RT 8.1, the Surface 2 already offers an enticing range of features including a 10.6-inch 1080p HD display and dual-position kickstand. Up until now, mobile broadband options have been limited to tethering from a smartphone.
The carrier also offers a range of pre-paid and post-paid options for customers without a current Mobile Share plan, priced at 250MB for $14.99 per month, 3GB for $30 per month or 5GB for $50 per month.
Surface 2 with 4G LTE buyers will also receive 200GB of free OneDrive storage for the first two years as well as Microsoft Office Home and Student RT and Outlook 2013 RT, which already comes built into each model.
Surface 2 may be great, but is it the best tablet? Find out in our roundup!
Sign up to receive daily breaking news, reviews, opinion, analysis, deals and more from the world of tech.