Los nuevos auriculares Apple AirPods X serán totalmente personalizables
Los Apple AirPods X tendrán piezas intercambiables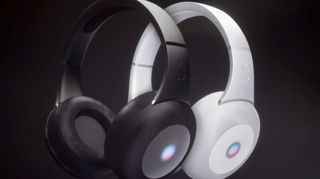 (Image credit: Curved)
Los nuevos Apple AirPods X serán auriculares con partes magnéticas que permitirán al usuario personalizarlos a su gusto, al estilo de los Apple Watch.
Por lo menos eso es lo que dice Bloomberg, citando fuentes internas de la compañía. Según este medio de comunicación, Apple ha desarrollado dos variantes de estos auriculares que tapan totalmente el oído.
La primera utiliza piel y materiales textiles, para que los amantes del audio de alta fidelidad puedan disfrutarlo en casa. La segunda, utiliza materiales más ligeros para aquello que quieran hacer deporte con este cacharro puesto en la cabeza.
Bloomberg afirma que la característica que diferenciará a los auriculares de Apple de los de la competencia a nivel estético será la manera en que el usuario podrá personalizarlos.
"Las almohadillas de las orejas y la diadema se adhieren al chasis de los auriculares con imanes para que el usuario los pueda reemplazar. Este mecanismo es similar a algunos de los modelos de Master & Dynamic y Bowers & Wilkins," dice Bloomberg, "pero esos modelos sólo pueden cambiar las almohadillas de las orejas." Según este medio de comunicación, el diseño de Apple es más modular y permitirá personalizar los AirPods X como si fuera un Apple Watch: El mismo auricular podrá convertirse de uno adaptado al comfort a otro para hacer deporte y viceversa, según sus fuentes.
Según Bloomberg, los auriculares saldrán a finales de año — aunque no hay que fiarse mucho porque en su día dijeron que iban a salir en 2019. Sin embargo, esta vez hemos podido ver unos supuestos iconos de los AirPods X en la beta de iOS 14, como mostró 9to5mac recientemente.
Unos auriculares diferentes a los de Beats
Aunque Apple ya tiene a Beats fabricando auriculares sobre la oreja, tiene sentido que Cook y sus mariachis se saquen unos de la chistera. Sobre todo unos que se diferencien claramente de los Beats gracias a estas opciones de personalización estética.
Lo primero, para capitalizar la atracción de la marca Apple. Sí, Beats es una marca popular pero, al lado de Apple — la marca más valiosa y reconocida del mundo — no son nadie. Y los auriculares de Beats — incluyendo sus propios competidores de los AirPods Pro — son una pulga comparados con la cuota de mercado de los AirPods, que se han convertido no sólo en sinónimo de los audífonos wireless sino también en el estándar de oro de toda la industria.
Luego está el hecho de que el mercado de los auriculares de gama media y alta es muy lucrativo. Apple hará una fortuna en este espacio, sobre todo cuando puede usar las experiencia de Beats y sus desarrollos.
Y finalmente tenemos el dato los últimos resultados financieros de Apple: sus ganancias han sido brutales en gran parte por el mercado de los wearables, especialmente los AirPods. Tiene sentido que Apple quiera expandir su presencia en esa categoría y seguir ordeñando a la vaca consumidora.
Por supuesto, todo esto es especulación y Apple podría no sacar este producto al mercado pero todo parece indicar que tendremos AirPods X — o como quiera Apple llamarlos — este mismo año.
Get daily insight, inspiration and deals in your inbox
Get the hottest deals available in your inbox plus news, reviews, opinion, analysis and more from the TechRadar team.