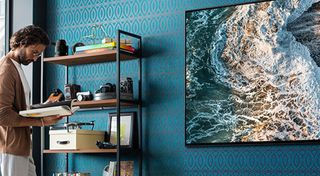 Power up the new Samsung QLED 8K TV and you may find yourself questioning reality. When your team scores a goal, you're right there in the stadium, celebrating amongst the riot of scarves and chants. When the building blows in the latest action film, you're pressed back against the sofa, practically feeling the heat. When a tropical fish flits by in a nature documentary, you'll reach out expecting it to brush your fingertips. You're no longer watching TV. You're living it.
Right now, the eyes of the tech world are on the headline-grabbing new Samsung QLED 8K. Amazingly, when you're not watching this TV, you'll barely notice it at all. With a sleek, clean design, no wire tangles and an Ambient Mode* that displays artwork or photos when not in use, this is a model that blends chameleon-like with your living space and décor. The Ambient Mode* will replicate the wall it is placed against to seamlessly blend in, and works like a standard television through the usage of your remote control. If you've followed the launch of the QLED 8K, you'll have heard about the mind-blowing 7680 x 4320 resolution (that's 33.2 million pixels in total – over four times the resolution of a 4K TV) and read the rave reviews from outlets like Forbes, who praised the "mesmerising impact on picture quality".
But none of that prepares you for a picture so sharp that your favourite films, sports and TV shows pull you deep inside. The DCI-P3 colour range – used by the movie industry to get the precise shade required – means billions of shades of colour, giving you glorious footage that captures the real world in all its vibrancy. Auto-correcting contrast can help tailor the brightness of tiny individual screen areas to suit your living room's lighting, so you can dive into the endless blackness of a space movie, even on a dazzlingly sunny day. And in case your other senses are getting jealous, the QLED 8K's sound engine analyses every scene as it happens, giving you tailored sound for everything from dialogue to detonations.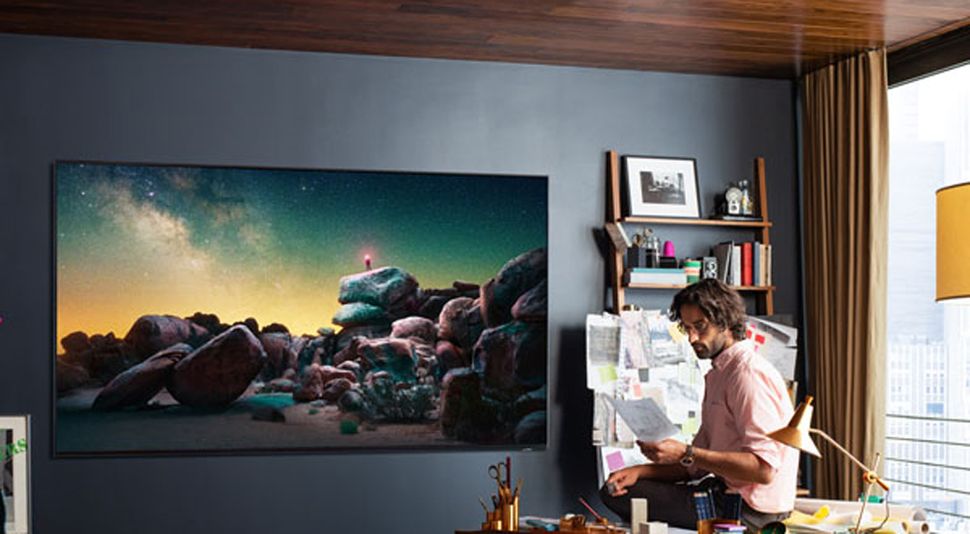 But the QLED 8K isn't just the greatest multi-sensory TV out there – it's also the brainiest. While it's adapting your viewing experience to suit the environment, this model is also learning your tastes and directing you to great content that you might have missed. And if you're concerned that your favourite shows (on Netflix and iPlayer, say) are in 4K, HD or even lower resolution, so won't benefit from the QLED 8K's breathtaking clarity – don't worry. That's where the Samsung's AI really goes to work, instantly upscaling the original video feed to 8K and optimising sound so even fuzzy heritage shows suddenly make you feel like you're right there on the set.
Nobody needs another average TV in their lives. But there's always room in your living room for an extraordinary one – and the Samsung QLED 8K is that and then some. The three models in the series are available now, with 24 months interest-free credit, at selected Currys PC World stores.
//Footnote//
Interest free credit offer ends 31/12. Future purchases until 30/10 at 19.9% APR representative. Subsequent future purchases from 31/10 at 24.9% APR representative. 18+. £99+. Credit subject to status. T&Cs apply. DSG Retail Limited is a credit broker for Creation Consumer Finance. Authorised and regulated by the Financial Conduct Authority.
* Requires compatible Android or IOS device. Results dependent on wall texture or colour
Sign up to receive daily breaking news, reviews, opinion, analysis, deals and more from the world of tech.