Editing photography is a key part of the creative process, allowing photographers to capture the moment and perfect the overall vision in post-editing - however, it's not always easy. Complex software already presents a huge learning curve, and using a mouse to navigate the many toolbars and menus is one thing - actually using one to edit is another.
That's where graphics tablets come in. Where previously graphics tablets, pen displays and other digital pen tools were designed with illustrators and artists in mind, increasingly professional photographers and enthusiasts alike are picking up these peripherals to use with photo editing software, thanks to the more natural creative flow granted by styluses.
If you're new to the scene, you might not know that Huion is one of the most respected and recognizable names in the graphics tablet market, and this level of prestige naturally comes hand-in-hand with some excellent products - Huion prides itself on delivering high-quality products with reasonable prices.
One of the latest additions to its vast range of pen tablets, pen displays and pen computers is the Kamvas Pro 24 4K, a compact and sophisticated pen display packed with some pretty impressive specs. If you're ready to level up your photo editing, look no further…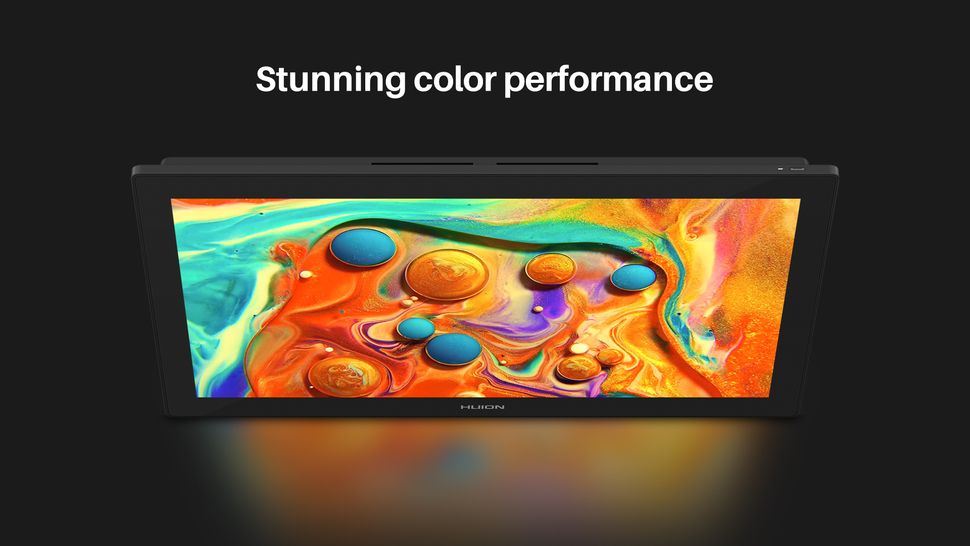 Huion Kamvas Pro 24 (4K)
If you're ready to dive in the deep end, the Kamvas Pro 24 is a 24-inch 4K pen display ready to be your new best friend when you're editing photos. It's the largest screen in the Kamvas Pro line paired with upgraded 4K resolution, meaning you can fit more pixels into the same area for sharper, clearer images, even when enlarged.
To help you see your project in all its glory, the Kamvas Pro 24 has an in-built metal tabletop stand to raise the tablet by 20° on your workspace, or you can connect a monitor arm to the 100 x 100mm Vesa hole on the back. Huion also sells its own stands - the most popular of which is its adjustable stand (ST100), but there's also Huion's single monitor arm (ST410) or dual monitor arm (ST420) for flexible angle adjustment.
The Kamvas Pro 24 is USB-C compatible, meaning you can benefit from better display if your PC also has a USB-C port - if not, the display comes with a handy USB-A to USB-C cable, too. Even more excitingly, it means you can connect to Android devices, unlocking worlds of potential if you're making use of fantastic camera phones like the Samsung Galaxy S22 Ultra.
With photo editing, visual performance is key, and the Kamvas Pro is ready to deliver. With 140% sRGB color gamut, its full-lamination screen uses QLED technology to bring vibrant and saturated color to your photography.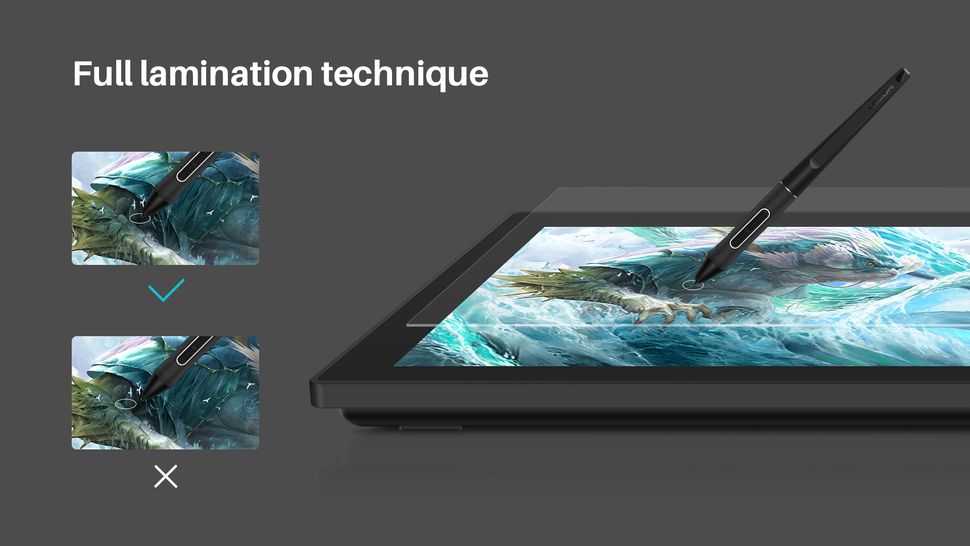 It's not just what's behind the screen that's impressive, either - the glass is chemically etched, reducing glare and giving a wonderful, true-to-life drawing experience that feels just like pen and paper. The fully laminated screen reduces the space between the protective layer and the LCD screen so you can control your cursor with superior precision - there's no offset cursor with this tablet.
The pen warrants praise, too - using Huion's PenTech 3.0, the stylus is now more reliable than ever, improving response time, and Huion's new felt nibs give the tip more friction, bringing the drawing experience that much closer to real life. PenTech 3.0 saw Huion move the sensor much lower in the stylus tip from 6mm to 3.5mm, meaning lightning-quick response time and less idling distance - all the better for quick, accurate area selection on Photoshop.
The Kamvas Pro 24 also comes with a free Mini Keydial KD100 in lieu of in-built shortcut buttons, meaning it's more accessible to left-handed users. This more minimalist form factor gives back some of the tablet's workspace, and you get to keep the all-important configurability of shortcuts thanks to the Mini Keydial.
You can buy the Huion Kamvas Pro 24 for $1,299 / £1299
Easier edits for all
Whether you're just starting out in your photography journey or you're a seasoned professional, you'll be amazed at how handy a pen display can be when you're trying to get a job done quickly and precisely.
Plus, whenever you're not using the pen display 24/7 for artistic purposes, it serves the dual benefit of serving as an extra monitor, giving you that much more room to play with.
If you're ready to take your editing to new heights, check out Huion's official website today.