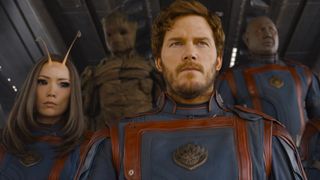 (Image credit: Disney/Marvel)
Guardians of the Galaxy 3: key information
- Releases worldwide in May
- Official trailer revealed in February
- Chris Pratt, Zoe Saldana, and Dave Bautista among returning stars
- Will Poulter and Chukwudi Iwuji added to cast
- Picks up after The Guardians' Holiday Special
- Could be the final time this line-up appears in the MCU
- Fourth Guardians movie hasn't been greenlit
It's almost showtime, A-holes. Guardians of the Galaxy 3 flies into theaters this week (it's already out in the UK), which means it could be time to say goodbye to everyone's favorite dysfunctional, cosmic group of superheroes.
If this is the end of the line for Star-Lord and company, the Marvel Cinematic Universe (MCU) will be a poorer place without them. Still, at least we've got one last ride to enjoy with the crew in this Marvel Phase 5 film. And who knows? In classic MCU end card fashion, maybe the group "will return" after all.
For now, you've got plenty of last-minute reading to do before the Guardians of the Galaxy's next cinematic adventure. In this guide, you'll find more information on its release date, trailers, cast, story, and more.
Full spoilers follow for Guardians of the Galaxy 1 and 2, their Disney Plus Holiday special, and the group's appearances in Avengers: Infinity War, Avengers: Endgame, and Thor: Love and Thunder.
Guardians of the Galaxy 3 release date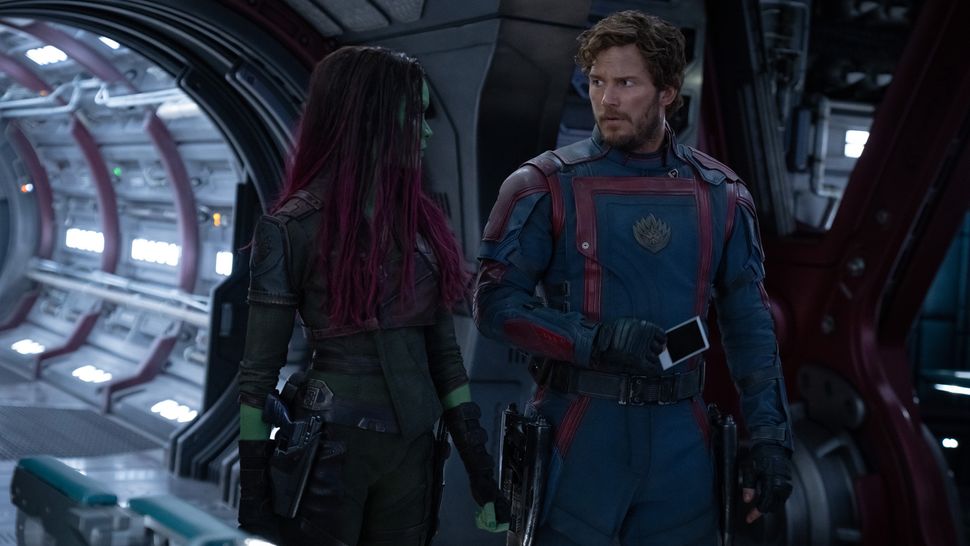 Guardians of the Galaxy 3 launches in theaters on May 5 in the US and most international territories. UK and Ireland citizens can catch it in theaters right now, though.
Per The Hollywood Handle, it'll run for two hours 29 minutes and, judging by those lucky enough to attend a recent European gala screening, Guardians of the Galaxy Vol. 3 will save the MCU, apparently. It's also likely to end The Super Mario Bros Movie's four-week run as the global box office champion, too, with Variety claiming Guardians 3 could gross $120 million during its opening weekend.
Lastly, Guardians 3 has been rated PG-13 in the US (that's 12A in the UK) for "intense sequences of violence and action, strong language, suggestive/drug references, and thematic elements". It'll also contain the MCU's first official f-bomb, as confirmed by James Gunn.
Guardians of the Galaxy 3 trailer
Guardians of the Galaxy 3's official trailer arrived on February 12. Pleasingly, it showcases more of the gang's dry and bickering sense of humor, meaning the team's potentially final MCU outing won't be a complete tearjerker.
There are plenty more emotional moments in this brief look as well, however, so we'd suggest bringing some tissues with you. You know, to wipe away the tears you'll cry from laughing at the jokes house within. We're not referring to any sad moments, honest... With lots more besides – space rock opera tones and action, for instance – on show, too, Guardians 3 looks like it'll be the perfect capper to James Gunn's MCU trilogy.
Missed the first teaser, which showed a six-armed, gun toting Groot, the live-action debut of Adam Warlock, and a baby version of Rocket? Check it out below:
Guardians of the Galaxy 3 cast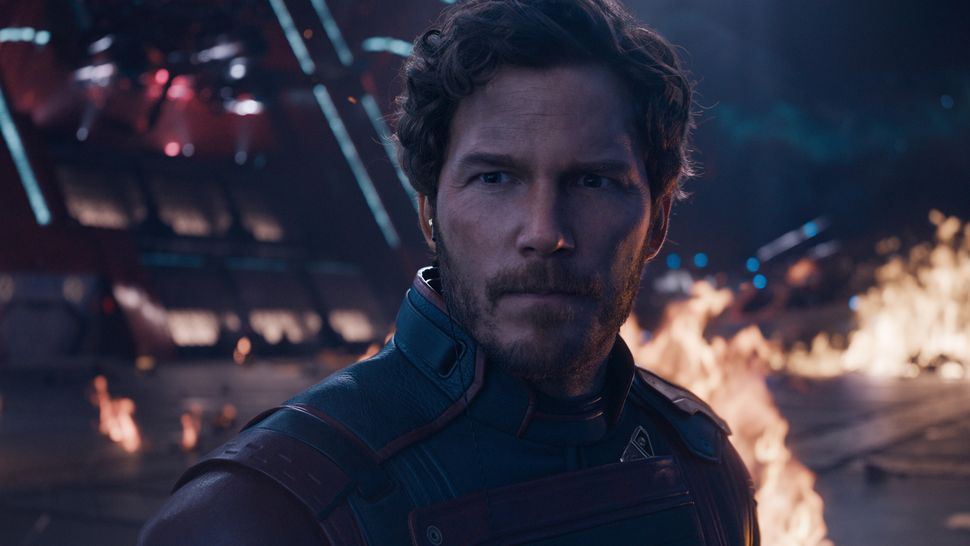 Here's Guardians of the Galaxy 3's cast list. Well, that we know of pre-release, anyway:
Chris Pratt as Peter Quill/Star-Lord
Zoe Saldaña as Gamora
Dave Bautista as Drax
Karen Gillan as Nebula
Pom Klementieff as Mantis
Bradley Cooper as Rocket Raccoon
Vin Diesel as Groot
Sean Gunn as Kraglin
Will Poulter as Adam Warlock
Chuwudi Iwuji as The High Evolutionary
Maria Bakalova as Cosmo the Spacedog
Elizabeth Debicki as Ayesha
Sylvester Stallone as Stakar Ogord
Michael Rosenbaum as Martinex
Linda Cardellini as Lyla
Dee Bradley Baker as Blurp
Daniela Mechior as TBA
Nico Santos as TBA
Pratt, Saldaña, Bautista, Gillan, Klementieff, Cooper, Diesel, and Gunn all reprise their roles from previous Guardians movies. Bakalova (Bodies Bodies Bodies, Borat 2) also returns as Cosmo, the telekinetic spacedog that made its MCU debut in the Guardians' Holiday Special. Meanwhile, Debicki, Stallone, and Rosenbaum are back in their supporting roles from Guardians of the Galaxy 2.
Of the newcomers, Poulter's Adam Warlock is perhaps the most significant. The cosmically powerful being, who director James Gunn describes as "more of a traditional superhero – although hero might be pushing it" (via Entertainment Weekly (EW)) – was teased in one of Guardians 2's post-credits scenes, but he'll make his official debut here.
In the comics, Adam Warlock is an artificial, perfect human specimen who ends up rebelling against his creators. Soon after, Warlock – simply referred to as "Him" in his early comic book appearances – encounters The High Evolutionary, who gives him the title "Warlock". Adam helps The High Evolutionary save his artificially created planet – Counter-Earth – from the evil Man-Beast and receives the Soul Gem before departing.
Adam Warlock's comics history becomes somewhat complicated after that. For one, he helps the Avengers defeat Thanos, but he also has an evil version – Magus – who's born after Warlock temporarily wields the Infinity Gauntlet. Given his ties to The High Evolutionary – more on him shortly – and how his origins have been retrofitted for the MCU (he's created by Debicki's Sovereign leader Ayesha in Guardians 2, not the Enclave), we suspect some parts of his comic history will be used in Guardians 3.
Marvel Studios' Guardians of the Galaxy Volume 3 arrives in theaters May 5, 2023. #GotGVol3 pic.twitter.com/oESF8MTKGYDecember 1, 2022
As for The High Evolutionary, he's a genius-level geneticist who creates highly-evolved, anthropomorphic creatures and artificial worlds. As mentioned, he created the planet Counter-Earth and he's the individual who experimented on Rocket (in the MCU, anyway), turning him from an ordinary raccoon into a bitter, cynical, gun-loving humanoid animal.
Even though he's worked alongside superheroes in the comics, such as Adam Warlock and Thor, The High Evolutionary isn't a good guy. He uses them as a means to an end – i.e. to protect his research and self-indulgent experiments – which makes him more of a villain. Chukwudi Iwuji, who'll play The High Evolutionary, has described him as "sociopathic" and "narcissistic" (per Collider), and "extremely powerful" and "complex" (per The Hollywood Reporter (THR)). Unsurprisingly, he's the main antagonist in Guardians of the Galaxy 3.
Elsewhere, Linda Cardellini (ER, Hawkeye) is said to be voicing Lyla the Otter, Rocket's love interest (per MCU leaker MyTimeToShineHello). James Gunn has also confirmed the furball character known as Blurp –who we glimpsed in the movie's second trailer – will be played by Dee Bradley Baker (Star Wars, SpongeBob SquarePants).
Potential cast spoilers follow.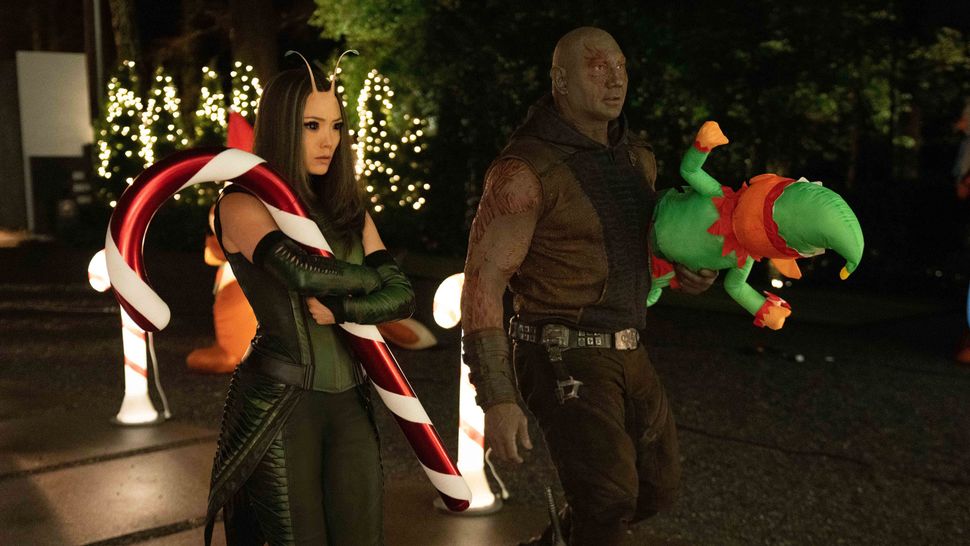 Two actors' roles are yet to be revealed. Daniela Melchior (The Suicide Squad) has signed on to feature (per Deadline), and MCU insiders had suggested she'd voice Lyla. Given Linda Cardellini is portraying her, though, Melchior's role remains a mystery.
Nico Santos (Superstore, Crazy Rich Asians) is also part of the cast (per Deadline), but nobody knows what role he'll play. Finally, MyTimeToShineHello claims we'll see a child version of Phyla-Vell in the film. She's reportedly played by Kai Zen (Kung Fu Panda: The Dragon Knight). In the comics, Phyla-Vell is the daughter of Mar-Vell (who we saw in 2019's Captain Marvel) and goes onto become cult favorite character Quasar. Guardians 3, then, could set her up as another future MCU superhero.
Guardians of the Galaxy 3 plot
Here's the official plot synopsis: "In Guardians of the Galaxy Vol. 3, our beloved band of misfits are looking a bit different these days. Peter Quill, still reeling from the loss of Gamora, must rally his team around him to defend the universe along with protecting one of their own. A mission that, if not completed successfully, could quite possibly lead to the end of the Guardians as we know them."
So Guardians 3 will be incredibly moving. Speaking to Collider, Gunn said "it's different from what people are going to expect". In a chat with EW, Gunn also said it's the "hardest thing I've ever done", adding: "This is where things really happen. This is where we get to know the truth about who these characters are, and we face the biggest stakes."
Bigger stakes mean a more emotional journey for these characters – and the actors playing them. Saldaña told ScreenRant Guardians of the Galaxy 3 is a "bittersweet moment" for everyone involved, while Gillan revealed the film's script left the cast in "floods of tears" (per Yahoo). Elaborating to Rolling Stone, Gillan said a specific scene in the movie's third act "felt like a goodbye" for the entire cast and crew. Altogether now: we are Groot *sniff sniff*.
Thankfully, Guardians of the Galaxy Volume 3 won't be an entirely somber cinematic outing. The threequel retains the self-deprecating humor that made the other films so enjoyable, with Gillan telling The Wrap: "There's been way more improv for me this time around than I have ever given before. I don't know if they'll make the cut but I hope they do."
Music lovers will be delighted to hear Gunn has put together another banging, licensed soundtrack for the Guardians' potentially final hurrah. With Peter Quill gaining access to a Zune MP3 player at the end of Guardians 2, Gunn had free reign to add any number of songs to the film's soundtrack, telling EW: "I worked twice as hard on this soundtrack as I did on both the first two soundtracks combined". Oh, and Gunn has confirmed via Instagram (thanks to Reddit for the catch) that there'll be two post-credits scenes, so be sure to stick around until the end (as if any MCU fan needs telling these days!).
So, where are the Guardians at when the movie begins? (Potential story spoilers follow).
For starters, they've set up a safe haven for alien refugees on Knowhere, which was revealed in the Guardians' Holiday Special. The group purchased Knowhere from the Collector after they parted ways with Thor in Love and Thunder. Cosmo joined the team in the interim period.
Quill/Star-Lord is still mourning Gamora, his former love, who was sacrificed by Thanos in Infinity War in exchange for the Soul Stone. However, thanks to Endgame's time-travel-based events, a younger version of Gamora – an alternate timeline variant of the one Saldaña previously portrayed – is loose in the MCU, and Peter wants to track her down.
We see him searching for her on the Milano's computer at the end of Endgame and, as the trailers and first-look images reveal, the pair cross paths in Guardians of the Galaxy 3. Gamora will be reintroduced as the Ravagers' new leader (per THR), which explains why Stallone's Stakar and Rosenbaum's Martinex are back. Expect sparks to fly, romantic or otherwise, between Peter and Gamora.
As for the "protecting one of their own" storyline hint, this has to refer to Rocket Raccoon. MCU fans might think The High Evolutionary is looking for Rocket for some reason, meaning the Guardians will have to protect him.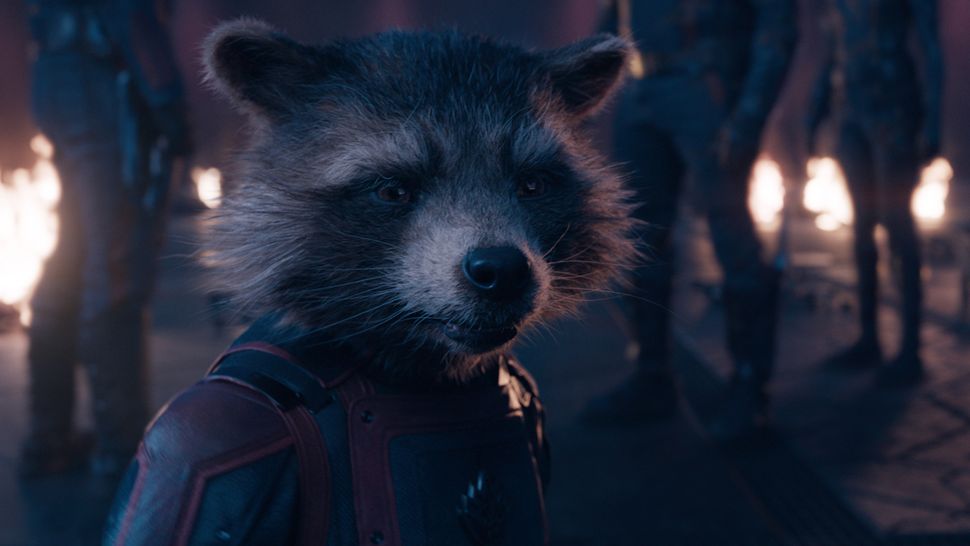 We also think they need to keep Rocket safe from the Sovereign/Adam Warlock. Viewers will remember Rocket (and the Guardians by proxy) double-crossed the Sovereign in Guardians 2's opening sequence. By the time that movie ends, the Guardians had escaped the Sovereign's clutches, leading Ayesha to create Warlock to exact revenge on them.
Or so we thought. It seems the Sovereign enlisted The High Evolutionary's help to create Adam Warlock, with the aim of sending him after Rocket and the Guardians. We suspect Warlock will attack Knowhere, but he'll unsuccessfully kill anyone. That'll lead Peter and company to track down The High Evolutionary – which is why they travel to Counter-Earth – to discover more about Warlock and, inadvertently, more about Rocket's origins. That should lead the Guardians to decide to stop Warlock, Ayesha, and The High Evolutionary from killing them or, in the latter's case, enacting some form of diabolical masterplan. Gunn has suggested Rocket is the "secret protagonist" of the Guardians franchise and that the third movie shows the "importance of Rocket's character and who he is" (per EW).
Lastly, the big question on fans' minds is: which Guardian could die? Online rumors suggest Drax and Rocket are the most likely to perish, but MCU leaker Grace Randolph has claimed multiple death scenes were filmed to stop the movie's ending from being leaked. In short: just wait until you see Guardians of the Galaxy 3.
Guardians of the Galaxy 3: will there be another movie?
Probably, but some individuals won't return after the threequel.
For starters, Gunn isn't helming any more MCU projects. He was confirmed as the new co-head of DC Studios alongside Peter Safran in October 2022, with the duo tasked with reviving Warner Bros. Discovery's flagging DC Cinematic Universe (DCU).
Meanwhile, Dave Bautista told GQ Guardians of the Galaxy 3 is his final outing as Drax, confirming what we heard back in 2021. Saldaña has also confirmed this is her final appearance as Gamora (per The Hollywood Reporter).
It's unclear who else will depart. Much will depend on how Guardians 3 ends, but it's possible Rocket could leave for pastures new. That's if he doesn't die by sacrificing himself to save the Guardians and defeat The High Evolutionary.
Either way, we'd expect the Guardians to exist in some form moving forward.
Klementieff told the D23 podcast that the franchise isn't "over, but it's going to be different", while Pratt told Extra TV he doesn't know if he'll have an MCU future post-Guardians of the Galaxy Vol. 3. Elaborating further in Rolling Stone's Guardians 3 cover story, Pratt added: "I don't feel like I'm done, it shouldn't go into spoiler territory. I don't want that to be like, 'Oh, well, Chris Pratt says that Peter Quill doesn't die.' That's not what I'm saying. What I'm saying is, even if I do die in this, there's a way to bring me back." Color us intrigued.
Speaking to Deadline, Gunn also said: "It's not ever going to be the same group of characters for a lot of different reasons. Who knows what will happen with the Guardians franchise in regards to future characters, but in terms of this group of characters, this is the end of their story."
Adam Warlock has led the group in the comics so, if Pratt hangs up Star-Lord's twin pistols and helmet (or if he dies), Warlock could lead the likes of Mantis, Groot, and Nebula in a new-look team. For his part, Poulter would "love to go on a journey" as Adam Warlock (per The Playlist). We'll have to see what the future holds for the Guardians, but we'd be amazed if they aren't part of the next two Avengers movies – The Kang Dynasty and Secret Wars – at least.
For more MCU-based content, find out how to watch the Marvel movies in order. Additionally, read up on where we placed the first two Guardians films in our Marvel movies ranked article, and see which Marvel movies (and TV shows!) you need to watch before Guardians 3 rolls around.
Sign up to receive daily breaking news, reviews, opinion, analysis, deals and more from the world of tech.
Senior Entertainment Reporter
As TechRadar's senior entertainment reporter, Tom covers all of the latest movies, TV shows, and streaming service news that you need to know about. You'll regularly find him writing about the Marvel Cinematic Universe, Star Wars, Netflix, Prime Video, Disney Plus, and many other topics of interest.
An NCTJ-accredited journalist, Tom also writes reviews, analytical articles, opinion pieces, and interview-led features on the biggest franchises, actors, directors and other industry leaders. You may see his quotes pop up in the odd official Marvel Studios video, too, such as this Moon Knight TV spot.
Away from work, Tom can be found checking out the latest video games, immersing himself in his favorite sporting pastime of football, reading the many unread books on his shelf, staying fit at the gym, and petting every dog he comes across.

Got a scoop, interesting story, or an intriguing angle on the latest news in entertainment? Feel free to drop him a line.