Are you ready for one last ride with the Guardians of the Galaxy? No, neither are we.
Guardians of the Galaxy 3 will bring the curtain down on this iteration of everyone's favorite ragtag crew of Marvel superheroes. And, if the movie's trailers, plus teasing quotes from its cast and crew, are anything to go by, it's going to be an action-packed, emotional rollercoaster of a space opera.
The Marvel Phase 5 movie flies into theaters on Friday, May 5 (Wednesday, May 3 in the UK and Ireland), so you don't have much time to catch up on – or rewatch – the Guardians' Marvel Cinematic Universe (MCU) journey so far.
So, what do you need to stream to prepare for Guardians of the Galaxy Vol. 3? Below, we've listed the five Marvel films – plus the Guardians' two Disney Plus offerings – in chronological order to watch in preparation for Guardians 3. That way, you'll be all caught up on their story so far, the identity of each character, and more. Strap yourself into a seat on the Milano, Benatar, or Bowie – the three spaceships the Guardians have used – and let's begin.
Guardians of the Galaxy Vol. 1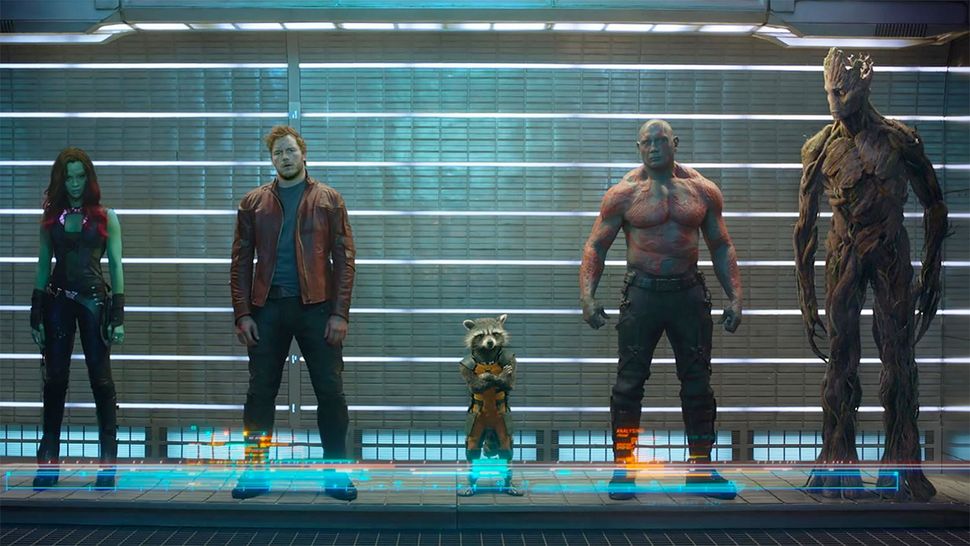 The Guardians' MCU journey began in 2014 with their first self-titled film – one that surprised plenty of cinephiles and critics with how good it was, too.
The film sees Peter Quill/Star-Lord, Gamora, Drax, Groot, and Rocket Raccoon unexpectedly thrown together to stop the power-mad Kree renegade Ronan the Accuser from obtaining a mysterious orb with the ability to destroy worlds. Saying any more would spoil the plot for anyone who hasn't seen it (you can stream it on Disney Plus, FYI). Rest assured, you're in for a treat.
Marvel Studios raised plenty of eyebrows when it announced a Guardians of the Galaxy film was in development at its 2010 San Diego Comic-Con panel. After all, this group of interstellar outlaws – that includes a talking tree and anthropomorphic raccoon, no less – wasn't at the top of everyone's wish list for a movie adaptation. Heck, the Guardians were as obscure a comic franchise as you're ever likely to see.
The unprecedented success of this plucky underdog team's first cinematic adventure, though, proved that the Marvel formula could work on any of the comic giant's properties. With its measured blend of unconventional humor, stellar action sequences, emotionally resonant story, and perfectly cast characters – all held together by the expert directorial eye of James Gunn – Guardians of the Galaxy Vol. 1 lit up theaters worldwide. Earning over $770 million at the box office and copious amounts of praise from all who saw it, few can argue that Guardians of the Galaxy 1 is one of the best Marvel movies ever.
Guardians of the Galaxy Vol. 2
Buoyed by the unexpected triumph of the Guardians' first MCU flick, Marvel quickly set about bringing the group back to the big screen. The result was – no prizes for inventive film titles here – Guardians of the Galaxy Vol. 2, set six months after Guardians 1 and impressively builds on its predecessor's foundations.
Well, impressively from a commercial standpoint. Guardians 2 plundered over $860 million globally – a box-office figure that cemented the series' popularity among both film lovers and more casual Marvel fans. However, despite beating Guardians 1 in the cash-grab stakes, Guardians Vol. 2 wasn't as critically acclaimed as its theatrical sibling. Sure, it was as zany, visually arresting, and thematically dense as the franchise's first movie, but some critics and MCU lovers decried it for retreading old ground and not feeling as fresh as what came before.
Still, Guardians of the Galaxy 2 isn't a bad movie. In fact, it's a very good movie (in our eyes, anyway). Following the surprising revelation about his parentage in the previous film, Peter Quill embarks on a mission (with the rest of the Guardians in tow) to track down his absent father, gaining a new member – Mantis – along the way. Again, no spoilers here for anyone who hasn't seen Guardians 2. Just know you're in for another fun-filled, action- and joke-heavy, and, at times, heart-breaking watch.
I Am Groot
Okay, this children's TV show, which stars the impish baby Groot in a series of shorts, isn't required viewing ahead of Guardians 3. But, if you want the complete Guardians experience heading into the gang's three-quel movie, it's worth watching.
Taking place between Guardians 2 and Avengers: Infinity War (more on this shortly), I Am Groot consists of five short stories that see everyone's favorite anthropomorphic tree getting caught up in all sorts of capers. Groot battling a shape-shifting alien in one episode and inadvertently attacking a microscopic civilization of bug creatures in another are just two of the mischievous escapades he gets up to.
These bite-sized episodes don't build on any significant story beats from the Guardians' two silver-screen adventures, but they're enjoyable nonetheless. This is one to show your kids to capture their imagination about all things Marvel before introducing them to the studio's ever-expanding library when they're older.
Avengers: Infinity War
Given the sheer number of superheroes in the MCU by 2018, some Marvel fans might not have expected the Guardians to play such a prominent role in Avengers: Infinity War (one of the best superhero movies ever, we add).
Thanks to Gamora's surrogate-based familial ties to Thanos, the Marvel Infinity Saga's big bad, though, Quill and company had a huge role in proceedings. Again, you won't find spoilers here – we'd feel awful if we ruined any surprises for people who haven't watched it yet. Just know that Star-Lord, Gamora, and the gang are integral to what goes down in Infinity War's stunningly eerie finale.
Avengers: Endgame
The movie that brought Marvel's Infinity Saga to an end, Avengers: Endgame was the pinnacle of every MCU film to date. Surely, then, the ever-popular Guardians would play a substantial role in its story?
Surprisingly, no. However, some of the galactic crew of outsiders do have big roles to play in Endgame (yadda yadda, spoilers, etc.), and the film's final scenes set up where they'll next appear (more on this in a moment). As such, Endgame is a necessary inclusion on this list. If you're expecting the group to have much of a presence before the movie's climactic battle, though, you'll be setting yourself up for disappointment.
Thor: Love and Thunder
Speaking of films that underutilize the Guardians, Thor: Love and Thunder is another Marvel flick that didn't make full use of their appearance.
True, the MCU Phase 4 movie isn't a Guardians of the Galaxy-based adventure. Thor is the star of the show here, and Quill's gang is merely along for the ride. The movie's two-hour runtime, coupled with the narrative it ends up telling, means there wasn't much space for their inclusion, either.
Even so, considering Avengers: Endgame set up a buddy comedy-style film starring the god of thunder and his newfound friends, it was disappointing to see the Guardians only appear in a scene or two before departing. Star-Lord and his burgeoning (and still dysfunctional) surrogate family are on screen for all of 10 minutes, but it's enough screen time to warrant adding Thor 4 (find out where it placed in our Marvel Phase 4 ranked piece) to our list. Especially when it somewhat sets up the final piece of the Guardians puzzle before their third solo movie...
The Guardians of the Galaxy Holiday Special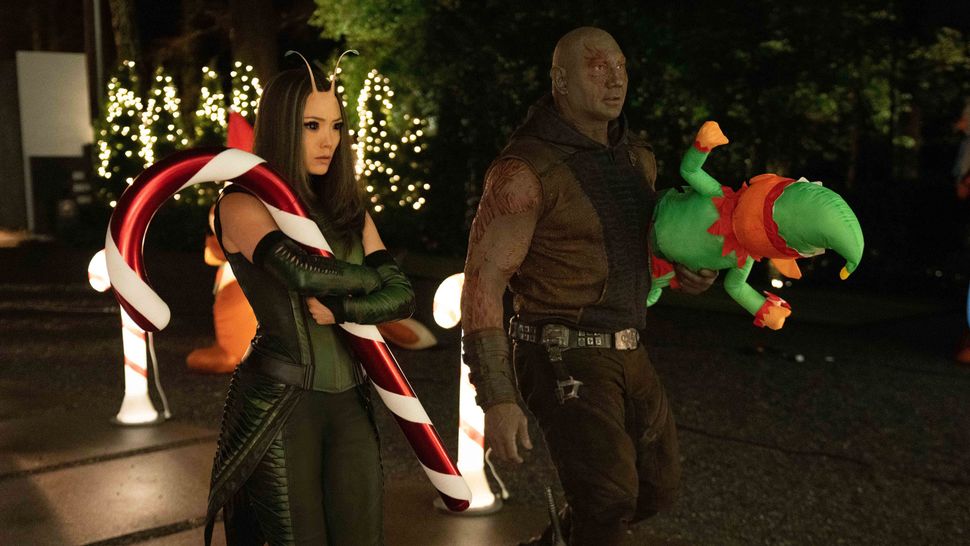 Debuting on Disney Plus in November 2022, The Guardians of the Galaxy Holiday Special is a Christmas caper that's actually vital viewing before seeing Guardians 3.
It's a bit silly in places – essentially, the plot boils down to Mantis and Drax kidnapping Kevin Bacon to cheer Peter up ahead of the holiday season – and, as a 40-minute-long TV special, might seem superfluous. But the Guardians' Disney Plus special contains plenty of important narrative nuggets, character introductions, and scene setting that MCU fans need to know before Guardians of the Galaxy Vol. 3 jets into theaters. Sure, it'll be odd watching a Christmas special at this time of year. But hey, if you want to know all there is to know pre-Guardians Vol. 3, it's a must-watch.
For more MCU-based coverage, read up on how to watch the Marvel movies in order. Additionally, read our guides on Secret Invasion, Loki season 2, and The Marvels.