It's official: Guardians of the Galaxy 3 is going to save the Marvel Cinematic Universe (MCU).
Well, that's if you believe early reactions to the next Marvel movie, which arrives in theaters on May 5 (it launches May 3 in the UK and Ireland). According to some lucky individuals who attended the movie's first public screening at a European gala event in Paris on April 22, Guardians of the Galaxy 3 is the best Marvel movie since Avengers: Endgame and "completes the perfect MCU trilogy".
Praise for the Marvel Phase 5 movie has been so *ahem* universal, in fact, that Marvel Studios has wasted no time in patting itself on the back. Mere hours after the screening, a new Guardians 3 promotional video appeared online – complete with attendees' quotes enthusing about the film – in a bid to further amp up anticipation levels among the MCU's global fanbase.
Predictable as it is to see a studio hype one of its forthcoming theatrical releases, Marvel is clearly leaving no stone unturned in its bid to win back support from both MCU fanatics and casual cinephiles.
From poorly received movies – we're looking at you, Thor: Love and Thunder, and Ant-Man and the Wasp: Quantumania – to sexual assault allegations leveled at Kang the Conqeuror star Jonathan Majors, Marvel has been on the back foot for some time. The Disney subsidiary has also faced a backlash over its apparent treatment of visual effects (VFX) artists, which reached a crescendo around the August 2022 launch of She-Hulk: Attorned at Law.
Add in the public tit-for-tat with former executive Victoria Alonso after she was laid off over a supposed breach of contract (Marvel and Alonso has since settled out of court) and Marvel's constant rejigging of its Phase 5 and Phase 6 slates – it's reportedly only releasing two MCU TV shows in 2023 rather than four – and the studio needs a big win from somewhere.
That's where Guardians of the Galaxy Vol. 3 seemingly comes in. The niche comic book supergroup were a surprising choice for a Marvel movie when studio president Kevin Feige announced that a Guardians film was in development at San Diego Comic-Con in 2010. Since then, though, the loveable ragtag of outcasts have become a global phenomenon, with the two James Gunn-directed flicks cumulatively earning over $1.64 billion, and the Guardians having a huge say in the outcome of Avengers: Infinity War and Avengers: Endgame, two of the best Marvel movies of all time.
After a turbulent year, then, Marvel needs a highly anticipated film like Guardians of the Galaxy 3 to hold dominion over the box office as completely as The Super Mario Bros. Movie – another Chris Pratt-starring movie, no less – currently is. Given the hugely positive reaction following the movie's first public showing, Marvel will be feeling very confident about those chances, too.
Analysis: galactic saviors or a universal flop?
Marvel might want to rein in its financial expectations for Guardians of the Galaxy 3, though. After all, with superhero fatigue setting in for many cinema punters, plus the issues outlined earlier in this article, the MCU – while not in full-blown crisis mode yet – has undeniably hit the buffers.
So, will Guardians 3 be the universal success Marvel needs it to be? Much will depend on its critical reception and word-of-mouth impact. Just look at Ant-Man 3, which was expected to be a colossal hit for the studio until critics rounded on it for being narratively baffling, visually overloading, and frenetically paced. Those are criticisms that MCU fans appeared to share when the flick was publicly released, too, with Ant-Man 3 making more than $106 million globally during opening weekend, only to post a 69% drop – the second largest in MCU history – in ticket sales in its second week. Overall, Quantumania went on to secure a middling $474.4 million – a figure greater than just six of the MCU's 32 other cinematic offerings.
Currently, Guardians 3 is projected to earn circa $130 million in the US (per Deadline) – some $16 million less than its predecessor. Apparent industry insiders, such as Viewer Anon, suggest sluggish advanced ticket sales could harm the film's chances of reviving Marvel's flagging fortunes (NB: pre-release ticket sales, which are usually snapped up by diehard MCU fans, aren't a hugely significant indicator as to how well a Marvel movie will perform worldwide).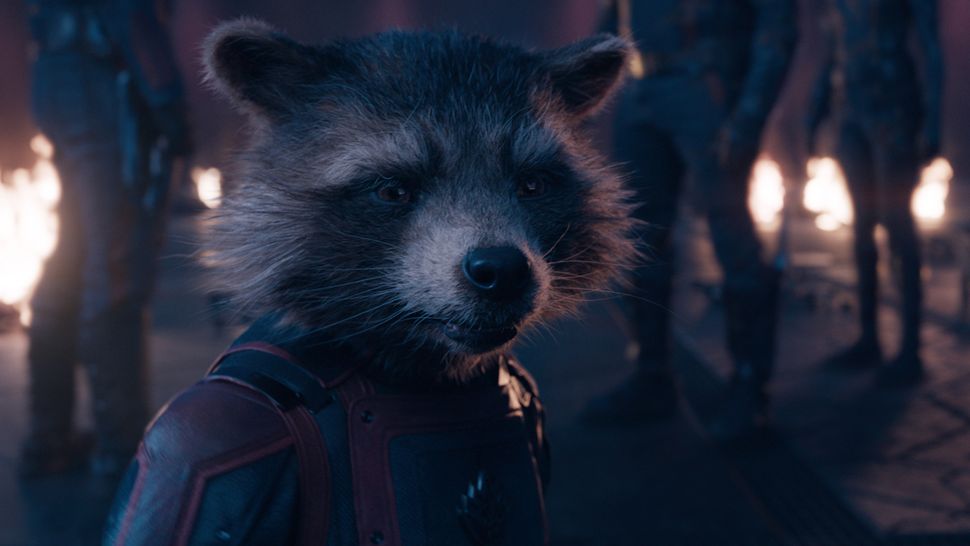 Then there's the issue surrounding first reactions to a forthcoming film. It's extremely rare that anyone – journalists, influencers, or general film fans – reveals if they disliked a movie before the official review embargo lifts. Those who post their thoughts about a new flick are, with the odd exception, glowing in their praise of said film. It's all part of the hype-inducing movie release cycle, which sees movie goers incentivized by studios – i.e. being invited to see a movie early – in exchange for positively promoting that film pre-release.
Understandably, Marvel isn't going to include negative reactions to one of its films in a promotional video. As such, reactions to Guardians 3 are positively weighted, meaning you and I won't know if it's actually any good until a) official reviews are released and b) we have the chance to see it ourselves.
In short: the jury is still out on whether Guardians of the Galaxy 3 will save the MCU. If it doesn't, Marvel will be relying on one of its two aforementioned Disney Plus shows – Loki season 2 and Secret Invasion – or, perhaps unexpectedly, The Marvels (its final film of the year, which arrives on November 10) to reignite interest in its massively successful film franchise. Over to you, Star-Lord and company.
For more MCU-based coverage, find out how to watch the Marvel movies in order. Additionally, find out which movies you need to stream before Guardians of the Galaxy 3 arrives in theaters.