It's been a quiet year for DJI drones so far, but new leaks suggest a DJI Mavic 3 Pro could be landing soon with an exciting new feature – three cameras.
The reliable DJI leaker @DealsDrone posted an image on Twitter showing what appears to be the retail box for the new DJI Mavic 3 Pro, which will seemingly be available in a bundle with the pricey DJI RC Pro controller.
The image tallies with earlier ones recently shared by the same leaker, which show a gimbal-stabilized camera module with three separate lenses. This would make it DJI's first consumer drone to offer three different native focal lengths, as the current DJI Mavic 3 has two lenses (with equivalent focal lengths of 24mm and 162mm).
Mavic 3 Pro combo with RC Pro pic.twitter.com/fTfIMwk4e6April 5, 2023
So why pack in three cameras? It would offer aerial photographers and filmmakers some of the versatility seen on the best mirrorless cameras, or the latest flagship smartphones. What isn't yet clear is exactly what focal lengths those three cameras will offer.
The @DealsDrone leak suggests the third camera could "support 3x zoom". If so, that would give the DJI Mavic 3 Pro a main wide-angle camera with a 4/3-inch CMOS sensor and a 24mm lens, a second 162mm telephoto one with a 1/2-inch CMOS sensor, and a third with a focal length in the 70mm ballpark.
This is all far from certain, though. Another possibility was floated by long-time DJI leaker @OsitaLV back in August 2022, when it was suggested that a future Mavic drone could instead offer a third camera with a 50mm lens and a 1-inch sensor.
Either way, it seems the DJI Mavic 3 Pro will give us that extra option in the mid-telephoto range compared to the DJI Mavic 3. That could be helpful for picking out details in the landscape that don't require the long 162mm telephoto lens, and would be better than relying on digital zoom from its main wide-angle camera.
While the leaks so far haven't suggested a release date for the DJI Mavic 3 Pro, pre-launch images of retail packaging tend to appear within weeks of an official release – and another reliable DJI leaker, @JasperEllens, has also suggested that the drone "will be in stores very soon".
---
Analysis: the world's most versatile drone?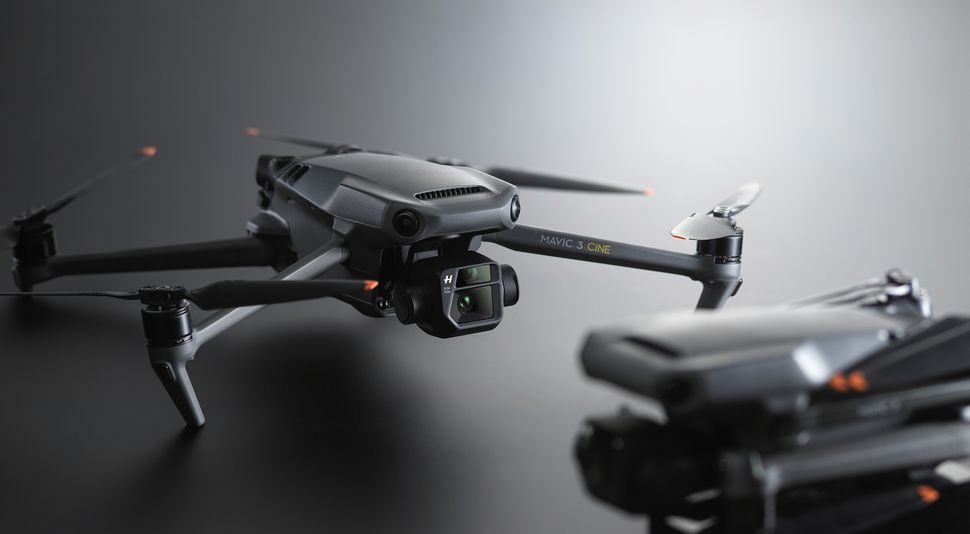 We're used to the best camera phones offering us at least three cameras, so it's good to see DJI drones starting to offer that kind of versatility – with the added benefit of gimbal stabilization, and larger sensors than your typical smartphone.
While it is possible to simply fly your drone closer to a subject to pick out details, longer focal lengths let you do this without needing to move your drone from a high vantage point. This can also enable you to stay within local drone laws that require you to maintain certain distances from people and buildings.
On the current DJI Mavic 3, there's quite a big gap between its 24mm wide-angle lens and its 162mm telephoto lens. You can move between the two by using hybrid digital zoom, but this does compromise image quality. So having a mid-telephoto option between the two existing cameras would make the Mavic 3 Pro an impressively versatile aerial photography platform.
Naturally, this will all likely come at a significant cost. The Mavic 3 had a launch price of $2,199 / £1,879 / AU$3,099, while a DJI Mavic 3 Cine Premium Combo bundle (which includes the DJI RC Pro seen in the leaks above) started at $4,999 / £4,279 / AU$7,199.
With an extra lens and potentially other new features, we can expect the DJI Mavic 3 Pro's base bundle to be pricier than the Mavic 3's equivalent, marking it out as a genuinely professional offering. Still, it should at least be cheaper than the rumored DJI Inspire 3, which recent leaks have suggested could arrive at a similar time.