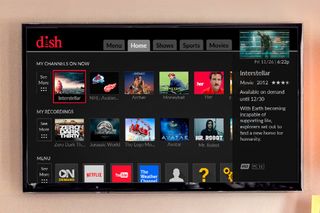 Are you interested in subscribing to a new TV provider but haven't yet worked up the courage to do so? Well, now might be the right time -- Dish is offering you a free Polk sound bar if you subscribe to one of its satellite TV offerings through July 30, 2017.
But how do you take advantage of the offering? It's really pretty simple -- head to Dish's website and sign up for a new Dish subscription. When you're checking out, enter the code DISHSOUND967 and the Polk sound bar will be yours.
Dish is a well-known and respected brand in the TV industry, and for good reason -- it's arguably the most important satellite TV provider today. In fact, the company has a number of different packages -- meaning that it's more than likely you'll be able to find something that fits in with your lifestyle.
For starters, Dish is arguably the best choice of TV subscription services for techies. That's because of the fact that as part of Dish's service, you'll have the option to get the Hopper 3 DVR, which lets you watch and record a massive 16 shows at a time, and offers storage for 2,000 hours of video. On top of that, the service has a number of great smart features -- like Amazon Alexa integration, so you can ask Dish to perform tasks like "tune in to AMC" by using your voice through Alexa.
If you're in a family where the TV might not always be available or just like the option of watching on your phone or tablet, Dish has you covered there too. You'll be able to watch from up to 5 devices at a time and when you do you can choose from the company's On Demand library, or go through the live channels and your recorded content.
Do you like live TV but also have a soft-spot for Netflix? You won't have to give up Netflix for Dish -- as Netflix integrates with Dish's set-top box. What that means is that you won't have to switch inputs to enjoy Netflix -- it can all be access from one place.
Of course, all the tech in the world doesn't really matter if there isn't a good selection of channels -- thankfully, however, there is. While DirecTV offers somewhere in the range of 145 channels, Dish ups the ante to a hefty 190 channels, including ESPN and HBO -- all for $54.99.
Perhaps sports is more your thing than Netflix. Through Dish, you'll have access to a ton of different sports channels, including NBA League Pass, MLB Extra Innings, and FOX Soccer Plus. That's on top of the ESPN that you already get through the service.
But what about that Polk sound bar you get if you're a new subscribing customer? Not only will you get the sound bar, but Dish will also come and install it for you -- so you'll get a great home theater experience without having to pay for it or install it. Polk has long been a highly reviewed and well-respected company in the home theater business, and for good reason.
It's pretty easy to get the sound bar for yourself -- simply head to the Dish website and use the promo code DISHSOUND967 when you check out now through July 30, 2017.
Sponsored by Dish
Sign up to receive daily breaking news, reviews, opinion, analysis, deals and more from the world of tech.