Canon's rumored mirrorless flagship won't arrive until 'late next year'
Professionals still have quite the wait for a 1DX replacement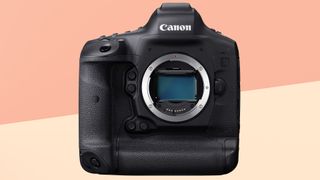 (Image credit: Canon)
With camera manufacturers feeling the effects of global stock shortages along with everyone else, it comes as little surprise that the expected Canon EOS R1 – set to be the company's highest-end flagship mirrorless model – is unlikely to be appearing any time soon.
According to the usually well-informed CanonRumors, retailers have been warned not to expect the R1 until the second half of 2023, meaning it could be at least a year before we see what could be an exceptionally exciting camera.
The EOS R1 – if indeed it's called that – will almost certainly be seen as a replacement for, or mirrorless equivalent to, the long-serving DSLR flagship models in the Canon EOS 1DX series. Many pros are still using those cameras, especially given the ongoing difficulties with getting hold of the Canon EOS R3, Canon's current mirrorless line-leader.
As a result, agencies who kit out their entire staff have been reluctant to fully commit to mirrorless in case of issues with acquiring the tech they need.
---
Analysis: Mirrorless uncertainty keeps high-end DSLRs alive – for now
Although the Canon EOS R3 is undoubtedly one of the best mirrorless cameras, and certainly one of the best professional cameras you can buy right now, getting hold of one is not always easy.
Problems with supply across the electronics sector has even led to a surge in DSLR sales, as old stock gets snapped by those unwilling or unable to wait for a mirrorless counterpart to become available.
If such problems didn't exist, it might be reasonable to expect that we'd have seen an R1 by now, or at the very least some kind of development announcement to whet our appetite.
On the other hand, it could be argued that Canon is better off prioritizing the replacement of its first mirrorless models, such as the Canon EOS R and the Canon EOS RP, as mass-market consumer models naturally sell more widely and bring more photographers into Canon's ecosystem.

Supply problems aside, it would also make sense for Canon to spend more time developing its mirrorless lens range, so that professionals can be confident they have a comprehensive system to buy into once they feel ready to make the switch to mirrorless.
An improved entry-level full-frame model that sits below the Canon EOS R6 price-wise would likely be hugely popular, so we wouldn't be surprised to see such a camera appearing long before a class-leader like the R1.
Sign up for Black Friday email alerts!
Get the hottest deals available in your inbox plus news, reviews, opinion, analysis and more from the TechRadar team.
Amy has been writing about cameras, photography and associated tech since 2009. Amy was once part of the photography testing team for Future Publishing working across TechRadar, Digital Camera, PhotoPlus, N Photo and Photography Week. For her photography, she has won awards and has been exhibited. She often partakes in unusual projects - including one intense year where she used a different camera every single day. Amy is currently the Features Editor at Amateur Photographer magazine, and in her increasingly little spare time works across a number of high-profile publications including Wired, Stuff, Digital Camera World, Expert Reviews, and just a little off-tangent, PetsRadar.