Amazon Kindle vs Kindle Paperwhite: Which Amazon ereader should you buy?
Versus
Contributions from
last updated
Which is right for you: the new Kindle or the Paperwhite?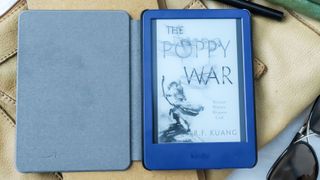 (Image credit: TechRadar)
Browsing through the best Kindle options and deciding which Kindle is right for you can be very confusing. Amazon makes four Kindle models, including the new base model Kindle, launched late in 2022. There is also the Kindle Paperwhite, refreshed in 2021, priced a bit higher. At the high end there are the expensive Kindle Oasis and the gigantic Kindle Scribe.
We find ourselves recommending the basic Kindle and the Paperwhite most often, because, for the cost, they offer the best mix of features that you'll need. Differences in price don't always line up with better specs, so if you're deciding between these two ereaders, we can help break down the variations.
We'll even look at the Kindle Paperwhite Signature Edition, as well as the Kids editions of every one of these ereaders. The differences there may be worth the price premium for some folks.
All of Amazon's Kindle ereaders are excellent for reading and listening to books. This is because Amazon uses the same E Ink technology across the range. No matter which Kindle you're reading, from the inexpensive basic Kindle through the massive new Kindle Scribe, you'll have a gray scale screen with 300 ppi resolution. That's more sharp than even the best iPad tablet, and Kindle screens specialize at fonts and text.
Because of the way e ink screens work, the battery on a Kindle can last a terrifically long time. Expect weeks of use if you read for a half hour or so every day. Also, books and text take up significantly less storage space than just about any other content. Even on a low-capacity Kindle, you will be able to store thousands of books.
These are some of the best Kindles around, and Amazon can be aggressive with sales and price cuts. We will keep our eyes open for great deals, and when it's time to make a decision, you can come here for our breakdown as we compare the newest ereaders in our Amazon Kindle vs. Kindle Paperwhite showdown.
Amazon Kindle vs Kindle Paperwhite: Design
The Kindle family is all about reading, so both the Kindle 2022 and the Kindle Paperwhite give you a nice screen and nothing to distract you from it. The Paperwhite display is a bit larger and it sits flush with the surface of the device, making it feel more like a piece of paper when hold it. The Kindle 2022 has a larger ridge around the display, and the screen is nearly an inch smaller, diagonally.
The biggest difference in design, and perhaps the most important overall difference between the Kindle and Kindle Paperwhite, is that the Paperwhite is water resistant. You can read with it in the bathtub. It can even handle a splash of salt water at the beach, something water resistant phones would never allow.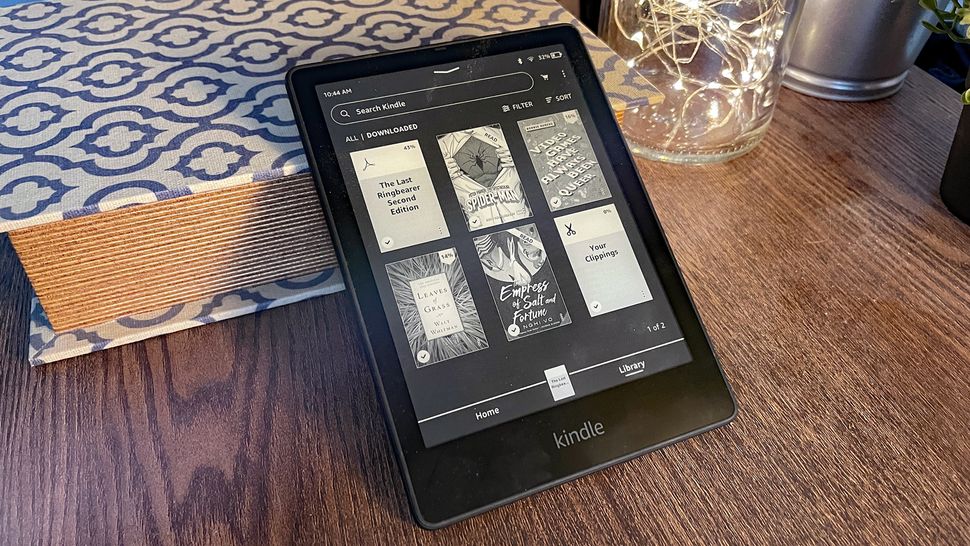 The two devices are the same thickness, and the extra weight on the Paperwhite seems to come only from having the larger display. Neither has an advantage here, and if you'd like a device that is thin and light, you have to jump all the way up to the ultra-premium Kindle Oasis.
You can get the Kindle in black or denim blue, while the Paperwhite is only available in black. There are tons of cases available for both devices, but it's still a shame Amazon doesn't provide more options out of the box.
Both the Kindle and the Kindle Paperwhite charge via USB-C. There is no charger included in the box, but you do get a USB-C cable.
Amazon Kindle vs Kindle Paperwhite: Display
The Kindle Paperwhite used to have a sharper screen than the basic Kindle, but the latest Kindle 2022 update endowed the base model with an e ink display capable of 300 ppi resolution, the same as every other Kindle. That means the text will look as crisp as paper even on the cheapest device.
The Paperwhite does have more LED backlights behind the screen. Amazon says the Kindle 2022 has 4 LEDs while the Kindle Paperwhite uses 17 LEDs for brightness. Presumably, more LED means more light, and that's the way the ereaders appear as well.
The Paperwhite is much more bright than the basic Kindle, and it made a difference no matter when we were reading, whether at night or in the daytime.
Speaking of night time reading, the Paperwhite can also change the glow of the backlight, making it warmer for better night reading. You can eliminate the blueish cast from the screen if you choose.
For an upgrade, you can go for the Kindle Paperwhite Signature Edition, which not only has the warm light option, it can also automatically adjust and adapt as needed. The other Kindle and Paperwhite models cannot do this. Otherwise, the Signature screen is the same.
Amazon Kindle vs Kindle Paperwhite: Specifications
The Kindle Paperwhite is the obvious spec winner over the Kindle 2022, except in storage capacity. Inexplicably, when Amazon updated the Kindle in 2022 it gave the base model twice the storage as before, which also placed it above the basic Paperwhite. The Kindle has 16GB of storage, while the Paperwhite only has 8GB.
The Paperwhite Signature edition has a whopping 32GB of storage. All of these Kindles can carry thousands of ebook titles, so why is storage important? Because of Audible and audiobooks.
Audiobook files are many times larger than a simple book. If you're only going to be reading with your Kindle and you don't plan on storing a lot of audio content on it, the 8GB Kindle Paperwhite will be enough for you. If you use Audible for podcasts, you'll want a Kindle that is larger on the inside.
Otherwise, there are no surprises in the Paperwhite's advantages over the Kindle. It has a larger display, which makes it a larger device. That means there is also a larger battery inside, so you can expect more longevity. Amazon says the Paperwhite will last for 10 weeks of casual reading while the Kindle 2022 will last for 6 weeks. The difference is almost laughable when we're charging our phone, headphones, and watch on a daily basis.
If you spring for the Kindle Paperwhite Signature edition, you can charge the ereader wirelessly using any Qi-enabled wireless charger. It may seem like a strange feature on a device that charges once every three months, but the Signature seems aimed at Audible users, who will also tax the Bluetooth and Wi-Fi capabilities more heavily, thus draining more power.
Amazon Kindle vs Kindle Paperwhite: Price
The Amazon Kindle starts at £84.99 / $89.99, today at least. Amazon Kindle pricing can be volatile, and Amazon loves to use its own devices as bait for its big sale days. As we prepared this story, the price dropped $5 in the US. Kindle pricing is like the weather in Boston; if you don't like it, just wait a moment and it will change.
The Kindle Paperwhite starts at £129.99 / $109.99. All of these prices are for ereaders that show ads on the lock screen when you are not reading. It's a weird and frankly tacky way for Amazon to shave $10 or so off the price, but it doesn't change the ereader experience, so we think it's worth accepting the eyesore.
In Australia you can only get a version of the Kindle without advertisements. Kindle pricing in Australia was unavailable at press time as all of the devices show up sold out at Amazon, so we suspect Amazon is making some changes to pricing behind the scenes.
You can also upgrade the storage on the Kindle Paperwhite for £20 / $15 to 16GB. If you're only reading books, that upgrade is not worth the extra cost, as you'll have plenty to read with only 8GB, and you can swap any time you have a Wi-Fi connection.
If you're an audio fan, you should probably consider upgrading to the 32GB Kindle Paperwhite Signature Edition instead of just upgrading to 16GB of storage on the Paperwhite. It's another £30 / $20, but you get quadruple the original 8GB storage, and that's still much cheaper than the Kindle Oasis, which costs £229.99 / $199.99.
Both of these Kindle devices come in a "Kids" flavor . The Kindle Kids and Paperwhite Kids cost a bit more, but the device is exactly the same. What you get is a colorful cover that your kid may enjoy, and a year's subscription to Amazon Kids+.
If you're starved for content, Kids+ will help. On the other hand, if you already have plenty of books you love and own, Kids+ will feel limited, so you're better off just buying your own cover and sticking with your own titles.
We think the Kindle Kids and Kindle Paperwhite Kids upgrade is worthwhile only if you have an idea what Amazon Kids+ content you like. You can find cheaper cases that your kids might like more, and there are no other value additions.
Amazon Kindle vs Kindle Paperwhite: Verdict
The recent update to the Kindle 2022 made the base model ereader a much easier choice than the more expensive Kindle Paperwhite, but pay attention to Amazon sales and special deals, because the Paperwhite is worth the upgrade.
If you want to read in a bathtub or by the sea, you need a Kindle Paperwhite. The IPX8 water resistance is worth the extra cost if you like to luxuriate in bubbles while reading your favorite mysteries.
The upgrade options, including the Kindle Kids and Kindle Paperwhite Signature Edition, are hard to recommend, except in special cases. If you listen to a lot of Audible content, the extra space on the Paperwhite Signature will be appreciated. If your kids need a heap of books for long trips, Kids+ will be fun to peruse.
Amazon is aggressive with deals, and the Paperwhite is getting older, so we'd follow along for price cuts and bundles as an update is imminent. Most folks will be happy reading with a Kindle 2022, but seafarers and bathers will need the Paperwhite. Either way, you get the same sharp e ink, long battery, and complete Amazon library.
Amazon Kindle vs Kindle Paperwhite: Should I buy
Choosing between the Amazon Kindle 2022, Amazon Kindle Paperwhite, or something special like the Kindle Paperwhite Signature Edition? Here's the ereader you should consider, if...
Buy the Amazon Kindle 2022 if...
You want the best value on a Kindle
The Kindle used to be a downgrade, but today's Kindle 2022 is just as sharp and even has more storage
You find it on sale
The Kindle 2022 took a minor price cut even as we wrote this story. Amazon loves to discount its cheap ereader
Buy the Amazon Kindle Paperwhite if...
You plan on reading near water
The Kindle Paperwhite is not just IPX8 water resistant for pool and bath, it can even handles a bit of salt water
You want a brighter screen
The Kindle Paperwhite has more LED lights behind the text, and it's visibly brighter and easier to read
Buy a Kindle Paperwhite Signature if...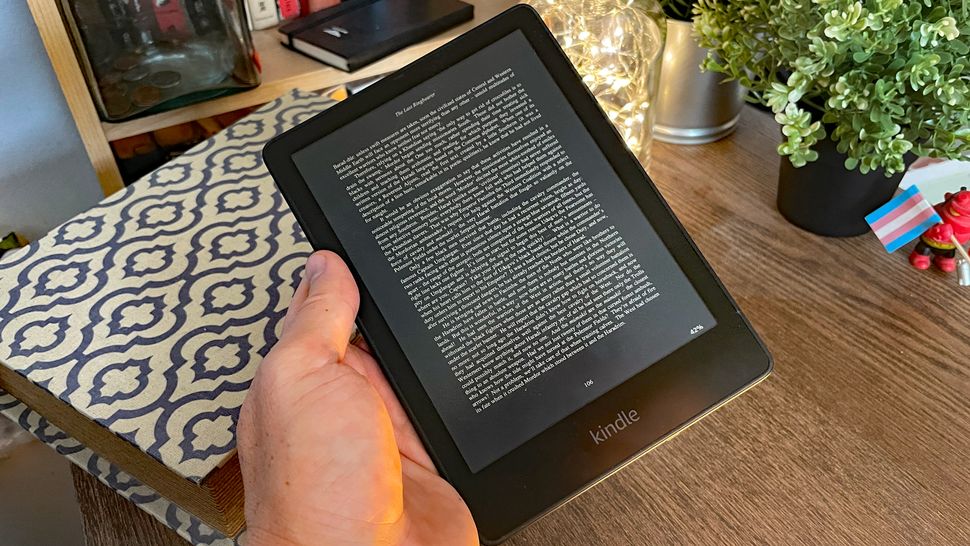 You listen to a lot of Audible content
The only reason you'd need quadruple the storage on a Kindle Paperwhite is audio content, not books
Buy a Kindle Kids or Paperwhite Kids if...
You don't have a lot of children's books
Amazon Kids+ has a ton of content, but it won't have every title you want. It's great if you just need more.
More Amazon Kindle and Kindle Paperwhite deals
Sign up for Black Friday email alerts!
Get the hottest deals available in your inbox plus news, reviews, opinion, analysis and more from the TechRadar team.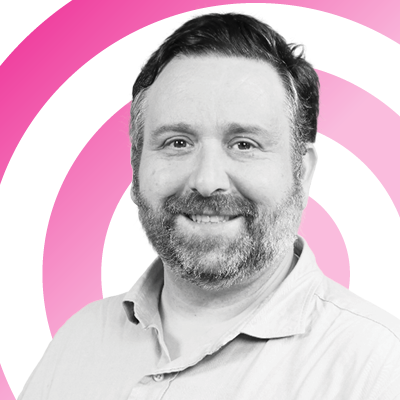 Phil Berne is a preeminent voice in consumer electronics reviews, having reviewed his first device (the Sony D-EJ01 Discman) more than 20 years ago for eTown.com. He has been writing about phones and mobile technology, since before the iPhone, for a variety of sites including PCMag, infoSync, PhoneScoop, and Slashgear. He holds an M.A. in Cultural Theory from Carnegie Mellon University.
Phil was the internal reviewer for Samsung Mobile, writing opinions and review predictions about top secret new devices months before launch. He left in 2017. He worked at an Apple Store near Boston, MA, at the height of iPod popularity. He has been a High School English teacher at Title I schools, and is a certified Lifeguard. His passion is smartphones and wearables, and he is sure that the next big thing will be phones we wear on our faces.