Adobe FireFly AI wants to take on Bing Chat - here's why it could win the battle
There's no swatting this firefly anytime soon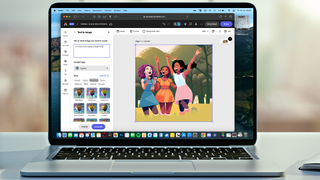 (Image credit: TechRadar)
With AI coming to Windows 11 with Bing AI and Co-Pilot, it may need to be on guard for what Adobe is cooking up.
In a matter of months, AI has become Adobe's main focus for its apps, with its AI platform, Firefly, being integrated into its Creative Cloud suite of apps, such as a generative color palette in Illustrator.
The possibilities are becoming endless, with AI becoming ever more accurate, and at its 'Max on Tour' event in London on June 14, it showcased a big update for its web-based Express suite that could tempt Windows users to move to this as its AI choice, rather than Bing AI.
The hills are alive with the sound of AI
For those unaware, Adobe Express is its web-based suite where you can create social media posts, video projects, menus and flyers, and now, AI-generated content. Having attended Adobe's MAX London event on June 14, Firefly was demoed in this new version of Express, where it touted a faster interface, easier ways to export and edit content, and how Firefly could more accurately generate backgrounds and objects.
It was an interesting experience to see a dog in a spacesuit be generated, alongside the two hosts choosing between a number of supernovas to then move into Photoshop, and export as a file.
Adobe made sure to hammer down the point, that all of this content that Firefly was using, was from its own Adobe Stock package, where many creators will be able to be credited and paid for thanks to a system that it's cooking up.
It's already an encouraging start, and while some requests still don't quite make the mark, Adobe also made sure to let everyone know that Firefly should be used as a tool - not as a go-to method to create a project from start to finish.
Watching all of this and seeing how Firefly is being integrated into its other apps, makes me think that Microsoft has a lot to do already when it comes to this space.
Stop right now Bing, thank you very much
Let's be honest - Microsoft's Bing search engine has never really caught on, and it's thanks to AI that it's become a big talking point in the space. Bing AI lets you generate images through text requests, just like Adobe, but it's never been clear as to where these images have been from to help generate these requests.
Adobe seems to already be leapfrogging how Microsoft is angling AI with Bing and Windows Co-Pilot, mainly by justifying how AI could help someone's workflow.
Picture the scene - you're wanting to create an image but you're hitting a creative wall. You go on your web browser of choice, head to Adobe Express, and put in some prompts. They're not the greatest, but it gives you something to work from at least.
You move over to Photoshop in Windows 11, and you're able to create something thanks to some inspiration from Firefly's image. But then, you're not sure about the color scheme you chose for it. Instead of redoing the palette again, you head on over to Illustrator, and, using the Generative Color feature that rolled out on June 14, you're given a bunch of options.
The image you created is now a bunch of these to pick from as a template to work off. One has a sunset, another is a full moon at night, and it sets the scene to better help you improve the image further.
Just from this, AI justifies itself when it comes to a workflow - it gives you options and inspiration, not as a method to replace your ideas and projects.
Granted, that's just one situation, but it gives you an idea as to how Adobe could be the ever-present AI in Windows, and Bing AI could be reduced to a smart search engine for the foreseeable future.
And that's not even going into how Adobe Express could be used in Apple's Vision Pro headset, within the Safari web browser in visionOS. All of this brings potential for AI, and, for Adobe, a ringside seat as to how it could soon be the go-to option for AI in Windows.
Sign up for Black Friday email alerts!
Get the hottest deals available in your inbox plus news, reviews, opinion, analysis and more from the TechRadar team.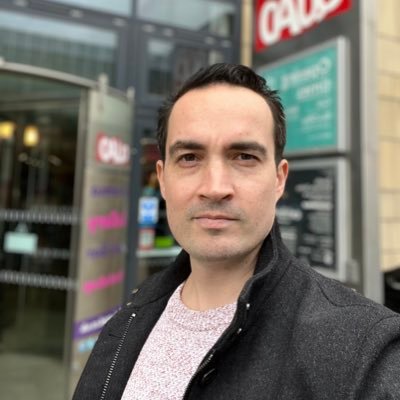 Software & Downloads Writer
Daryl had been freelancing for 3 years before joining TechRadar, now reporting on everything software-related. In his spare time he's written a book, 'The Making of Tomb Raider', alongside podcasting and usually found playing games old and new on his PC and MacBook Pro. If you have a story about an updated app, one that's about to launch, or just anything Software-related, drop him a line.