The Samsung Galaxy S10 Lite (opens in new tab)is undoubtedly a confusing member of its smartphone lineup in India, which already has a lot of products at varying price points. But as we've seen in the past, it doesn't seem to bother Samsung, as it goes ahead with bringing two new Lite flagships just weeks before its S20 series (opens in new tab).
It may seem that Samsung is unclear with what it is trying here, but in reality, the S10 Lite is probably the most focussed device its ever brought to markets, especially in India. Its sole objective is to grab a piece of the growing premium smartphone segment and end OnePlus' streak (opens in new tab). And now that we look back, the sub-Rs 40,000 segment hasn't seen very competitive smartphones from the segment. The S10 Lite changes that by bringing a package that seemingly sports all the essentials that users have come to expect in this price range, along with a trust factor that only Samsung can boast of.
It also serves another purpose which Samsung will eventually hope to upsell in the future — get more people to try out its flagship experience at a never-before-seen price point. And it does a darn good job at that.
Price and availability in India
In India, the Samsung Galaxy S10 Lite is priced at Rs 39,999 and comes in a single configuration with 8GB of RAM and 128GB of storage, Colour options include Prism White, Prism Blue and Prism Black. It can be purchased from Flipkart and other offline retailers.
What's 'Lite'?
With the S10 Lite, Samsung has cherrypicked what elements make it to the phone, so as to not tread in the real flagship's market, yet be compelling enough in a segment that is populated by flagship killers. Here are the most notable omissions in comparison to the Galaxy S10 and others in the same price range.
These "compromises" will shape your decision if the S10 Lite deserves your money or cuts too many corners.
The back is not made of glass
Max display brightness is a little lower than the S10 series
The display is flat and tops out at 1080p
Absolutely no water resistance
No telephoto camera
Single, downward-firing speaker
Design and built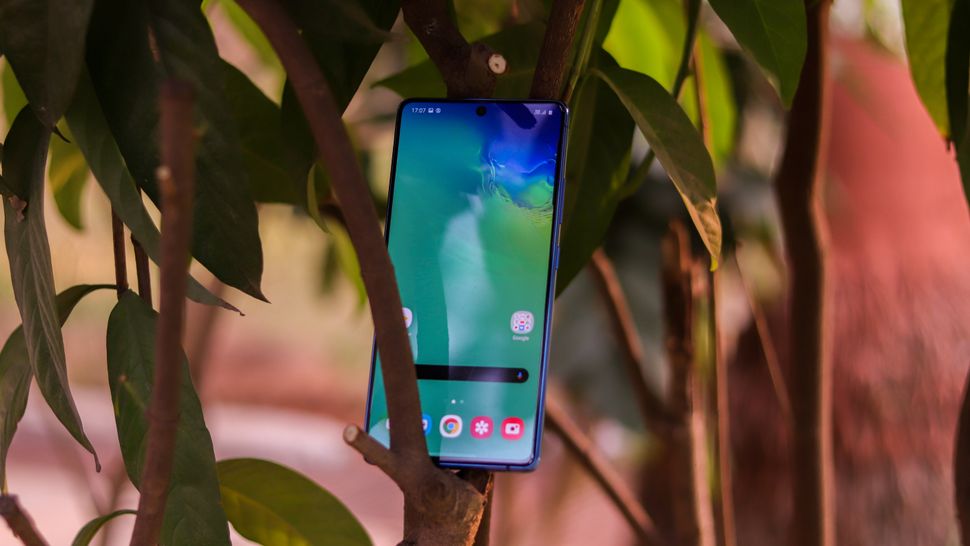 With that out of the way, let's talk about what the phone does offer. The moment you pick it up, you'll realize that it's not a true glass body, something which Samsung's real flagships have spoilt us with. Instead, the S10 Lite is clad in a new material called Glasstic, which is supposed to have the shatter-resistance of plastic and scratch-resistance of a glass. Honestly, unless we'd know that, we would call it plain plastic. But for what its worth, our unit has no scratches on it yet. It just doesn't feel too premium to wield.
On the back, it has a camera layout that is similar to the new flagship S20 series, with all the lenses placed in a rectangular island in the corner, a trend that Samsung is adopting for all its new smartphones. With this, the S10 Lite won't seem outdated from the get-go.
The rest is pretty standard fare, with the power and volume buttons on the right, the USB Type-C port on the bottom, beside a single, downward-firing speaker. The back curves slightly on all four sides for improved ergonomics.
Display
Within that frame, we get a 6.7-inch Super AMOLED display with an Infinity-O notch in the centre. It's a pretty great display in terms of max brightness and colours, and seems a few notches behind what the flagships had. As always, blacks are rendered perfectly and the colours have just the right amount of punch. It also supports HDR10+ content to take brightness and contrast balance to the extreme and it does make the right content look stunning.
It has a resolution of 2,400 x 1,080 pixels, which gives the panel an aspect ratio of 20:9 and is really enjoyable. More vertical real estate is ideal for most of our apps as you scroll through more content, and gives a wide-screen experience while gaming or watching movies.
The glass on top is also gently curved to the sides, making swiping easier. However, the S10 Lite suffers from terrible palm-rejection, which we presume gets amplified because of the 2.5D glass. This is unusual as even other Samsung phones with real curved displays handle accidental touches better. You'll definitely notice this while using gestures for navigation. Considering the size of this phone, there are many instances where two hands will be needed, which just becomes a messy experience.
If we were to nitpick, the display's refresh rate is only 60Hz. Sure, they probably wanted to have that feature exclusively for the new S20 series (at least for a bit), but all of the S10 Lite's competitors (opens in new tab) cross that threshold at relatively lower prices.