Pros
+

Solid wireless security system

+

Great high-definition video resolution

+

Built-in 1TB hard drive makes this great value
Cons
-

Unintuitive setup via a TV or monitor

-

Fiddly camera placement

-

Confusing quick-start guides
Why you can trust TechRadar We spend hours testing every product or service we review, so you can be sure you're buying the best. Find out more about how we test.
One-minute review
With the AllSecure 650 2K Wireless Security Kit, Swann is aiming to straddle the markets for hardwired security systems that record and save footage to a cloud service and standalone kits that store it locally.
It offers the convenience of near-constant recording without the expense of a subscription service and is intended as a solid and reliable self-installation product, keeping setup and running costs relatively low. Furthermore, it comes in a variety of bundle sizes, with the smallest including two cameras and the largest, four. These cameras are wireless HD units that offer the convenience of being able to place surveillance cameras anywhere you choose.
The kit is based around a hub that either needs to be physically attached to your home router via Ethernet or connected wirelessly. You'll also need a smart TV or, better yet, a spare monitor, to set up the system. This hub contains a 1TB hard drive and also has a very useful slot for an additional rechargeable battery pack.
The satellite cameras are wireless and can be placed wherever you wish within range. The instructions state that these need to be charged in advance for two or three hours, but a lengthier charge is needed if the cameras are to operate reliably for more than the first few hours. A USB charging cable for this purpose is supplied, but you'll need to use the plug from a tablet or smartphone. European and UK adapters for the hub power cable were supplied in the two-camera kit, along with an abundance of brightly colored leaflets in multiple languages to aid hardware software and app setup.
Once charged, the battery packs click into the base of each camera, with the spare stashed snugly inside the hub, ready to be called into use when one of the wireless camera battery packs runs low. This is one of the most intuitive and useful aspects of the kit. Swann indicates a battery life between charges of up to four months, while the 1TB hard drive in the hub should be able to record standard or high-definition footage for two years before filling up.
The terabyte of included storage is probably best set to record motion events rather than record continuously, to save you trawling through saved footage in search of an event. Should you need it, there's also an SD card slot on the hub so you can save footage that you might need to share, plus a USB port where you can add an external drive of up to 4TB capacity. In addition, you can save videos to your Dropbox account from the app.
With a few setup niggles such as the need to use an HD monitor, mouse, and on-screen keyboard to get the security system underway, the Swann AllSecure 650 offers a strong combination of wireless surveillance features with the convenience of recording to a built-in hard drive.
Having an extra battery pack inside the hub available for immediate swap-out with one of the camera packs ensures no downtime, and is a real benefit. You do need to watch out for properly charged batteries, however.
The video cameras provide clear footage with plenty of detail, and the Swann Security app offers most of the controls and playback options you'd hope for from a home security system, with only a few seconds delay to playing back event footage once you receive a phone or smartwatch alert. With no need to fork out for a subscription service, unless you need the extra person/car/animal alert distinctions, the Swann AllSecure 650 is also a good value choice.
Swann AllSecure650 2K: price & availability
List price (4-camera bundle): $699.99 / £499.95 / AU$999.95
List price (2-camera bundle, UK / AU): £399.95 / AU$699.95
Available in UK, US and Australia
The Swann AllSecure650 2K is sold directly from the brand's website or via resellers including Amazon, and arrives with a pre-installed local 32GB microSD card, a USB charging cable and installation equipment.
There are a host of bundles, which are compiled slightly differently globally - for this review, I was sent the 2-camera bundle, which is available in the UK and Australia for £399.95 / AU$699.95. The more globally available 4-camera bundle is $699.99 / £499.95 / AU$999.95.
To get the best from the camera, you'll need to sign up to a storage subscription service, meaning you'll benefit from the warranty, the best detection smart alerts, and cloud storage. Subscription services start at $2.99 / £2.99 / $AU5.55 per month; plus you get a free three-month trial when you buy the camera. This stores video footage for up to 60 days in the cloud and offers extras such as package, pet, and vehicle detection in addition to human heat and motion detection.
If the physical storage still doesn't quite cut it or you want some more options, there's also the Swann Unlimited subscription of £8.99 per month (after a three-month trial) for cloud storage, and continuous recording will work better for your needs: the Swann Security app makes it easy to add a cloud service at any point just by clicking the yellow-ish storage chest icon and adding your card details.
Swann AllSecure650 2K: specifications
Swipe to scroll horizontally
The specs of our Swann AllSecure 650 2K review unit

| | Swann AllSecure 650 2K |
| --- | --- |
| Price (4-camera) | $699.99 / £499.95 / AU$999.95 |
| Subscription plan required? | No |
| Wi-Fi set up? | Yes |
| Viewing range | 105° field of vision |
| Live HD video and motion alerts | Yes |
| Optional recording plan | From $2.99 per minute / £2.99 per minute / $AU 5.55 per minute |
Swann AllSecure650 2K: Design and set-up
Setting up the Swann AllSecure 650 involves plugging in the supplied mouse to the hub. With the screen attached to the hub via HDMI, it should automatically display the setup screen. Add your network details and Wi-Fi password or plug in the Ethernet cable, if you prefer. You can connect to either a 2.4GHz or 5GHz wireless network.
Next, create a Swann email account, enter your password as the admin, and add any extra users you may want on the system. You'll know the hub is successfully connected when all three of the subtle colored LEDs are lit up on its front fascia.
You'll want to install the Swann Security iOS or Android app to use the AllSecure 650 system remotely using your phone. Once you've added your email details, you'll be prompted to scan the QR code on the top of the hub. Oddly, Swann's printed quick-start guide for the app only references iOS, not Android; but both are offered.
Although the app expects you to pair with a security camera at this stage, the pairing happens on the HD monitor screen. Two (or four, if you've bought the more expensive AllSecure 650 kit) of the on-screen panes will display a Play icon, while the rest will – rather off-puttingly – suggest "video loss" rather than that they're not in use.
To pair, you must bring the camera into proximity to the hub and click one of the active on-screen panes. You then need to unlock the security system by manually entering your admin password credentials and clicking Unlock. Now click on the pane or the white video camera icon that appears just beneath it, and press and hold down the white hardware button on top of the camera for several seconds. There ought to be a red LED on the camera that turns on at this point – it never did for me, although pairing still took place. I also needed several attempts at pairing.
Once connected, you can position the cameras as you see fit. The brief hardware setup instructions prompt you to try to experiment with what will be a suitable position, checking what appears in the camera view before committing to the location. Bear in mind that you need to have the hard plastic antenna on top of each camera sticking upwards in order to pick up the Wi-Fi signal and connect to the Swann 650's hub. There's a theoretical range of up to 30 meters.
I found that placing my indoor camera discreetly in a side window near the front door was ideal until the window glare and automatic porch light obscured the view at night – or I dislodged the camera with my bulky curtains.
Mounting it inside the porch worked well, but also announced the camera to the street. Although this could prove a good visual deterrent, along with the inevitable brace of secured property stickers I've placed on the windows, I ended up fretting that it would be all too easy for a chancer to simply shelter in my porch, unscrew the wireless camera from its mount and make off with it, caught on camera or not.
To prevent such instances, Swann suggests mounting the cameras roughly four meters above the intended surveillance area. In practice, this probably means outside a room on the floor above. Swann doesn't guarantee that the cameras can withstand all weather, specifically warning about siting them where they'll be rained on; however, it also makes claims of IP66-rated water and dust resistance, plus a good level of temperature tolerance; so a sheltered eave or nook outside above an upper-floor window are ideal spots.
If you're restricted to mounting the fixings from inside the property, the options may be few. If you choose to go down this route and fit the cameras yourself, and if you lack a sufficiently long ladder and a head for heights, you may find yourself scrabbling to screw the cameras into place and then not necessarily in the ideal spot.
The two halves of the camera mount unscrew, with the part that attaches to the wall or ceiling having holes for two supplied screws. Once secured to the mounting base, you'll need to angle the camera as needed and use the wing nut to hold it in position. One of the review cameras was missing a sticky sponge pad inside the mount, which meant it wouldn't stay in place; but I was able to work around this by adjusting camera placement.
Swann AllSecure650 2K: Performance
The video quality from the cameras was more than adequate; I was easily able to discern what was happening on the street below, both during the day and at night time, and whether in the default SD mode or when I selected HD (high-definition video). There was little visual distortion, although things looked a bit out of kilter when I seated the upper camera at an odd angle.
The playback option lets you view a two-second clip of whatever triggered recording, and if you spot something interesting happening while in Live View mode then you can simply tap the video camera icon on the app to instantly record.
The lag when in Live View mode and interacting with a visitor on the doorstep was minimal and the conversation was clear through the two-way sound system. To chat with someone who's near one of the cameras, you just click the microphone icon beneath the screen of the relevant camera on the app. I was able to hold a two-way chat that made perfect sense and was more than loud enough at the camera end to be heard clearly, despite the tinny delivery.
In Night mode, the footage was also plenty clear enough to distinguish objects. Should the sun end up glowering into your Swann security camera's lens, contrast levels are sufficient to combat the resulting washed-out images and critical details are easy to discern. When light levels drop, you can click the light bulb icon on the app to turn on the light and change the intensity of the night vision light. It's possible to leave this light on if you want to use it as a deterrent or helpful guide light, too. With the night light on, you also get a color view.
Swann AllSecure650 2K: App
The app is the main way of interacting with the events your AllSecure 650 cameras will pick up (unless, of course, you intend to monitor comings and goings yourself via the HD monitor, if it's commercial premises you're securing). The cameras can be viewed individually, or you can tap the Live View option to see an overview of all the active cameras.
Unless you've deactivated it, you'll receive notifications about any and all motion events triggered by people and vehicles passing by, and approaching your home. If you receive too many, it's a fair sign you ought to adjust the camera angle so fewer pedestrians and casually passing cars are detected.
Thankfully, the app is smart enough to realize it's being ignored and, after a few unacknowledged alerts, will offer you the option to pause notifications. More usefully, you may wish to set the Schedule in the app to show when you're almost certainly at home and awake anyway, and when you're at work or similar. This way, Swann knows not to interrupt you because you'll probably notice someone arriving in any case.
Refined options such as rich notifications (where you get a photo showing what's happening alongside an event alert) and detection based on person, vehicle or animal, are delivered only as part of the Swann Secure+ subscription service. However, when I updated the app, I started receiving notifications that mentioned a person; in fact, they were usually just a car driving past.
There are no custom zone settings, so it's down to the user to accurately place the camera for minimal false alerts - and for a camera this price, that's a little disappointing. The cameras aren't powered, of course, so there is no pan/tilt option to track visitors. Number-plate recognition and other AI features are absent, too: the cameras use PIR to recognize animals, people, and vehicles by their outline.
Another quibble was that in Do Not Disturb mode, I found the cameras went offline and no clips were recorded, rather than me just not being notified about movements around my property for a while. Luckily, toggling off the DND mode brought them back into use after a couple of seconds.
Should you need it, there's a guide to the app that you can view or share by clicking on the top-left menu bar and then tapping "User Manual".
Should you buy the Swann AllSecure650 2K home security camera?
Swipe to scroll horizontally
Swann AllSecure650 2K

| Attributes | Notes | Rating |
| --- | --- | --- |
| Price | Very pricey, and a fair few useful features are hidden behind subscription | 4/5 |
| Design | Easily installed, but some small issues with maneuverability and durability | 4/5 |
| Performance | Clear quality, decent sound, but overreactive | 4/5 |
| App | Easy to use but lacking some smarter features | 4/5 |
Buy it if...
You want a wireless security camera that's easy to install
Like many of Swann's security systems, the Swann AllSecure650 2K comes with everything you need in the box and is wireless.
You want great video quality
With its great high-definition video resolution, the Swann AllSecure650 2K is perfect for those who want crystal clear image quality.
You want built-in storage
Built-in storage is increasingly rare in the home security space, with many manufacturers preferring subscription-based models. With 1TB built-in storage, the AllSecure650 2K bucks the trend.
Don't buy it if...
You want a super-easy setup
While installation is a breeze, the setup for the AllSecure650 2K feels antiquated at best, requiring a TV or a monitor and an HDMI cable to get going.
You don't want to faff with camera placement
Between the mixed messaging on how waterproof these cameras are and the slightly unwieldy design, these can be quite finickity cameras to place.
Swann AllSecure 650 2K review: also consider
Swipe to scroll horizontally
| Header Cell - Column 0 | Swann AllSecure 650 2K | Ring Spotlight Cam Plus | Arlo Ultra 2 |
| --- | --- | --- | --- |
| Price | $699.99 / £499.95 / AU$999.95 | $199.99/£149.99 | Around $599.99 / £629.99 (2 camera kit) |
| Live View | Yes | Yes | Yes |
| Motion alerts | Yes | Yes | Yes |
| Dimensions | 11 x11 x 20.5cm | 7.6 x 8.1 x 12.6cm | 8.9 x 7.8 x 5.2cm |
| WiFi Connectivity | Supports 2.4GHz / 5 GHz | Supports 2.4GHz | Supports 2.4GHz and 5GHz |
| Subscription plans | From $2.99 / £2.99 per month | From $3.99 / £3.49 per month | From $2.99 / £2.49 per month |
If you want an outdoor security camera but want to shop around before you buy, here are a couple more options to consider...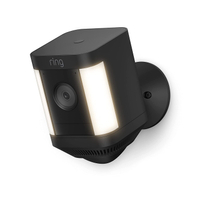 Ring Spotlight Cam Plus
The Spotlight Cam Plus battery powered security camera for outdoor use is ideal for protecting key areas and blind spots. It gives you 1080p HD video clips and comes with two LED spotlights built into the design to light up the area when needed. Check out our round up of home security cameras.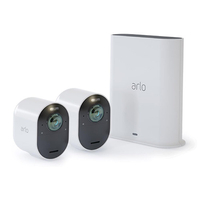 Arlo Ultra 2
This security camera has a 12x zoom that makes it easy to pinpoint details such as car license plates and clothing logos in a video. It has a built-in spotlight and supports both 2.4GHz and 5GHz Wi-Fi bands.
Read our full Arlo Ultra 2 review
How I tested the Swann AllSecure 650 2K home security camera
I installed and used the Swan AllSecure 650 2K in my home for a month
I monitored my home both day and night
I used all of its features and explored its settings
After installing and setting up my Swann AllSecure 650 2K, I used it to monitor my home for a month. I attached the cameras in various spots (my porch and underneath the eave of my roof) to detect comings and goings of visitors, deliveries and vehicles.
I paired the cameras with my phone and used the app, testing all of its features and settings to see how well they worked and if any further features could have been added. I noted the notification speed, the recording quality and accuracy of the cameras when I was home and away.
Read more about how we test
First reviewed September 2023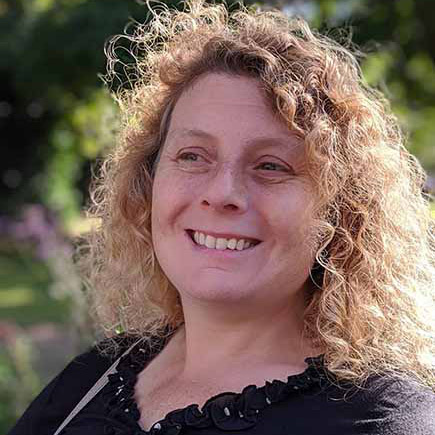 Rosie Hattersley has been writing about technology and how to use it for more than two decades for titles such as PC Advisor, Computeractive and Macworld. Despite living in a houseful of digital radios and streaming devices, she still likes old-school tech and has sizable collections of CDs and vinyl. A fan of crafting and upcycling, she's a regular contributor to maker community magazine Hackspace and Raspberry Pi-focused The MagPi. Rosie enjoys live music, vegetarian cooking, campervanning adventures and unexpectedly long walks.