A budget Chromebook is a great option if you just need a basic laptop for your day-to-day computing needs or schoolwork. If that's you, then you'll want to check out this HP Chromebook 15 that's now discounted to $249 at Best Buy.
This is a reliable, affordable, and no-nonsense device that makes use of the slimline Chrome OS to get more out of cheaper components without compromising on usability. The biggest benefit of this model, though, and why we've chosen to highlight it, is that it comes with 8GB of RAM. That's something not always found in laptops this cheap, and it will give you a welcome performance boost.
Overall, it's definitely up there as one of the best laptop deals available right now, so if it fits your needs, you should grab it while you can.
Today's best Chromebook deal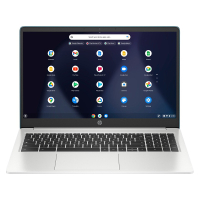 HP Chromebook 15: was $349 now $249 at Best Buy
Affordable everyday laptops don't get much better than this HP Chromebook 15 that's now $100 off at Best Buy. It's an entry-level machine, but if you need a straightforward device that can last all day for everyday jobs and light work, then this will be up to the task. We really appreciate that 8GB of RAM is included as well to give the laptop a small performance boost and improve multitasking.
While we haven't tested this model specifically, we did come away impressed when we reviewed the similar HP Chromebook 14 - and HP makes some of the best Chromebooks available today.
The main difference between that and the HP Chromebook 15 is the size, as this version on offer comes with a larger 15-inch display. That may slightly affect portability, but it's still a slim and light device at under four pounds that you can use at home and carry with you when on the go. Battery life is solid, too, lasting a full working day and more on a single charge.
Most of the components are well within the usual budget range we'd expect for the price, including an entry-level Intel Pentium Silver processor. While not a performance powerhouse, it's fine for everyday jobs such as web browsing, sending emails, word processing, and watching videos.
Again, though, we do really like that 8GB of RAM is included. That will be a big benefit if you're like some of us and end up with multiple Chrome tabs open simultaneously throughout the day. With the extra RAM, it will help keep up with reasonable multitasking without drastically slowing down the laptop.
The storage is limited to 64GB, but that's enough for all your most used applications and key files. You can also take full advantage of Google Drive to give you more storage space in the cloud.
If this isn't quite the right one for you, though, you can find more of today's best offers on laptops below, including more Chromebook deals.