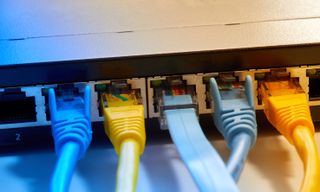 (Image credit: Getty Images / Thanasis)
Have you found that the best broadband deals available at your address don't offer the fastest speeds on the market? Well, that might be about to change.
This is because Building Digital UK (BDUK), the government agency that's responsible for rolling out gigabit broadband across the UK as part of Project Gigabit, has released its latest quarterly update.
This has shown that the agency now has 30 live procurements and contracts in place. In total, these contracts, which are worth £1.4 billion, should supply gigabit-capable broadband to 895,000 premises.
The latest locations to sign contracts include rural parts of Cambridgeshire, the New Forest, Norfolk, Suffolk, and Hampshire. Plus, BDUK has also revealed that construction is now underway in last year's contract areas, including North Dorset, Teesdale, North Northumberland and Cumbria.
If you live in one of these locations, this means that gigabit-capable broadband will soon be available at your address.
What does the progress update show?
BDUK's latest update has shown that the government has awarded six new contracts that will help with the rollout of gigabit-capable broadband in remote areas. These contracts are for rural and hard-to-reach parts of Cambridgeshire, the New Forest, North Shropshire, Norfolk, Suffolk, and Hampshire. This combined investment of £425 million will bring gigabit-capable broadband to up to 284,000 premises.
Of this investment, according to the Department for Science, Innovation and Technology, £318 million has been awarded to CityFibre, Openreach's rival. CityFibre will use this money to expand its network to 218,000 of these premises.
Survey work is expected to start immediately, with the first installations due to be complete by early 2024. The first live connections should then be operational by next summer. Once connected, residents and businesses in the areas in question will be able to access broadband services over a network that is capable of supporting speeds of up to 10Gbps.
In addition to this, BDUK has also reported that some of the areas that were contracted out last year now have active connections. This includes areas in North Dorset and Cumbria. Plus, the agency has stated that construction is currently underway in Teesdale and North Northumberland.
Further investments also planned
On top of all this, Project Gigabit has also launched a further 11 new local and regional procurements with a combined investment value of £410 million. These will aim to reach a further 225,500 premises across the UK.
The upcoming areas BDUK are seeking contracts for are in Derbyshire, West Yorkshire, South Yorkshire, North East Staffordshire, Leicestershire, Warwickshire, Nottinghamshire, West Lincolnshire, Mid West Shropshire, North Oxfordshire, South Oxfordshire, Dorset, South Somerset, Cornwall and the Isles of Scilly.
They also plan to launch procurements in Cheshire, Lincolnshire, and the East Riding shortly.
What is Project Gigabit?
Project Gigabit is the government's commitment to delivering lightning-fast, reliable broadband to every corner of the United Kingdom.
It's hoped that the fast, reliable connections delivered by Project Gigabit will level-up mostly rural and remote communities across the UK. In total, the government has stated that it will invest £5 billion in the project.
Part of Project Gigabit's work involves finding out which areas are eligible for public funding and subsidy, and where the market will reach without intervention from the government.
As part of this, BDUK is launching phased contracts to those hard-to-reach parts of the UK that will need government support towards the cost of gigabit-capable broadband.
BDUK is also keen to stress that the market has shown limited appetite for bidding for contracts in smaller areas. For this reason, the 'Gigabit Voucher Scheme' is still running.
These Gigabit Vouchers are worth up to £4,500 per home, business or community group premise. They allow individual residents and businesses to effectively contract a nearby Full Fibre supplier to connect their property.
In these circumstances, a small hamlet of residents can join together to create larger pots of money and get connected together. BDUK reports that over 117,000 vouchers have now been awarded, with 91,600 premises so far connected under the scheme.
The current state of Full Fibre coverage
The latest figures show that around 52% of UK properties can access Full Fibre connections and around 72% of premises can access gigabit-capable broadband. Although Project Gigabit continues at pace, these figures are only up 1% when compared with Q1 of 2023.
Today, the bulk of gigabit-capable broadband connections can be accessed thanks to Virgin Media. This is because, in 2021, Virgin Media upgraded its existing cable network to gigabit-capable speeds.
While Project Gigabit has now invested £1.4 billion in public funds to help connect those living in rural and remote parts of the UK, there is still a further £3.6 billion worth of contracts to be awarded. In addition to this, the government also recently announced that a further £7 million of funds were being made available to investigate ways to reach areas that may need wireless or satellite solutions.
Notably, there's currently strong competition in the market and many providers are planning to bring Full Fibre to new locations. For example, Openreach is aiming to provide Full Fibre connections to 25 million premises by 2026. In the same timeframe, Virgin Media is investing £4.5 billion and is aiming to reach a total of 23 million premises.
Added to this, CityFibre plans to reach eight million homes in the next two years, while rural specialist Gigaclear has announced that it will invest £420 million in order to connect rural villages.
The bottom line is that if you cannot access a Full Fibre connection or a gigabit-capable connection yet, then there's a good chance this will change in the next 2-3 years.
Find the fastest packages in your area today
Feel like your current broadband connection is too slow? Well, if you're out of contract, then you may be able to switch to a quicker connection, while also saving money.
As the above figures show, the Full Fibre rollout is continuing at pace. This means that your property may now be eligible to receive the superfast speeds that it couldn't last time you took out a new contract. Plus, if you sign up with a different provider as a new customer, you may grab a great deal and pay less than you do currently.
The easiest way to check which speeds you're eligible to receive is to use our widget below. Simply provide us with your postcode and we'll show you the fastest speeds available at your address.
Alternatively, head over to our best broadband deals page. Here you'll find a great list of all the best broadband deals available on the market right now.
Loading...
Get daily insight, inspiration and deals in your inbox
Get the hottest deals available in your inbox plus news, reviews, opinion, analysis and more from the TechRadar team.
Tom is a freelance copywriter and content marketer with over seven years' experience. Originally from an agency background, he is proud to have worked on campaigns for a number of energy providers, comparison sites and consumer brands.