Amazon's Prime Air delivery drones are finally taking off – here's what they look like
New drone and global expansion shows they're edging towards reality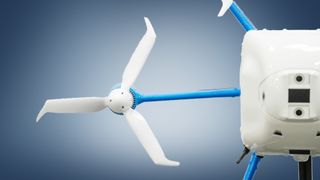 (Image credit: Amazon)
The saga of Amazon's air deliveries is a long and complicated one, with the company first announcing it would drop packages from the sky some ten years ago.
We've had 15 iterations of the iPhone in that time, but the online shopping giant has managed to kick-start trials in California, as well as rolling out the airborne deliveries of lightweight packages to other US regions, including Texas. But now, it has its sights set on the UK and Italy.
In a recent announcement, Amazon stated that it plans to implement a same-day delivery service to three new locations by the end of 2024, including sites in the UK and Italy, as well as a further, unnamed US city.
"Once available, eligible Amazon customers can opt in to drone delivery and choose from thousands of items that weigh five pounds or less (2.2kg) - including household products, everyday essentials, beauty items, and office and tech supplies," the company revealed in its statement. Although the location of the new sites remains a closely-guarded secret.
What has changed?
According to Amazon, it has been working with national regulators and international regulators to ensure it can build a "safe and scalable" service. It is currently building the infrastructure to make this happen, while working alongside the authorities to ensure it abides by the law.
UK Aviation Minister, Baroness Vere, said: "Amazon's announcement is a fantastic example of Government and industry coming together to achieve our shared vision for commercial drones to be commonplace in the UK by 2030.
"Not only will this help boost the economy, offering consumers even more choice while helping keep the environment clean with zero emission technology, but it will also build our understanding how to best use the new technology safely and securely."
New sites, new drone
The other important factor driving the rollout of Amazon's Air delivery system is the introduction of a new drone.
Dubbed MK30, the new design (above) is said to be able to fly twice as far as previous Prime Air drone models, allowing Amazon to expand further beyond its current compatible fulfillment centers.
What's more, the MK30 is quieter and can apparently handle adverse weather conditions far better than previous iterations. Now, packages are stashed within the drone itself, which helps to keep the items safe and secure in transit.
Currently, the system is a little clunky, with users in Lockeford, California having to place down QR code markers to guide the drone into position, and have ample space for the delivery drone to drop off its payload. But Amazon says its new technology will be able to use more precise GPS to make the procedure faster and smoother.
Autonomous airmail
Amazon states that the drones are designed to fly autonomously and are equipped with sensors that allow the drone to identify and avoid obstacles in the delivery area.
Currently, the drones are only able to fly out of some Same-Day Delivery stations, which are essentially smaller versions of its fulfillment centers that process orders for delivery on the same day they were purchased.
In the future, Amazon says it wants to hit 500 million global drone deliveries per year by the end of the decade, but that could prove a lofty ambition.
Currently, stringent aviation regulation in the US requires the flight path of every delivery drone to be monitored on a screen, while humans also monitor every delivery by eye to ensure there are no hiccups.
Although it is hoped that a more efficient procedure is reached in the near future. Frederic Laugere, Head of Innovation Advisory Services at the UK Civil Aviation Authority, said: "Exploring the options of how drones can be safely and successfully incorporated into more of the UK's airspace is key.
"It is vital that projects such as this take place to feed into the overall knowledge and experiences that will soon enable drones to be operating beyond the line of sight of their pilot on a day-to-day basis, while also still allowing safe and equitable use of the air by other users."
You might also like
Sign up for Black Friday email alerts!
Get the hottest deals available in your inbox plus news, reviews, opinion, analysis and more from the TechRadar team.