With 5G increasingly becoming mainstream, the best 5G phones encompass everything from high-end flagship phones to most mid-rangers and even some budget devices. It's a good idea to work out what you can afford before diving into the best options below.
5G is the next generation of mobile data connectivity. It brings with it super-fast speeds along with superior reliability and connectivity stability compared to 4G. That means it's perfect for tasks like online gaming, streaming movies, or quickly downloading large files.
Rather than provide a replica of our standard best smartphones guide, we've considered the key uses of 5G and focused on providing you with a list that covers those key points. The following roundup is broken down into categories to help you pinpoint the reason you might be looking to buy a 5G phone.
Each of the entries includes a 'best' model along with a 'runner up' to help you choose. That's particularly important as not all our best phones picks are available in the US or other regions.
At TechRadar, we test every new 5G phone that comes out, so we know what to look for. That also means this list is regularly updated, with the OnePlus 10 Pro now featuring on the list, and highly at that.
What is 5G? Our full explainer about the next-gen internet tech
Best 5G phones at any price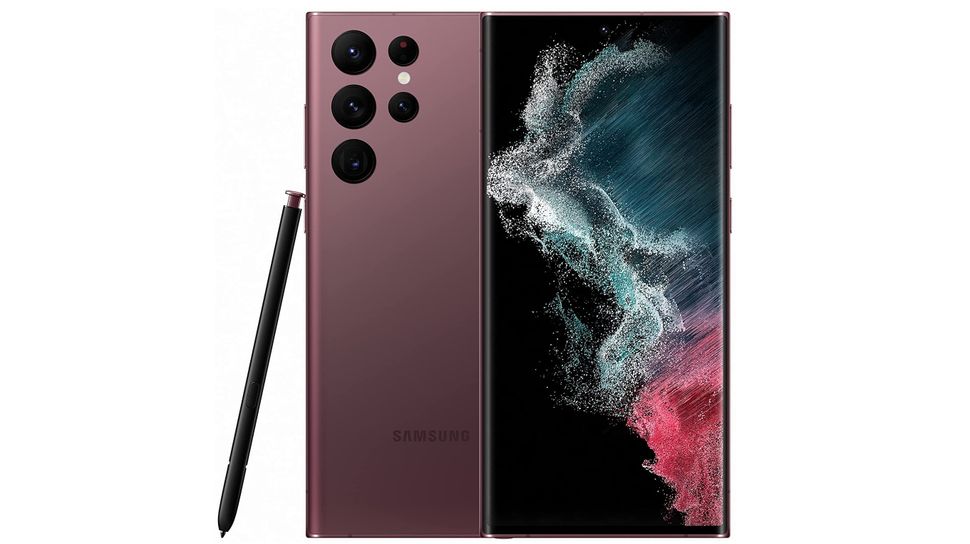 The Samsung Galaxy S22 Ultra is the new leader of the best 5G phones, although it will cost you a fair chunk of change to enjoy its many great features.
Those features are vast at least. It offers a beautiful 6.8-inch AMOLED screen that supports up to 3088 x 1440 resolution and a peak brightness of 1,750 nits. Its refresh rate goes up to 120Hz with the ability to adapt as needed so it always looks great, while Samsung's new Vision Booster technology means visibility is great even in direct sunlight.
Elsewhere, its camera array is fantastic with an array of lenses offering you plenty of options from two 10MP zoom lenses, to a 12MP ultrawide, and 108MP main camera. Great technology further enhances your images.
Throw in the integrated S Pen, speedy performance, and reasonable if not remarkable battery life, and this is a dream of a device.
Read our full Samsung Galaxy S22 Ultra review
Besides offering crucial 5G connectivity, the OnePlus 10 Pro offers a bunch of features we'd now consider crucial in a flagship phone.
It's chunky but it has a gorgeous 6.7-inch 2K screen that's perfect for streaming content while on the move or playing online games. 120Hz refresh rate means it can keep up with it all.
Further helping it is its Snapdragon 8 Gen 1 chip that means powerful performance at all times, ensuring it can keep up with the speed that 5G brings. It even bundles in cooling systems to help ensure your phone won't overheat while you game on your commute.
Slightly weaker cameras than some, but still reliable, is pretty much the only true downside to the otherwise remarkable performance of the OnePlus 10 Pro.
Read our full OnePlus 10 Pro review.
Best cheap 5G phones
The OnePlus Nord CE 2 5G has mid-range specs but a price that makes it one of the more affordable 5G phones, and it's an excellent choice if you're on a budget.
Beyond 5G connectivity, it benefits from fast 65W charging, a slim, lightweight build, and slick software that's almost entirely free of bloat.
The performance and camera are more middling but far from disasters, and while the screen is similar to the one on the original OnePlus Nord CE 5G, it's still pleasant to use.
Read our full OnePlus Nord CE 2 5G review
The Realme 9 Pro Plus is one of the cheaper 5G phones available, yet it has a lot going for it, including surprisingly good low light photography capabilities, which is something you usually have to pay a lot for.
With 60W charging this phone also powers up fast, and it has a striking design, with direct sunlight causing the rear panel's color to gradually change.
Plus, its camera is reasonably accomplished beyond its low light skills, performance is strong for the price, and it has a built-in heart rate monitor, which is something you don't often see on phones. There's quite a lot of pre-installed bloat, but that's our only significant complaint.
Read our full Realme 9 Pro Plus review
Best 5G gaming phones
The Lenovo Legion Phone Duel is a powerful 5G phone for gaming, with a top processor, plenty of RAM, side triggers and a dedicated gaming mode, so if you're a mobile gamer it's a great choice.
It's a good phone outside the gaming sphere though thanks to its incredibly fast 90W charging, a pop-up camera for selfies, software that works well in horizontal (unlike most phones) and clean software.
We found in our review a few software issues, but the only big downside is the phone's appearance as, just like for all gaming phones, it has quite a divisive appearance, with a big red 'Y' on the back and some rear LEDs.
Read our full Lenovo Legion Phone Duel review
The Nubia Red Magic 5G has all you'd want from a gaming phone - a FHD+ AMOLED screen with a 144Hz refresh rate, a top processor paired with plenty of RAM, and a long-lasting battery with fast charging capabilities.
You won't be able to pick up the Red Magic 5G in all regions, but if you can get it, and you're looking for a 5G gaming phone, it should definitely be your first pick.
We found some software issues with the phone, but if you're a mobile gamer it'll handle anything you throw at it with ease, especially if you want to play games online while out and about (thanks to the 5G connectivity).
Read our full Nubia Red Magic 5G review