AirPods Max 2 should steal the Vision Pro's smartest feature: its weird eyes
Life would easier if people know when you can hear them or not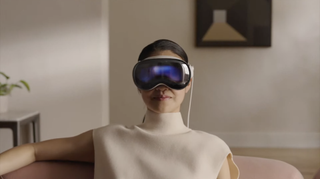 (Image credit: Apple)
One of the most maligned features of the Apple Vision Pro is the screen on its front, called EyeSight, which shows an image of your eyes, recreating what they're doing inside the headset. The opinion of most the TechRadar team is that it's anywhere from "dystopian" to "an outright abomination" – but I think it's maybe the smartest new idea the headset has. And not only that, but the principle behind it is something I'd like to see more tech use, starting with the AirPods Max 2.
In software/user experience design, there's a concept called an 'affordance'. Since what a piece of technology is actually doing is usually hidden, the basic idea of an affordance is that it tells you what's happening, or it tells you how you can interact with something. So, the tabs on your browser are an affordance – the software doesn't organize them like that in the background, but a tab arrangement makes it easy to switch between them, and to see what you have open. The fuel gauge on a car is an affordance, telling you what's happening hidden deep inside it.
The EyeSight screen on Vision Pro is an affordance. It tells you whether the person using the headset can see you (the screen clouds the user's 'eyes' over if they're totally immersed in virtual reality, or just puts a swirl of color around them if they mixing reality and VR) in its simplest form. But in addition, if you're talking to someone who you know can see you, it enables you to see if they're actually paying attention to you, or whether they're distracted by something virtual that you can't see. It gives you, the person outside the Vision Pro, information about what's happening inside the hidden world in a way that's useful for making conversation with the person wearing it.
What does any of this have to do with AirPods Max 2? Three words: active noise cancellation.
Can you hear me now?
As the processing inside the best noise cancelling headphones gets more and more advanced, the ability of headphones to block sound is becoming scarily good. I wrote about how I had to retrain my ears for AirPods Pro 2, because of how effective the noise cancellation is in most frequencies.
I've also written about how I wish that AirPods Pro 2 would have customizable ANC, because sometimes I'd still like to be able to hear that someone is trying to talk to me, without having to be in full Transparency mode – though the new Adaptive Audio feature in iOS 17 may help here. It's always awkward when someone tries to speak to you and doesn't realise you can't hear them – or, equally, maybe you have Transparency on and they're indicating to you to take your headphones off, and you need to explain that you can, in fact, hear them.
This could be easier. Whenever AirPods Max 2 arrive (which is currently rumored for 2024), I'd expect them to have absolutely incredible noise cancellation – over-ear ANC headphones tend to be even better than the best noise cancelling earbuds, and AirPods Pro 2 are already ridiculously good. So that's just going to exacerbate the issues around all this.
But what if AirPods Max 2 could do the same thing that Vision Pro does – subtly indicating to everyone around you what your level of awareness is?
I'm not saying there should be a screen with a live recreation of your ears on it, to be clear. I'm imagining just taking the swirling lights aspect – what I'm thinking is more like putting the screen from the top of the HomePod 2 or HomePod mini on the earcups.
If you're in noise-cancelling mode, colored light could fill the panel – across the front, backs and sides – and if you're in Transparency mode, it could just become a ring on the edge of the light area. If you're listening to something, the lights could pulse or swirl, while if you're just wearing them with nothing playing, they stay static. People familiar with you and your headphones would instantly know what kind of mode you're in when approaching you.
Not everyone will want a disco on their ears when listening on public transport, so turning this off should be easy to do from Control Center on your iPhone. And there could be a 'classy' option, where instead of swirling lights, it shows as just white light when you're in Transparency mode and Red in noise-cancelling mode, for example.
AirPods Pro are too small to make much use of this (especially for people with long hair, where you won't see them anyway), but it makes more sense with the larger design of AirPods Max.
It's not like this will make or break whether the AirPods Max 2 compete with the best headphones around, but since Apple is clearly thinking about how wearable tech can disconnect us from the real world, let's not forget that headphones have this effect too, and I'd love a way to give other people a sign of whether they can just chat to me, or whether they they'll be asking whether I want a coffee into the void.
Sign up for Black Friday email alerts!
Get the hottest deals available in your inbox plus news, reviews, opinion, analysis and more from the TechRadar team.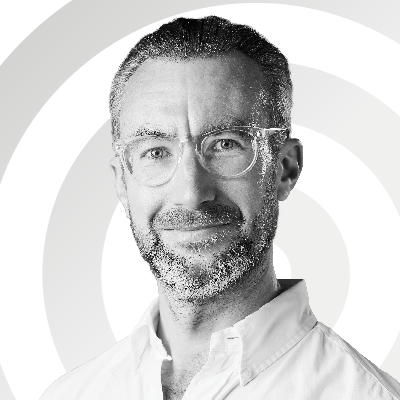 Managing Editor, Entertainment
Matt is TechRadar's Managing Editor for Entertainment, meaning he's in charge of persuading our team of writers and reviewers to watch the latest TV shows and movies on gorgeous TVs and listen to fantastic speakers and headphones. It's a tough task, as you can imagine. Matt has over a decade of experience in tech publishing, and previously ran the TV & audio coverage for our colleagues at T3.com, and before that he edited T3 magazine. During his career, he's also contributed to places as varied as Creative Bloq, PC Gamer, PetsRadar, MacLife, and Edge. TV and movie nerdism is his speciality, and he goes to the cinema three times a week. He's always happy to explain the virtues of Dolby Vision over a drink, but he might need to use props, like he's explaining the offside rule.