Update: After a week's time with the new Apple TV, we've finally passed judgement on Apple's new streaming box. Here's our Apple TV review.
Original story below...
Three years of waiting for a major upgrade and six months of rumors have lead to this point: the new Apple TV, announced earlier in September at the company's iPhone 6S event.
When it came time to think about the upgrade to the Cupertino company's seminal streamer, it seems one Steve Jobs-ian point made it through the chopping board: the new Apple TV needs to be just as smart if its predecessor and just as easy to use. It needs to offer a slew of contemporary features but still remain relatively clean looking.
Perhaps unsurprisingly, the new Apple TV is all of those things.
Now, before you go down into the comments and leave a nasty retort, we know that "new Apple TV" is a fairly confusing name. But Apple bows to no numerical and/or logic system, and since the Apple TV has yet to see a true sequel until now, instead receiving iteration after iteration of internal upgrades, this is just the way the Apple peels.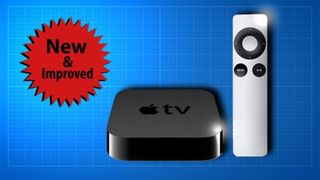 It's been about two years since the last minor change to the Apple TV and three since the last major one. Which, for a company that's bound and determined to release a new iPhone every 12 months, seems a little strange that Apple's popular streamer has been MIA since the iPhone 5.
But our patience has been rewarded, and Apple has delivered the next iteration of a great streaming device. It packs a faster processor than its predecessor, a great-looking UI, too. It has an all-new remote that comes with a built-in microphone and works with Siri, not to mention the fact that it doubles as a Wii-like motion game controller.
It has a sharp new OS - a hybrid of OSX and iOS - and comes with a loaded app store that Tim Cook says will usher in a new age of television. It's ostentatious and bold vision packed into a tiny box. But that's Apple for you.
Cut to the chase
What is it?
The next generation of Apple's set-top box, the Apple TV
When is it out?
Monday October 26 2015 in over 80 countries worldwide
How much does it cost?
The 32GB version will cost $149 (£129, AU$269) while the 64GB version will come in at $199 (£169, AU$349)
Why is it better?
It has a faster processor, better interface, more apps, a Wii-esque remote and has voice search functionality
When WWDC 2015 came and went without an Apple TV announcement, we were a little disappointed. But when rumors started to circulate about the Cupertino company's September 9 event, our hopes and dreams for a brand-new set-top box started to solidify into reality. It turns out it wasn't all wishful thinking, either. Rumors of Apple's next set-top box practically boiled over until most, if not all, of the Apple's big secrets saw the light of day before the 9th. (You can find the key points highlighted in bold!)
New Apple TV user interface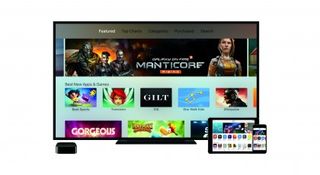 User interfaces are absolutely crucial, and Apple built its reputation on putting together some of the sleekest, most easy-to-use pieces of software on the market. The new Apple TV harnesses that long tradition of doing things right and wildly improves the old model's layout into something more modern.
The new UI is purposefully flat, with top-level boxes for music and movies on the iTunes store, your most used apps like Netflix and Hulu, as well as the recently added App Store - which is like to pack TV-optimized games alongside Apple Music and its music-streaming kin.
It's all built on top of a new OS called tvOS that works like a hybrid of iOS and OSX. There are 11 million developers on the platform according to Apple senior vice president of Internet Software and Services, Eddy Cue, which means you can expect a ton of third-party apps available on the first day.
tvOS will support Siri and include universal search results that enable searches across multiple streaming video services as well as Apple's iTunes Store. That means instead of searching for a movie on each individual app, you'll be able to see a select number of services in every search (think Netflix, Amazon Prime Instant Video, Hulu, YouTube, Vimeo, etc).
New Apple TV remote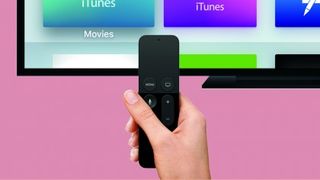 Also, we know that the New Apple TV will include an updated remote control (goodbye, boring aluminum IR remote) that operates over Bluetooth and features a mix of physical buttons and a touchpad.
Inside the remote, Apple looks to be packing in some Wii-esque motion sensors, which would make playing games on the App Store that require tilt easy. Speaking of Bluetooth, we've heard whispers that you might be able to connect any console-style controller made for iOS to the Apple TV if the new remote doesn't do it for you.
Of course the remote will include an internal microphone so you can chat with Siri, meaning that the new Apple TV might be fully operable just with your voice.
Apps shown off so far that use the remote are a new-and-improved Crossy Road, Beats Sports - a Wii-like game from the Rock Band developers, MLB At Bat and Apple Music. And for fans of the old-fashioned Home Shopping Network, Gilt will allow you to shop for deals from the comfort of your couch.
There are thousands more apps in the works, and techradar has confirmed with a handful of developers that even though the store looks sparse, many more apps are right around the corner.
New Apple TV hardware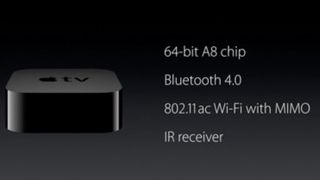 But like my mama always said, it's what's on the inside that counts. And inside the New Apple TV is packing a 64-bit A8 processor, currently found in the iPhone 6 Plus. It's several times more powerful than the current Apple TV, and gives it the necessary horsepower to truck through the latest wave of graphically intense games. Does this mean that your Apple TV will become the premier spot to play the latest Call of Duty or Madden game? Most likely not. But for fans of casual or semi-casual gaming, the New Apple TV will be a pretty mean gaming machine.
It will support Bluetooth 4.0 (necessary to work with the all-new Siri remote), 802.11ac WiFi with MIMO and come with either 32GB or 64GB of internal flash storage. None of this, however, is going to come cheap.
New Apple TV price
As expected, the 32GB will cost $149 (£129, AU$269) while the 64GB version will come in at $199 (£169, AU$349). It's about three times the cost of the current Apple set-top box, but that price feels justified with all the new bells and whistles.
The only thing that would've sweetened the deal? A subscription to the purported cable alternative Apple has been working on for the past few months. This feature is likely to be coming, but we can now confirm that it missed the Apple TV announcement on September 9.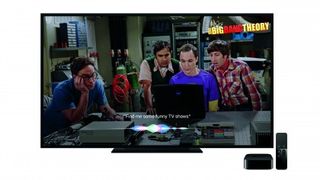 New Apple TV release date
So when can you get it? Apple launched the new Apple TV in over 80 countries on Monday October 26, and will expand to over 100 by the end of 2015.
New Apple TV competition
Looks like the new Apple TV isn't the only shiny new set-top box on the market this holiday season. Recently Amazon launched a 4K version of the Amazon Fire TV, while Google has recently shipped out a Chromecast 2.
Finally, after techradar caught wind of the new Roku 4 thanks to a filing with the FCC in late September, Roku launched its stellar new streaming box at the tail end of October.
So far the consensus among reviewers is that the Chromecast 2 offers a faster response time and extremely affordable price tag if you can stand living without a user interface, while the the 4K Amazon Fire TV is great, but ultimately too dependent on a Prime subscription to do much good.
Conversely, the Roku 4 brings one of the best operating systems and universal search functions to the table, however the unit is noticeably louder and hotter than the Roku 3.