The new Moto G has been announced and it's already on sale with Motorola acting quickly to get its best selling smartphone of all time into the hands of consumers.
Sporting a 5-inch HD display, dual front facing speakers, 13MP rear camera, 5MP front snapper and IPX7 waterproofing the Moto G packs a lot in.
For the first time in the G range, the new Moto G can be customised through the Moto Maker website, although you can grab the handset direct from networks and retailers too.
Motorola
You can get the new Moto G direct from Motorola itself, with prices starting at £179 through the Moto Maker customisation website.
From here you can choose the colour for the front, back and accents, as well as opt for a flip shell (for an extra £24.99) and engraving.
If you fancy bumping the internal storage from 8GB to 16GB your starting price is £209.
O2
O2 has stock of the black Moto G, with a £9.99 upfront payment getting you an 8GB Moto G with 100 minutes, unlimited texts and 100MB data for £14.99 per month.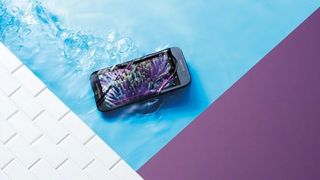 Three
You can also pick up the new Moto G on Three, and the network is working closely with Motorola allowing you to customise the handset via Moto Maker.
You'll need to get a unique pin from Three first, and then follow the link on the website to take you to the customizer.
A two year deal with £19 up front will get you unlimited texts and data, plus 600 minutes for £34 per month, and if you shell out an extra £3 per month you'll get unlimited minutes.
If you don't fancy being tied down to a contract then you can also get the Moto G on PAYG for £159 plus £10 top up.
Vodafone
Motorola has confirmed the new Moto G will be available from Vodafone, but the network is yet to release details of its offering.
Carphone Warehouse
Carphone Warehouse holds exclusivity on the green version of the Moto G, and also offers the black model - both with 8GB of storage.
There a tariffs from four networks on offer, including the retailer's own iD network, and you can get yourself a free Moto G handset with 300 minutes, 5000 texts and 1GB of 4G data for just £15.50 per month.
EE
We've not heard anything from EE regarding the new Moto G, but we'll update this article once we receive confirmation.
Online retailers
If you're in the market for a SIM free Moto G the black and white 8GB models can be had for £159.99 from MobileFun.
The third generation Moto G can also be found in stock at Clove, where once again you get to pick from the white and black 8GB models with both costing £160 SIM-free.