Canon EOS R50 vs EOS M50 Mark II: two lens mounts go head-to-head
Versus
Contributions from
published
It's Canon's EOS-R and EOS-M crop-sensor systems against each other, but which one comes out on top today?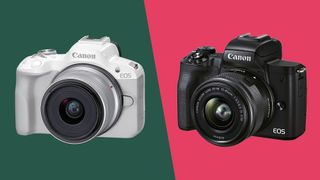 (Image credit: Canon)
The Canon EOS R50 presents the most affordable route into Canon's EOS R system and is designed to do the hard work for you, without skimping on image and video quality.
For
Small and light
Punches above its weight
Decent video performance
Against
No prime lenses
Play-it-safe design
Small viewfinder display
Great for those just starting out on their photography and content creation journeys but negligible improvement over the EOS M50. Value hasn't dropped much in two years.
For
Vertical video recording
Eye AF for stills and video
Great stills
Against
Heavily cropped 4K video
Limited native lenses
100fps shooting at only 720p
The Canon EOS R50 marks something we've been talking about for a while, the effective "death" of the EF-M lens mount.
An indirect successor to the EF-M mount Canon EOS M50 Mark II, the Canon EOS R50 brings this reasonably affordable APS-C sensor line over to the RF-S lens system.
This shift doesn't exactly come with a giant bang. Lens mount aside, the EOS R50 is similar to the EOS M50 Mark II, solving only a few issues such as the 4K video crop, while bringing specs up to speed.
For actual buyers, though, there's a real consideration regarding lenses here. While the EF-M lens catalog was never huge - six in all - there's even less RF-S lenses right now. Is that a problem? We take a closer look in this comparison.
Canon EOS R50 vs EOS M50 II: Price and Availability
The followup to the original M50 from 2018, the Canon EOS M50 Mark II was announced in October 2020 and released a month later. The Canon EOS R50 was announced in February 2023.
The body-only version of the EOS R50 costs $679.99 / £789.99 / AU$1,249 (approx), compared to $599 / £599 / AU$ for the EOS M50 Mark II at launch, and the margin between the too for camera and lens bundles is around the same, too. The EOS R50 and 18-45mm kit lens bundle costs $799 / £899 / AU$1,399 (approx).
In general, EOS-M cameras cost less than EOS-R ones, and value is perhaps a reason why the EOS-M system could stick around for a while longer even if no development of the system is in the pipeline.
Canon EOS R50 vs EOS M50 II: Body and lenses
The Canon EOS M50 Mark II and EOS R50 are APS-C sensor cameras. Not surprisingly, their weight and dimensions are very similar, particularly since neither of these models has in-body image stabilization (IBIS).
In terms of weight, there's only a handful of grams between the two models, with the R50 at 375g and the Canon M50 Mark II at 387g, which means both will feel an absolute breeze to use when hooked up with a lightweight street photography-ready prime lens. But can you actually get one of those for these cameras?
The Canon EOS R50 can use RF lenses made for Canon's full-frame mirrorless cameras, but the ideal is an RF-S lens which is physically smaller, being made for APS-C sensors. Hooked up with an RF lens, the EOS R50 won't actually use the full area of the lens glass.
The Canon EOS M50 II uses EF-M lenses. And while you can use EF full-frame lenses, they require an adapter. Canon has yet to make a decent array of RF-S lenses designed specifically for cameras such as the EOS R50. Here's what's available in each mount:
RF-S lenses
18-150mm F3.5-6.3 IS STM
18-45mm F4.5-6.3 IS ST
55-210mm F5-7.1 IS
EF-M lenses
55-200mm f/4.5-6.3 IS STM
28mm f/3.5 IS STM
22mm f/2 STM
32mm f/1.4 STM
15-45mm f/3.5-6.3 IS STM
11-22mm f/4-5.6 IS STM
As you can see, the EF-M currently offers far more lens options – and given how much full-frame cameras steal the spotlight these days, it may take the RF-S system some time to catch up.
Of course, we shouldn't overlook the fact that future Canon EOS R50 owners can just attach the great-value RF 50mm F/1.8 STM for casual use. It isn't huge, even though it has a full-frame camera sized glass. And you won't be getting the stated 50mm focal length as a result of the 1.6x crop factor of the APS-C sensor.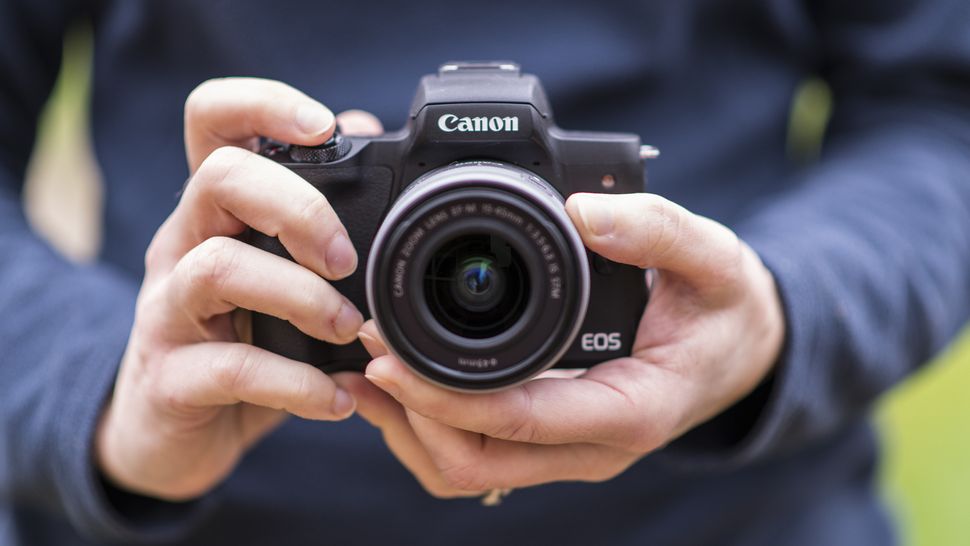 Canon EOS R50 vs EOS M50 II: Sensor and burst shooting
The Canon EOS M50 Mark II and EOS R50 have similar sensors. Both are APS-C size with 24-megapixels (MP). The stated effective resolution is just slightly different – 24.1MP for the EOS M50 Mark II and 24.2MP for the EOS R50. Dynamic range and general image quality are likely to be extremely similar, too.
However, burst shooting brings more obvious differences, thanks to advances in processor power. The EOS M50 Mark II uses the DIGIC 8 chipset first seen in 2018. The EOS R50 has the DIGIC X used in 2020's Canon 1D X Mark III – a camera capable of 4K 120fps video recording. It can handle a lot of data.
The Canon EOS R50's top-speed burst mode is 15 frames per second (fps), using the electronic shutter. This compares favorably with the 10fps top speed of the EOS M50 Mark II. You're limited to 12fps when using the EOS R50's electronic first-curtain shutter (EFCS) mode, which is where the exposure ends when the rear curtain closes.
The image preview experience is likely to be similar, though. Both cameras have 2.36-million-dot electronic viewfinders and vari-angle displays.
Canon EOS R50 vs EOS M50 II: Video
Video is the most legible difference between these cameras, aside from the different lens mounts. While the Canon EOS R50 and EOS M50 Mark II can shoot 4K / 30p (frames per second), their 4K handling is different.
There's a 1.6x crop in the Canon EOS M50 Mark II, just as there was in the original M50. The Canon EOS R50, however, can generate full sensor width 4K video, oversampling from the original 6K feed.
We welcome this – it was on our wishlist in 2020. Note that neither camera can shoot 4K/60p, and while that would have been a lovely addition, it's perhaps unrealistic to expect it at this beginner level.
The EOS R50 also brings content creator-friendly 9:16 vertical shooting. This mode doesn't do anything too advanced, simply orienting footage correctly when the camera is arranged on its side so you don't have to constantly rotate clips by 90 degrees in the edit. It's a user-selectable option, not an automatic phone-like feature.
Canon EOS R50 vs EOS M50 II: Autofocus
The Canon EOS R50 has at least one generation's worth of autofocus improvements over the older EOS M50 Mark II, using the same Dual Pixel CMOS AF II focus system as the EOS R10 released in July 2022 and present in Canon's current full-frame mirrorless cameras. The EOS M50 Mark II uses an earlier generation Dual Pixel system.
Performance benefits aren't that easy to nail down on paper – check back for our full review – but the EOS R50 does also offer a greater number of focus-tracking modes. Where the Canon EOS M50 Mark II offers eye and face tracking, the EOS R50 adds head, body, animal and vehicle tracking (cars and motorbikes are on the list).
Which one should I buy?
The choice of model number is the clearest indication so far that Canon has turned its attention from the EOS-M system in favor of the newer EOS-R system. Aside from the lack of a viewfinder-less EOS-R system camera, it feels like the transition to new RF lens mount is complete. But how does the EOS R50 and EOS M50 II fare against each other right now?
Regarding features, there's actually not a lot to choose between the two cameras, while there are many similarities in each camera's design, too. The EOS-M50 II costs less, however, camera technology is evolving and the EOS-R system already has incremental improvements in performance, such as video and autofocus versatility.
EOS-R is where Canon's resources are invested - there's been no action in the EOS-M system for some time now. Currently we're still at a transition point where the EOS-M system still has better lens choice. Nothing is guaranteed, but we can rest assured that there are more RF-S lenses on the horizon - how many we don't know.
Both cameras are nifty shooters for beginners and smartphone upgraders. But facing off against each other, it boils down to whether you want the lower-cost EOS M50 II camera for today with greater native lens choice, or bank on the prospect of the EOS R50 improving over time as the EOS-R system is developed.
Get daily insight, inspiration and deals in your inbox
Get the hottest deals available in your inbox plus news, reviews, opinion, analysis and more from the TechRadar team.
Andrew is a freelance journalist and has been writing and editing for some of the UK's top tech and lifestyle publications including TrustedReviews, Stuff, T3, TechRadar, Lifehacker and others.