I love Leica's luxe 4K projector with Dolby Atmos as much as I love its cameras
Money no object: A luxury Bauhaus designed projector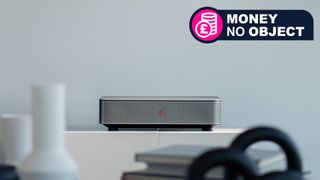 (Image credit: Leica)
Money no object
We love to give practical buying advice about the latest gadgets here on TechRadar. But sometimes what we love more is to indulge in the most ridiculous, high-end, cutting-edge, luxurious tech on the planet. That's what we bring you in these Money no Object columns – you can read the whole series here.
What do you get if you cross a Hisense 4K laser projector with luminous Leica lenses and lasers? An extravagantly priced ultra short throw projector that is designed with style. Hisense makes the best ultra short projectors you can buy right now, while Leica is behind the best compact cameras if money were no object. Together, the marriage of their expertise in projectors, lasers and lenses has created an ultra-premium home cinema machine.
Revealed in January 2023, the Leica Cine 1 is the company's "first cinema TV". Interestingly, though, it's not the first projector it's ever made – the renowned German camera maker had dabbled in the space back in the early 1900s I'm told while at a demo at the Leica store in Marleybone, London. But when you think about its expertise in engineering lenses and lasers (from the Leica Geosystems part of the business), it starts to make a lot of sense why Leica would lean more into the space.
However, of course, there's the small matter of turning that engineering smarts into a home cinema piece of technology – a space that it's not particularly versed in. That's where Hisense comes in. I think Leica has made a really smart move by partnering with the Chinese electronics manufacturer, as its clout in the projector world is well-recognized among home entertainment enthusiasts. But what's inside this ultra short throw projector, what makes it so special and crucially is it worth the ultra-expensive cost?
Leica Cine 1 projector: What is it?
The Leica Cine 1 was one of the best projectors of CES 2023 that we had a demo of while at the expo. We were blown away by the image quality, saying that "the image being projected in the company's booth looked perfectly crisp [thanks to] Leica's Image Optimization (LIO) processing".
I've also seen the projector in action now that it is launched in select stores in the UK (it is set to be available nationwide by September 6), and found it to be clear and detailed even under white fluorescent lights during the middle of the day in a brightly lit store. Of course, the advantage of ultra short throw projectors is that they're positioned close to the screen (in the case of the Cine 1 that's roughly 25cm from the wall), which helps to limit the amount of light leakage.
The ambient light rejection (ALR) screen, which was made by a German company called Celexon, also contributed to its bright image with sharp contrast. That isn't the only bespoke additional piece of kit that you can buy alongside the projector itself. Leica has even partnered with a smart furniture company called Spectral that made a custom cabinet for it – this is a separate service that can be requested.
The projector itself has Leica Summicron lenses inside of it that have been specced out specifically for the projector. It boasts 4K resolution with support for HDR10+, HLG, Dolby Vision as well as surround sound Dolby Atmos. It's also very bright at 3,000 lumens and is pitched to have a 60Hz refresh rate. There are three models, which project different sizes of 80-, 100- and 120-inches.
There's no difference when it comes to the specs across the varying projection sizes. All three sizes also have three HDMI ports, two USBs and a range of connectivity options, including Wi-Fi, LAN as well as a built-in triple TV tuner. The Cine 1 uses the VIDAA smart TV system – the menu of which is a curated view of all the best streaming services.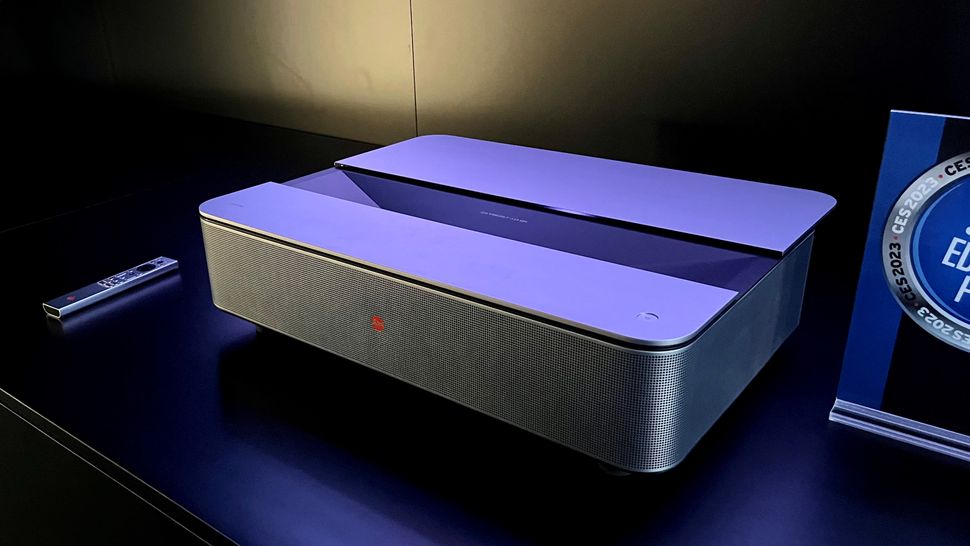 Leica Cine 1 projector: What makes it special?
I cannot speak enough about how much I love this Bauhaus design in a projector. The materials used are perforated aluminum and it also has the signature red Leica dot at the centre of it, which is the only detail that breaks the metallic colorway.
The Cine 1 is truly a stunning entry into the ultra short throw projector space and stands out for its looks, which echoes an artistic movement that was pioneered by Walter Gropius when he founded an art school in Germany in 1919. This Bauhaus style of design is centred on minimalism with rectangles and rounded corners – much like the Cine 1's distinctive profile.
What makes the picture so crisp and detailed is the triple RGB laser technology. This light engine system is what ensures that the projector's color volume can equally match its 3,000 lumens brightness. It's also powered by DLP chips.
On the audio side, I'm told the projector has a 2.1 channel system. What helps to make the Dolby Atmos come alive is the curved speakers, which sit on the sides of the projector. It also offers dedicated sound modes, including a Film mode so you can watch a movie the way the director intended it. Another neat feature is adjustable EQ and lip sync settings.
Leica Cine 1 projector: Is it worth it?
Although the Leica Cine 1 ultra short throw projector is stunning and technically very powerful, there's one big catch – its price tag. The 120-inch projection size model costs £8,995 in the UK, while the 100-inch sized model is £8,495. US pricing has not yet been confirmed, but is expected to be unveiled later in September when it is launched there.
With a service life of more than 25,000 hours, you'll certainly get a lot of use out of it before you have to replace the lamp but it's still an eye-watering price for most people. There are some added value benefits in that Leica claims that its energy consumption is significantly less than the best OLED TVs due to laser technology needing less power.
Regardless, the Leica Cine 1 ultra short projector is a luxury item and one that has set an unattainable benchmark for the likes of myself but that I still want for its beautiful design. If projectors were pieces of art, this is the Mona Lisa of the home cinema world.
You might also like
Get daily insight, inspiration and deals in your inbox
Get the hottest deals available in your inbox plus news, reviews, opinion, analysis and more from the TechRadar team.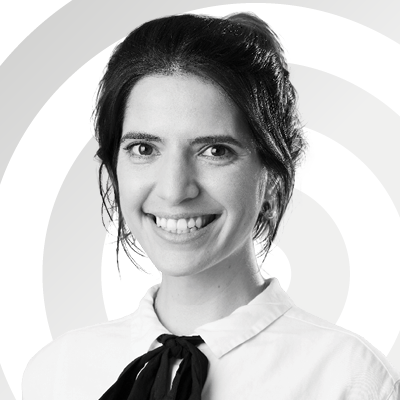 Senior Editor UK, Home Entertainment
Amelia became the Senior Editor for Home Entertainment at TechRadar in the UK in April 2023. With a background of more than eight years in tech and finance publishing, she's now leading our coverage to bring you a fresh perspective on everything to do with TV and audio. When she's not tinkering with the latest gadgets and gizmos in the ever-evolving world of home entertainment, you'll find her watching movies, taking pictures and travelling.