I never knew I desperately needed a turntable with two tonearms until now
Money no object: because two arms is always better than one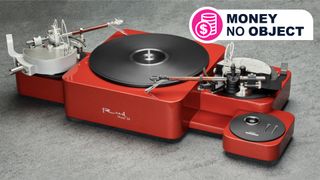 (Image credit: Reed)
Money no object
We love to give practical buying advice about the latest gadgets here on TechRadar. But sometimes what we love more is to indulge in the most ridiculous, high-end, cutting-edge, luxurious tech on the planet. That's what we bring you in these Money no Object columns – you can read the whole series here.
Ever looked at your deck (even if it's one of the splendid models featured in our best turntables buying guide) and thought, "I'd like one in the style of a German 1919-1933 artistic movement but with two tonearms"?
Well, as you can probably guess, you can now have precisely that – provided you're prepared to pay for it.
Reed has unveiled a new Bauhaus-style turntable, called the Muse 3A. It was designed in Lithuania, is made entirely from birch plywood (Bauhaus style is visually typified by angular, geometric or abstract shapes, but its goal was to merge all artistic mediums into one unified approach, thus combining individual artistry with mass production and function) and is available in three colours: Carnelian Red, White and Black.
In a nutshell, the unit's traction system can be switched to a belt drive or friction drive and it features a Coreless DC motor.
And here's the key bit: it also allows listeners to mount one or two tonearms. Why might you do that? Because different cartridges can bring out distinct textures, tones and features in the music you're spinning, that's why. So, a dual tonearm setup offers the convenience of an easy switch, ergo specific styli for certain music genres (or vinyl presses).
I'll be honest: I've never wanted such a thing until now – my one tonearm and cartridge setup has always seemed to suffice. Having seen this thing of beauty, I feel quite differently; now I want it very badly.
Reed Muse 3A turntable: what is it?
One of the first things any vinyl lover will ask upon perusing a new turntable is whether the platter is belt- or direct-driven. Well, the Reed Muse 3A turntable actually has a user changeable traction system. It can, says Reed, be switched to a belt drive or friction drive very easily, in the same way as the company's Muse 3C offering (Reed currently lists just three turntables on its website, with the new 3A coming in as the flagship proposition).
The main difference between the models – Muse 1C, Muse 3C and Muse 3A – is that the Muse 3A uses a single, powerful, precision Coreless DC motor. And that is desirable because it's designed to reduce noise from the drive system, which might otherwise be transferred to your LP via the cartridge tracking through its grooves.
The Reed Muse 3A also has a digital control system indicator, which specifies the rotating speed of the platter and other key operating system info. The display shows an inclinometer connected to a very accurate level – because if you're paying this much for a deck, you really ought to make sure the thing is resting horizontally.
As mentioned above, the Reed Muse 3A allows a customer to mount one or two tonearms (at an additional cost), either centered or off-center mounting, of an effective length from 9.5in to 12in.
The body (including the bottom) is wholly comprised of birch plywood, which ought to make it non-resonant and the platter, which is raised slightly above the main body, has hidden supports (or feet) to create the illusion of hovering above your hi-fi rack. To be clear though, this turntable weighs 15kg before any tonearms are added, so it is far from lightweight.
It's available to order now and the Reed Muse 3A costs a cool €15,000 (which is around $16,875, £12,870 or AU$24,740).
Reed Muse 3A: what makes it special?
Despite aiming for Bauhaus principles (a sort of "art for all" idea), Reed is not a massive audio outfit. Tonearms.lt – yes, the Lithuanian firm is first and foremost a maker of quality tonearms – is a small company with only five employees. However, its history and development are even more interesting.
The original and current designer and company owner, Vidmantas Triukas, is a radio engineer, having worked in hi-fi equipment since 1985 – although he also studied art history in St. Petersburg (formerly Leningrad) from 1980-1982. Triukas specialized in scientific acoustic and ultrasound, researching the transmission of acoustic noise in different materials. He even has three patented inventions in this field, so it stands to reason that any turntable crafted under his watch will boast rare skill and talent.
In 1987, Triukas built an "audio set" with a few friends, consisting of a turntable, speakers and an amplifier, and presented it at the USSR's largest technical achievement trade show in Moscow. For its various innovations, including a turntable motor automatic speed control and amp with very low linear distortions, the system was awarded a bronze medal in the audio equipment category.
Triukas branched into another area of business in the '90s (didn't we all?) but audio remained his passion. In 2007, he decided to focus on this, and after a year of continuous research, prototyping, design and testing, he offered the first Reed series tonearm. And the rest, as they say, is history.
Buy a Reed turntable and the company says you're buying a product that "meets the highest quality requirements" and as such, it will be shipped within 4-6 weeks – because it needs to be hand built to your specifications.
Reed Muse 3A: is it worth it?
Look, if I had the expendable income, I would absolutely want a Muse 3A built to my own specifications, complete with two of the company's specialist, glorious tonearms – in typically Bauhaus Carnelian Red, if you don't mind.
But since my funds are very much finite, any dreams I have of owning this two-armed scientific and stunning piece analog joy will have to remain just that; fictitious, fun and fantastical.
Can I list other excellent turntables in the more affordable realms? Of course I can, and Pro-Ject's Debut Carbon Evo will never stray far from my list there. Also worthy of note is Victrola's Sonos compatible turntable, Technics' SL-1500C, the Rega Planar PL1 – and who could forget this Marilyn Monroe-esque vinyl system? But these are all great, solid, known decks. The Reed option? This is something none of my friends will have – not even the audiophiles. As such, it'll play like nothing I've ever heard before.
And it's impossible to put a price on that.
Sign up for Black Friday email alerts!
Get the hottest deals available in your inbox plus news, reviews, opinion, analysis and more from the TechRadar team.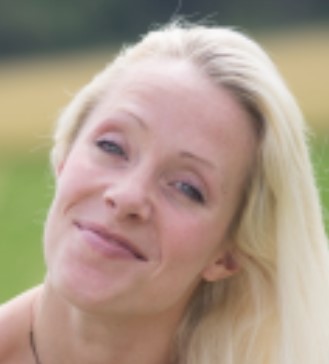 Senior Audio Staff Writer
Becky is a senior staff writer at TechRadar (which she has been assured refers to expertise rather than age) focusing on all things audio. Before joining the team, she spent three years at What Hi-Fi? testing and reviewing everything from wallet-friendly wireless earbuds to huge high-end sound systems. Prior to gaining her MA in Journalism in 2018, Becky freelanced as an arts critic alongside a 22-year career as a professional dancer and aerialist – any love of dance starts with a love of music. Becky has previously contributed to Stuff, FourFourTwo and The Stage. When not writing, she can still be found throwing shapes in a dance studio, these days with varying degrees of success.