Time-bending thriller Bodies is still Netflix's #1 show – here are 4 tense mystery shows to watch next
More weird and wonderful thriller shows on Netflix to follow up with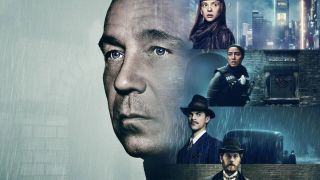 (Image credit: Netflix)
If you've been loving Netflix's time-travelling detective drama Bodies, you're not alone. It's still Netflix's most-watched show in its second week, just beating out new releases including true crime doc Get Gotti and David Attenborough's Life on Our Planet.
Finishing the series is going to leave a big gap in the Twisty Thrillers bit of your to-watch list. But don't despair: there are plenty more of the best Netflix shows to give your brain a workout and occasionally make you cower behind the couch. Allow us to introduce a particularly fantastic four.
Manifest
Stop us if you've heard this before: a plane full of passengers takes off as normal and they soon find themselves dealing with something very weird and supernatural. So far so Lost, and maybe a little Yellowjackets too – but Manifest is a slightly different beast, focusing on family and loss rather than monster-in-the-woods scares or anybody eating anybody.
Its tale of a flight that mysteriously vanishes before reappearing in a world that's five years older isn't as smart as it thinks it is and the overt religious themes were a little too overt for some reviewers, but it's a fun and occasionally silly thriller that delivers four seasons of suitably twisty entertainment, and has been wildly popular with viewers during its time on Netflix.
Dear Child
This one's currently sitting at a whopping 100% rating on Rotten Tomatoes, although the site doesn't link to any reviews to tell you why it's got such a high score. Decider says it has the creepiness of shows such as The Missing, and its story – which begins with a woman being hit by a car and left in critical condition but soon becomes linked to a decade-old mystery – is told from multiple fragmented perspectives that may or may not be giving you the whole picture.
The Silent Sea
The sea of the title isn't on Earth: it's on the moon, where a team of explorers are sent to the moon to retrieve secrets from an abandoned research facility. Those secrets could save all of life on Earth, so no pressure. And of course, things go bad. Very bad. The result is a tremendously twisty sci-fi thriller that mixes familiar tropes – bad corporations, running around corridors being scared, lots of jump scares – to entertaining effect. The pacing's a bit off – which is perhaps why its Rotten Tomatoes critic rating is 80% rather than into the 90s – but the effects are great and if you give it a few episodes to get going it moves into high gear in some style.
Mindhunter
The mind-bending here isn't of the time-travel variety; it's the mind games played by killers in this mesmerizing and utterly compelling crime drama. It's one of Netflix's best shows ever, cruelly canned after just two of the five intended seasons due to a combination of its high cost and the toll it was taking on director David Fincher, who was heavily involved in it throughout. That's a real shame, but at least we have two superlative seasons of good guys trying to remain good guys while tracking some of the most evil humans ever to walk American streets.
Fincher's drama was a critical hit scoring 97% on Rotten Tomatoes, and was one of few shows to truly embrace the open possibilities that streaming offers, with some episodes being as short as 34 minutes and others as long as 73. If you haven't seen it, you're in for a treat.
You might also like
Get daily insight, inspiration and deals in your inbox
Get the hottest deals available in your inbox plus news, reviews, opinion, analysis and more from the TechRadar team.
Contributor
Writer, broadcaster, musician and kitchen gadget obsessive Carrie Marshall (Twitter) has been writing about tech since 1998, contributing sage advice and odd opinions to all kinds of magazines and websites as well as writing more than a dozen books. Her memoir, Carrie Kills A Man, is on sale now. She is the singer in Glaswegian rock band HAVR.