Why you can trust TechRadar We spend hours testing every product or service we review, so you can be sure you're buying the best. Find out more about how we test.
Build and handling
Dust- and moisture-resistant body with revised protection
Grip has been reworked for better support and comfort
New exposure compensation dial locking button
At least to the eye, it doesn't seem that the design of the Sony A7R IV has been changed a great deal from that of the A7R III, but a handful of changes have indeed been made, for various reasons.
The exposure compensation dial on the top plate now mirrors the mode dial in having a locking button in its center. This only needs to be pressed once to lock and unlock, which, on a dial this small, is far more convenient than having to hold it down whenever you want to turn it.
The rear command dial that was half embedded into the body on the A7R III now sits proudly on the top plate. This dial has a pleasingly soft click to it, although it does make the mode dial next to it a little harder to access than on the A7R III, particularly as its locking button needs to be pressed down throughout its rotation.
There's no getting around the fact that having three dials in this area means each has to be small, and a little too close to the others for ideal operation, although if you tend to stick to one exposure mode and only rarely adjust exposure compensation this may not be too great an issue for you.
The AF-On button is now more prominent than it was before, while the Multi Selector, which is used to shift the focus point and navigate menus among other things, has gained a new pimpled finish so that it can be manipulated more easily.
This control feels nice under the thumb, and the camera responds to diagonal movements as promptly as it does to vertical and horizontal ones. Holding it in any direction also allows you to move at speed, be it when adjusting the AF point, zipping through menus or something else.
Dust and moisture resistance is said to be improved, with revised sealing used on sensitive areas. The catch on the A7R III's door has also been dropped here, so you can now slide the door back and open it in one action, which is a very welcome move.
Inside the A7R IV, Sony has installed a new shutter with a 500,000-actuation life, which features a fast-response coreless motor and a brake that's said to subdue mechanical shutter vibration; that's just as well, as even the smallest vibrations can rob high-resolution cameras such as this of their full potential, something you may not appreciate until looking closely at your images later on.
The body certainly feels very solid, and attention to detail is excellent. The doors to the various IO ports on the side are unmarked and a little fiddly to fully close, although this does give you the impression that they'll fully protect the ports themselves from any dust or splashes when you do press them all the way in.
Image 1 of 6
The Sony A7R IV features a grip that's been subtly redesigned to provide greater comfort and better support for the middle and little fingers, and which has been coated with a rubber that provides high friction when held. The result is a camera that's both comfortable to hold and feels secure in the hands.
The LCD screen extends away from the body and tilts up and down, and one thing Sony has got right here is the clearance from the body as this is adjusted. On many other cameras, a combination of a deep eyecup and too short a bracket on which such a screen is mounted means the LCD is easily obscured when extended and viewed from the top down, but here a shallow eyecup and a long enough bracket ensure there's no issue with visibility at pretty much any point.
So, to sum up, the Sony A7R IV feels just as sturdy as previous models, with very good handling and most controls easy and pleasing to operate. We have a few gripes, but there's far more to like here than there is to grumble about.
Autofocus
Fast Hybrid AF system with 567 PDAF and 425 CDAF points
Frame coverage of approx. 99.7% height and 74% width
Real-time tracking with Real-time Eye AF
Recent years have seen manufacturers place plenty of attention on their focusing technologies, and Sony has already impressed us with systems that make use of its Real-time Tracking and Real-time Eye AF. The A7R IV includes both, and they work together when it comes to keeping track of a moving human or animal subject.
Set to focus continuously, the camera is well capable of keeping track of a moving subject. Unless you have a focusing point already determined, and you place this over the subject, the easiest way to instruct the camera what to focus on is to simply tap the screen in the appropriate place and let it handle the rest.
Straight out of the box, the Sony A7R IV is not only capable of keeping track of a moving subject, but happy to switch the focus to the face when it detects that it's looking at a person, with eye detection kicking in as the subject gets closer. The fact that it switches between the two modes automatically is a huge help, and it's this that really separates the camera (and indeed, other Sony models) from their competitors right now.
There are a few points to make here, though. First, while the A7R IV does very well when the subject is unobscured, on default settings it can lose a subject quite easily as obstacles present themselves – if you find this to be the case you'll need to adjust the tracking sensitivity via the menu.
Second, you have a lot of control through the menu as to whether to initiate eye AF detection, whether to switch between right and left eyes, whether to place priority on the face or eyes, and so on, but all this can be something of a distraction when you're in the middle of shooting. The best thing to do is to assign the most relevant of these controls to the customizable buttons on the body (and the lens, if it has a focus hold button). Sony is pretty generous with what features you can assign to which control, so taking advantage of this is a no-brainer.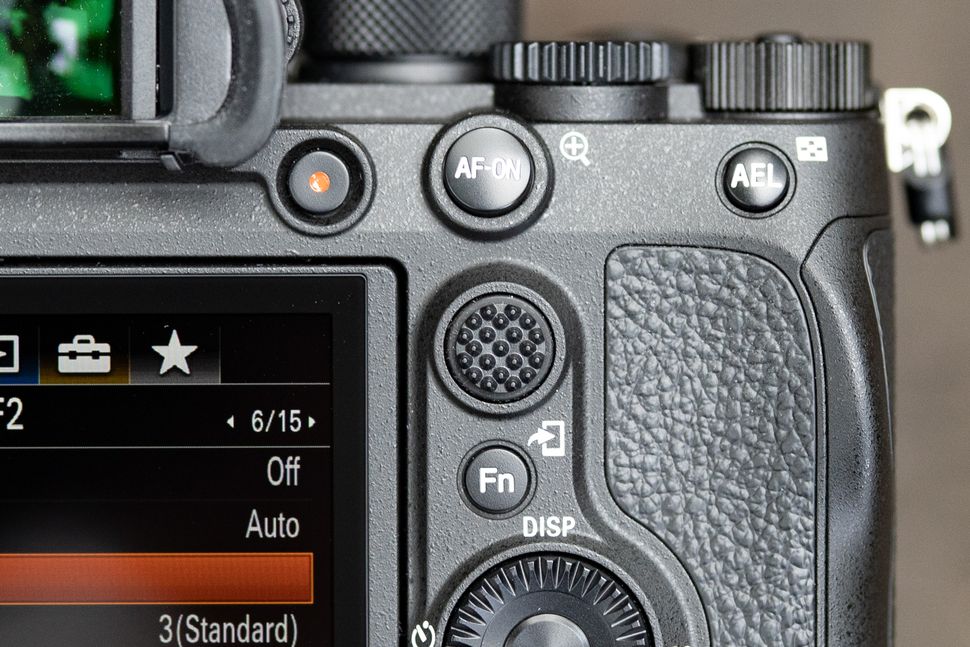 When using the standard AF-S mode, the Sony A7R IV is capable of focusing on a subject with impressive speed. On a sunny day, when partnered with the FE 24-70mm f/2.8 GM, the camera would typically be able to focus as soon as the shutter-release button had been half-pressed. It continues to focus with very little delay in moderate light, even without the AF assist lamp, which only seems to wake up in more testing conditions – this is handy in situations where you might need to shoot discreetly, and where the illumination from the lamp might attract attention.
One thing we did encounter on a few occasions were false-positive focus conformations – more than we were expecting, frankly, typically when the subject was at an acute angle to the camera. The A7R IV is certainly not the only the camera that suffers from this, but under certain conditions it happened with enough frequency for it to be slightly concerning.