Why you can trust TechRadar We spend hours testing every product or service we review, so you can be sure you're buying the best. Find out more about how we test.
Performance
Now compatible with iOS
Built-in GPS is brilliant
Setup couldn't be more clunky
Just as much of this wearable's design has gone unchanged, the same can be said of its user interface and general performance.
As such, the Gear Fit 2 Pro is a solid performer in various use cases, whether you're a fitness enthusiast, the occasional jogger or simply someone who fancies wearing a competent fitness tracker.
Compared to most of the devices in our list of best fitness trackers, the Samsung Gear Fit 2 Pro (and again – it's predecessor, too) are among the smartest options available.
Once connected to your phone, you'll receive and send texts, accept or deny calls and be able to easily control your music through the device's native music player. More on the latter, this Wi-Fi and Bluetooth-connected wearable can stream Spotify wirelessly and connect to any set of Bluetooth headphones or speaker.
The offline Spotify functionality worked flawlessly during our testing, though I accidentally downloaded the wrong version of Spotify from Samsung's Galaxy app store. The "wrong" version, also known as the "right" version for the original Gear Fit 2, is now called "Spotify Old". This is obviously confusing for users, but also just not a good look for both Samsung and the streaming giant.
If you want the full experience offered by this Samsung wearable, which enables much of what we discuss in this review, you'll need to download the Samsung Gear app on Android and iOS. Not just that, you'll also need to download an additional Gear Fit applet as well as Samsung Health to get the most out of your fitness metrics. This is obviously a lot of steps and it's a shame that Samsung hasn't streamlined this process in the slightest.
As this device's knack is fitness, you'll likely be putting it to task on the go. But no matter what you use it for, you'll find plenty of reasons to enjoy having it on your wrist. Despite the winding road of setting up the device, being able to load music files onto the 4GB of onboard storage is a nice perk in case you don't want to use your data plan on the go.
Battery life
Will last somewhere between two to three days with limited usage
If you have high usage expect this to last on average a day
Just like the previous device in the Gear Fit 2 family, you'll be looking at an average battery life expectancy of two to three days before needing a refill. Even if you barely use this wearable's workout functions, some of them automatically trigger once you start moving, though you can adjust this in the settings if you want to preserve battery life.
On the flip side, if you take advantage of every feature and are training for, say, a marathon, asking for more out of the wearable will shift the battery life down to about nine to ten hours – the target that Samsung aimed for with GPS firing on all cylinders.
The Gear Fit 2 Pro comes with a charger, though it lacks an power adapter for fast charging. Plugged into a USB 3.0 port, it takes around 90 minutes to charge fully. That said, if you have some phone chargers laying around, you'll be waiting far less time: only about an hour.
Fitness
Can auto-detect several workouts
Even more swim-friendly thanks to Water Lock feature
Suits fitness enthusiasts and casual weekend warriors
The experience provided by this wearable scales well between serving hardcore fitness folk and more passive health groups because it gives users the freedom to manually begin exercises, set goals and pilfer through well-presented metrics, or simply just let the software automatically detect what it is you're doing so you don't have to do the work.
No shame, I put myself in the latter grouping. If a wearable has the capability to begin tracking without any input, then why would I waste precious calories on toggling with it rather than reaching for the remote? Kidding aside, whether you prefer granular control over the tracker or to put it on auto-pilot, the Gear Fit 2 Pro does a commendable job at tracking and displaying your stats on the touch-friendly interface. Not just that, if you're performing well, this wearable showers you in accolades, which is always a nice feeling.
In terms of customizing the interface blades, we'll call them, this wearable makes it simple to personalize. Care about counting calories, checking your heart rate and monitoring the amount of water you've had in a day? You can limit the wearable to show you only these things. Of course, there are more options to add, with some of the pre-installed apps like UA Record offering their own view of your fitness. You'll always get more detail viewing metrics on your phone, but Samsung handles navigation wonderfully given this device's small, but color-packed display.
As I stated earlier, I like for the wearable to do the driving, so to speak, if it can. And while auto-tracking with the Gear Fit 2 Pro during a walk, I really enjoyed the gentle nudge of encouragement it provided after each ten minutes of continued activity. And should you take a pause to catch your breath or while you wait for the light to turn in your favor, Samsung's latest automatically pauses the tracking, taking about three seconds to activate and then disable to continue tracking. This is something to keep in mind if recording every second of your workout is crucial.
One of my favorite features in the Gear Fit 2 family is its built-in GPS function. Unlike some devices, this one detects signal almost immediately, it's reliable and although it's a drain on the battery, seeing your journey charted on a colorful map on the screen is undeniably satisfying.
Although you'll need to download many of the fitness apps on your phone, the Pro's enhanced water resistance is free to take advantage of once you take it out of the box. The pre-installed Speedo On app might be rather basic in execution, though it makes tracking your swims simple and works to introduce a brand new feature called "water lock".
This isn't as fancy as the Apple Watch 2's hardware feature that spurts water out of its speaker. This one just turns off touch functionality, thereby locking the screen from being turned on by the force of the water rushing against it. To turn it off, you'll need to press and hold the main button for three seconds.
Need an alternative?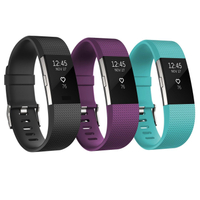 10 best fitness trackers 2019
If you want or need a new fitness tracker but feel the Samsung Gear Fit 2 Pro is not the right choice for you, check out our handy guide to the best fitness trackers and you'll find one that's a better fit.
Cameron is a writer at The Verge, focused on reviews, deals coverage, and news. He wrote for magazines and websites such as The Verge, TechRadar, Practical Photoshop, Polygon, Eater and Al Bawaba.