Why you can trust TechRadar We spend hours testing every product or service we review, so you can be sure you're buying the best. Find out more about how we test.
Verdict
The main goal of the Samsung Gear Fit 2 Pro is to make working out easy and fun, even if it's in a pool. By and large, it succeeds, though so did its predecessor for the most part.
For most, the new model's enhanced durability for the elements won't be reason enough to broaden their fitness expeditions, though it does add some peace of mind. The fact that fitness apps are displayed front and center on the Gear Fit 2 Pro's app screen provide more of a nudge to start burning calories than before, though this wearable's painstaking setup and sync process might deter those who are looking for a device that's ready to go out of the box.
Aside from the Gear Fit 2 Pro's addition of the stellar offline Spotify support, most of its so-called improvements don't make this a tempting purchase. That's because they only act to call out a low-point somewhere in the platform that hasn't been remedied.
Who's it for?
Decent fitness trackers are simple to come by, though ones that are equipped to handle the rigors of rapid breaststroking in the pool are far and few between. While Samsung's latest definitely doesn't shake up the previous year's formula all that much, it's a very solid option for those who want to do some aquatic exercising.
Moreover, this device's offline Spotify support keeps things fresh when you're on the go sans smartphone.
This wearable isn't the best value for those who already own the Gear Fit 2, but worth looking into if other waterproof options, like the Apple Watch 4 or the Samsung Galaxy Watch are too expensive or haven't worked to your liking.
Should you buy it?
Issues with this wearable's value aside, this is still a good product and easy enough to recommend from the outside looking in. It has a beautiful screen, buttery smooth touch interface and a surprisingly decent app selection. But this comes with a big disclaimer: that you can get 90% of what Samsung's new smart wearable offers in the much cheaper Gear Fit 2.
It's disappointing, though understandable why this iteration is so similar to its predecessor. The wearables market as a whole is no longer an arms race, with many of its major players, like Jawbone, Pebble and TomTom dropping out. With one of the best wearables around, there was less of an impetus to shuffle the formula.
But not only do we deserve better, Samsung's Gear Fit line was on a sharply positive trajectory through the years, though now it seems to have plateaued.
Even if the Gear Fit 2 and Gear Fit 2 Pro had launched side by side, their few differences would act to confuse the public, as they do today, though the price gap wouldn't put Samsung's new device in such a fragile position at launch.
Given that the previous year's Gear Fit 2 is considerably cheaper and fits the bill for most, it's tough to recommend the Gear Fit 2 Pro outright.
Need an alternative?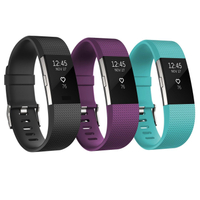 10 best fitness trackers 2019
If you want or need a new fitness tracker but feel the Samsung Gear Fit 2 Pro is not the right choice for you, check out our handy guide to the best fitness trackers and you'll find one that's a better fit.
Cameron is a writer at The Verge, focused on reviews, deals coverage, and news. He wrote for magazines and websites such as The Verge, TechRadar, Practical Photoshop, Polygon, Eater and Al Bawaba.