You'll lose some key features by opting for the Samsung Galaxy Watch Active over the Samsung Galaxy Watch, but that doesn't mean the former is a bad device.
In fact, Samsung has done it again here, as the company has managed to make a premium-feel device that is in a smaller package but doesn't lose all of the key features people expect from a smartwatch.
Who's this for?
If you're looking for an affordable alternative to a lot of the top-end watches, the Galaxy Watch Active is a great option. Especially as it begins to get included in sales, this is definitely for anyone looking for a more affordable smartwatch.
It isn't cheap enough to make it into our best cheap smartwatch list, but it's still cheaper than a lot of the other high-end watches that offer these same features.
This is also for those who want a smaller smartwatch than a lot of the rest of the competition but don't want to lose out on features.
Should you buy it?
This is the smartwatch for you if the top entries on your shopping list are that your watch looks great on your wrist and is comfortable to wear when working out. It's not the smallest device on the market, but for a full color display and a metal design this is notably light and beautifully crafted.
The battery life isn't much to write home about, but it's good enough to get you through a couple of days and the wireless charging means it's easy to recharge it.
If you want to be able to use your watch away from your phone this isn't for you as there's no LTE version available. But if you just want the odd few features such as location tracking and offline music, this will have you covered.
This smartwatch may have the name Active - and it is great for fitness-focused potential buyers - but it's more than just a running watch. It seamlessly combines the design those who want a premium watch want with a comfortable workout device, and there's all the benefits of Tizen thrown in for good measure too.
First reviewed: April 2019
The competition
Don't think Samsung's Galaxy Watch Active is for you? Why not try some of the devices below...
Samsung Galaxy Watch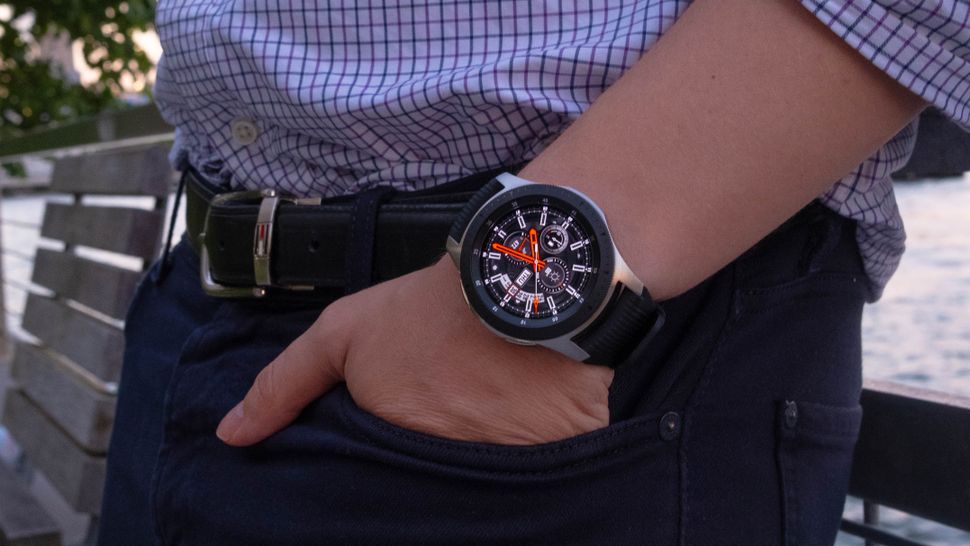 If you're after an even more premium Tizen experience, Samsung's Galaxy Watch is set to cost you more but it comes with a rotating bezel and a few added extras that you may find worthwhile, such as optional LTE support.
Opting for the largest version - that's 46mm - will mean you'll get four day battery life and a large 1.3-inch screen to spot everything on. Just be warned, the price is higher.
Apple Watch 4
You'll only be able to use this if you own an iPhone, but the Apple Watch 4 is one of the best smartwatches right now and it's a great choice if you're looking for a top-end piece of kit that looks attractive on your wrist and can track fitness stats.
It's quite a bit more expensive than the Galaxy Watch Active, but the software is slightly more refined and it offers a strong experience when paired with your iPhone.
Fossil Sport
Wear OS now works with both Android and iPhone devices, so the Fossil Sport will work with either and it offers another experience that's great for those who want to get… well, active.
As with the Galaxy Watch Active this isn't an especially expensive smartwatch and if you're looking for a capable yet affordable Wear OS device this is a good option.
Image credit: TechRadar