MSI Clutch GM51: One-minute review
The MSI Clutch GM51 is a refresh of the MSI Clutch GM41 model that improves upon an already excellent gaming mouse. This version is made specifically for first-person shooter gamers, and not only features Diamond Lightgrips that keep your fingers on the sides even during an intense match, but also boasts an optical sensor can reach up to 26,000 DPI — an impressive increase of 6,000.
It comes in at 85 grams, which makes it incredibly lightweight, even though it's 11 grams heavier than the GM41. It's also well-balanced, thanks to the ergonomic design that lends itself well to the light form factor, making it easy to move it around. I just wish that this refresh would have included more than six buttons, which would have given users more customization options in turn. It also doesn't help that the MSI software is mediocre at best.
Response time remains the same from the previous gen, which is a still excellent 1,000Hz / 1ms. Paired with the increase in DPI, and you have a mouse that responds to any command nearly instantaneously. This is especially a notable feat considering that wireless mice are always at a disadvantage when it comes to latency.
Pricing is about as expensive as one would expect from a specialized gaming mouse, especially a wireless one. The MSI Clutch GM51 will cost you $100, which is quite steep for plenty of buyers, so if you're looking for a budget mouse then look elsewhere. But if you're willing to invest, this is a great buy that will serve you well.
MSI Clutch GM51: Price and availability
How much does it cost? $99.99 (around £83 / AU$148)
When is it available? Available now
Where can you get it? Either the MSI official retailer or Amazon
MSI Clutch GM51: SPECS
Interface: USB 2.0 / USB 3.0 or above for MSI Snap Charging
Ergonomics: Right-handed
Buttons: 6
DPI: 26,000
Switches: Omron
Weight: 85 g
Currently, the MSI Clutch GM51 is at around the same price point as the previous GM41, which is $99.99 (around £83 / AU$148), which is quite expensive for a gaming mouse. But considering that this is a premium mouse made for the express purpose of catering to first-person shooter gamers, the pricing makes perfect sense.
As for availability, you can purchase the mouse in the US on the official MSI website, as well as Amazon. As for other regions, the MSI site has detailed lists of retailers currently selling the mouse, which includes both the UK and Australia and is even searchable by the Province or City within that region.
MSI Clutch GM51: Design and features
Lightweight and sleek
Great skates and switches
One of the most notable and immediately apparent features of the MSI Clutch GM51 is its lightweight and slim form factor. Weighing at only 85 grams, this mouse is a breeze to move around, especially with the improved MSI Diamond Lightgrips side grips it inherited from the previous GM41 model.
It also features a curved, ergonomic design that makes it much easier to hold for long periods of time without hand fatigue. However, much like the GM41, this refresh is still not technically left-handed, which is a shame for those in need of one.
The PTFE skates are of great quality and able to work on nearly any desk surface with very little friction thanks to the single-directional surface texture and double-cut edges. Its Omron switches, according to MSI, are made to last for over 60 million clicks, and you can certainly feel the high level of quality while using it.
One of the most clever design points is that the included charging dongle shares a single USB 2.0 port for both the wireless dongle and for charging the mouse, which saves ports. It's a feature that I wish were present in more wireless mice.
On top of the vital features is the optional yet still visually appealing RGB lighting, which is found in a switch under the mouse that also controls DPI levels.
MSI Clutch GM51: Performance
Incredibly high DPI and great response time/latency
Excellent battery life
Mediocre software
The MSI Clutch GM51's design lends itself to a fantastic performance, as the light weight works in perfect tandem with the outrageously high 26,000 DPI and the still great response time of 1,000Hz / 1ms. This makes for an incredibly fast and accurate performance with very little latency, which is a boon for any gamer. It also sports great ergonomics, which caters to both claw and palm grips.
The buttons are completely customizable thanks to its software, though it's not as robust as other competing brands like Logitech or Razer. There's no improvement to its user-friendliness from the previous model, which means once again you'll encounter spelling errors and difficulty mapping anything beyond left, right, and middle.
It's a shame since this mouse is exceptional otherwise, but not being able to properly map buttons does hurt it a bit, especially for its price. Thankfully, the Omron switches are of great quality and absolutely made to last.
The battery power is truly excellent, as it lasts over nine hours off a ten-minute charge and at full charge can last for over 150 hours. Combined with its size and weight, you have a ridiculously portable mouse that can be carried nearly anywhere.
Should I buy the MSI Clutch GM51?
Buy it if...
You need a premium gaming mouse for first-person shooters
This mouse is built for that specific genre, with its high DPI, great response time, and solid latency.
You want a lightweight mouse with great ergonomics
Not only is this mouse incredibly light and sleek, the ergonomics make both palm and claw grips comfortable for hours.
You want an excellent battery life
The battery on this mouse is absolutely incredible, lasting over 150 hours on a full charge.
Don't buy it if...
You need good software for customization
The MSI Center is rather mediocre, riddled with spelling errors and very basic macro options.
You're on a budget
This is not a gaming mouse for the budget-minded, as it commands a premium price.
Also consider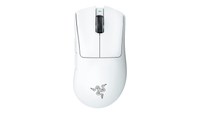 (opens in new tab)
Razer Deathadder V3 Pro
This is one of the best gaming mice, period. While it's expensive it's more than worth the price of admission, with its light and sleek design, near-perfect performance, and long battery life.
Check out our full Razer Deathadder V3 Pro review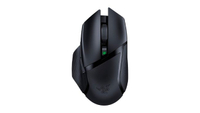 (opens in new tab)
Razer Basilisk X Hyperspeed
With excellent performance, a long-lasting battery life, and like the SteelSeries Aerox 5 features two connection methods. The only downsides are no wired options and no DPI indicator.
Check out our full Razer Basilisk X Hyperspeed review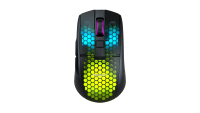 (opens in new tab)
Roccat Burst Pro Air
Like the Aerox 5, this mouse features great performance and gorgeous RBG lighting. It also sports an accurate sensor and optical switches, though the PTFE sliding pads don't work well on some surfaces.
Check out our full Roccat Burst Pro Air review
MSI Clutch GM51: Report card
Swipe to scroll horizontally
| | | |
| --- | --- | --- |
| Value | Though it's an expensive gaming mouse, considering the quality it's worth it. | 4.5 / 5 |
| Design and features | This mouse has excellent ergonomics, lightweight body, and great skates. | 5 / 5 |
| Performance | High DPI, great latency and response time make this mouse a joy to use. | 4.5 / 5 |
| Total | This is a premium gaming mouse that improves on the previous model in nearly every way. | 5 / 5 |
How I tested MSI Clutch GM51
I used the Clutch GM51 as my main mouse while in the office
I played a variety of first-person shooters including Call of Duty and Cyberpunk 2077
I tested out various customization options
I use the MSI Clutch GM51 gaming mouse at my office for extended periods of time, which allowed me to test out not only customizable specs such as the DPI and button layout but how well the ergonomics conform to various grip types, ease and speed of movement on the skates, and more.
Since this gaming mouse is specifically made for first-person shooters, I played titles such as Call of Duty: Modern Warfare II and Cyberpunk 2077 to test out how quickly and efficiently I could move and shoot. I also played other action and third-person titles to further test for any notable improvements in fast-paced genres.
I've reviewed a number of mice, both gaming and productivity, in my career. This allows me to know what to look for on an individual basis as well as compare the performance of this mouse to other ones I reviewed in the past.
First reviewed March 2023