Why you can trust TechRadar We spend hours testing every product or service we review, so you can be sure you're buying the best. Find out more about how we test.
Cameras and 'Video Portrait Mode'
The LG G8 cameras improve over the LG G7 and LG V40, but the bump in quality is not enough to consider it the best camera phone. There are several of smartphones that have superior normal, ultra-wide, and selfie lenses.
The rear dual-lens camera is made up of a 12MP standard lens at an f/1.5 aperture capturing 1.4 micro-sized pixels, and a 16MP wide f/1.9 camera with a wide 107-degree field of view. The wide camera here is tighter than Samsung's new 123-degree field of view in its trio of S10 phones and it shows. We don't see much of a difference between LG's two cameras, though barrel distortion isn't as bad.
The real issue is that the Huawei P30 Pro, Google Pixel 3 and Google Pixel 3 XL lead the LG G8 in our camera tests, while the Samsung S10 Plus falls in between. LG's camera struggles with overexposing shots and lack of consistently top-quality snaps.
There are photos in which the LG G8 didn't aggressively amp up the exposure, and we actually found more detail in those snaps than on Huawei and Google camera phones. But then we noticed darker areas often masked other detail in shadow. It's a perfectly good camera, but not always great, and the wide camera is a poor low-light performer, too often exhibiting pixels when you don't have enough light.
The front-facing camera is an 8MP f/1.7 lens capturing 1.22 micro-sized pixels. This is where the LG G8 improved the most over the LG G7, but it's still not good enough to call reliable, oftentimes with aggressive skin smoothing and without HDR. There's no wide camera on front this time, leaving you with an 80-degree field of view.
Here's where the LG G8's camera innovation is hiding – or at least that's what we thought. Along with the Crystal Sound OLED speaker, we liked video portrait mode as a way to spice up our footage. Unfortunately, the results aren't always great.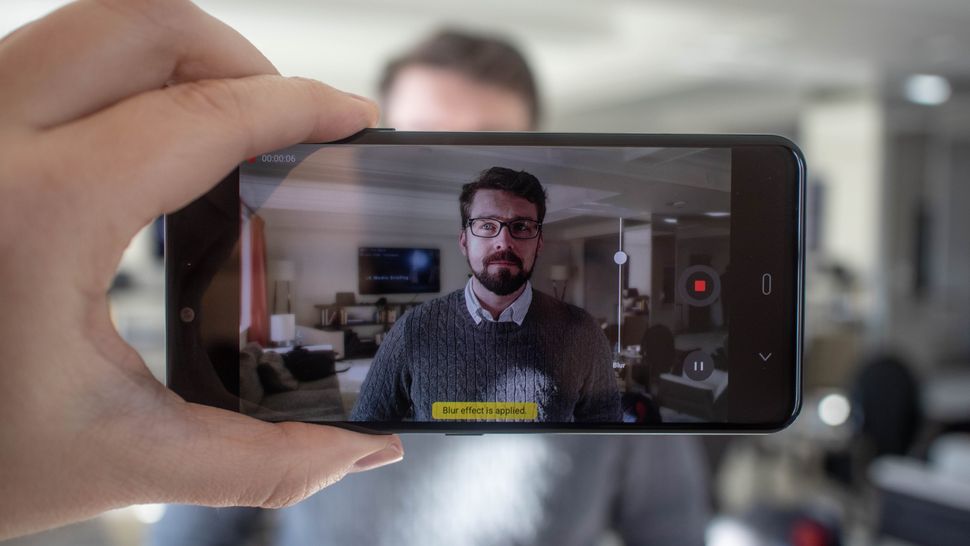 Video Portrait Mode is supposed to work like a portrait photo mode on a modern phone, only for video: your subject is in focus while everything in the background becomes blurred. LG, not Samsung, is the first phone maker to harness the power of the Qualcomm's Snapdragon 855 chipset, which touts these capabilities.
It's not perfect at the edges of subjects (it's more problematic than defining subject edges in photo portrait modes) and doesn't work at all with the front-facing camera. Worse, we found the blur around our subject to constantly turn off and turn on, making the mode a brilliant concept that ends up being a waste of time. The LG G8's camera issues come down to a lack of consistency.
Performance and specs
The LG G8 touts that powerful Qualcomm Snapdragon 855 chipset, 128GB of internal storage with microSD card support and 6GB of RAM. It's RAM is shy of Samsung's 8GB in the base S10 model, but that's the only real major difference.
No surprise, it's basically tied with the Samsung Galaxy S10 phones as the world's fastest Android phone. It netted a Geekbench multi-score 10,986. The S10 averaged a slightly better multi-score of 11,002, but there's hardly a difference here.
The LG G8 is a deceptively fast phone considering its average design and feature-set. We only saw it lag while executing Hand ID and Air Motion gestures. Everything else, including accessing Google Assistant with the dedicated button under the volume rocker, was reliably speedy.
Battery life
The LG G8 is configured to be a powerful daily driver for most people looking for flagship-level specs, and it should last you all day while using it. But don't expect more than a day from this phone.
It has a sizable 3,500mAh battery capacity, which is a slight edge above the S10's 3,400mAh unit. But in the past, we've found capacity doesn't always reflect battery performance, and that's true here.
We were able to get the LG G8 to last all day on most testing days, but screen-on time along with fidgeting (and failing) to activate Hand ID steadily drained it more than the flagship-level competition from Huawei, Samsung and Apple.
Surfing the web from 100% to 0% from a cellular connection lasted us a bit over nine hours. That's better than the LG G7 battery life running the same test, but it doesn't top the iPhone XS Max or the Samsung Galaxy S10.