Glorious GMMK Pro: Two-minute review
The Glorious GMMK Pro is one of those products that can be polarizing. On one hand, I can see why a lot of people love it; after all, it's one of the best mechanical keyboards. But on the other, I can also understand why many from the modding community aren't too keen on both the keyboard itself – and the company behind it.
After spending a couple of weeks using it as my main keyboard for work and for gaming, I've really come to appreciate why it's gotten top marks from our peers. It's a solid choice that's not too shabby-looking either – probably among the best keyboards out there, whether you're looking for the best gaming keyboard or a productivity one.
But, after also building GMMK Pro myself, I can honestly say that it's not all rainbows and unicorns either. While all the big parts – the top case, the switches, the keycaps, even the PCB – feel robust and premium, the small bits, particularly the tiny screws that keep the whole board together, aren't top quality.
Some easily stripped at my first attempt to unscrew them, and one seems to have molded itself into the original switch plate that came with my barebone board, which isn't something you want from a keyboard that's supposed to be completely modifiable. I had to take mine to a jeweler, and even they had issues taking this pesky screw out.
On top of that, there seem to be some quality control issues as well. One of the screw holes on the polycarbonate switch plate I received for modding was too big for any of the included screws, which means that my review unit has a screw missing. And, while that doesn't seem to have impacted performance, keyboard modders would certainly get turned off by it.
However, if Glorious manages to fix those issues, the Glorious GMMK Pro would probably be unstoppable. First of all, it makes it incredibly easy for beginner builders and modders to build their own boards from scratch, especially thanks to Glorious' online configurator that lets you easily pick and choose all the parts you'll need so that you can focus less on whether you're picking the right ones and more on the building process itself.
Second of all, as I said earlier, the rest of it feels robust, and probably a lot tougher than many of the enthusiast mechanical keyboards that I spend money on monthly. And, honestly, if you care at all about aesthetics, you'll appreciate just how gorgeous it can be, especially if you mod it to fit your own setup. Most of the parts, from the keycaps and rotary knob to the top frame and switch plate come in different colors (and sometimes, types).
The RGB lighting, which you'll also find at the sides for a touch of ambient lighting, is bright and vibrant, and while it is a little on the heavy side at 3.3 lbs (1.51Kg), its 75% with 82 keys layout saves you space while ensuring you've still got access to keys that are vital to productivity. Even the cable is removable so you can spring for a coiled one that's more robust and better looking.
Thanks to the straightforward and effortless-to-navigate Glorious Core app, it's not just the physical board that's customizable. You can also change its RGB lighting to change per-key colors, switch lighting effects, and adjust brightness, as well as adjust polling rate (125Hz, 250Hz, 500Hz, 1,000Hz) and input latency (2ms, 8ms, 16ms). And, as this is a gaming keyboard, the software will also let you bind any key to another key, a combination of keys, a mouse function, a macro, or a shortcut. Yes, this has fully programmable keys. You can even create profiles and layers.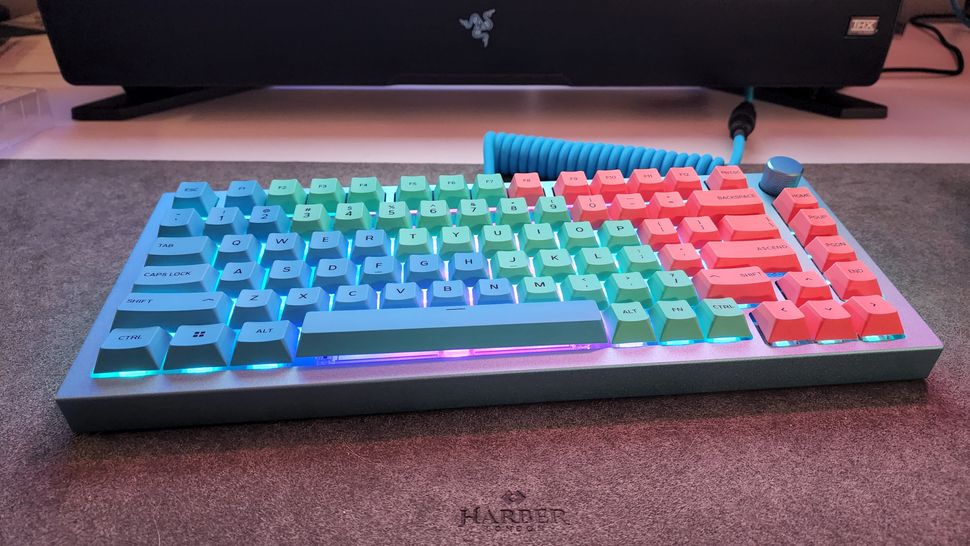 An important thing to note, however, is that some users have reported bugs with their Glorious keyboards, and I noticed a few as well in the beginning. The first time I plugged it into my gaming PC, only the volume dial and RGB lighting were working. The keys themselves weren't responsive, and I had to scour the internet for a solution. Luckily, it was simply a matter of opening the Glorious Core app and changing the current profile. I didn't experience any other issues after.
The keys themselves are great to type on. They have more like a clacking sound, and while I'm more partial to a good thock sound, these aren't too loud and definitely better than the annoying clicky ones. Meanwhile, the switches – I used both of Glorious' Panda and Lynx mechanical switches – are very responsive and accurate, especially the Panda ones. And, they kept up with me, whether I was writing an article, composing email messages, or playing titles like Cyperpunk 2022, Rocket League, Hogwarts Legacy, and Kena: Bridge of Spirits.
There's also no need to worry about latency here as it's a wired keyboard – something that many gamers prefer over wireless options.
Glorious GMMK Pro: Price & availability
How much does it cost? From $169.99 (about £140 / AU$250)
When is it available? Available now
Where can you get it? Available in the US, UK, and Australia
The Glorious GMMK Pro isn't going to be cheap, especially if you're looking to build your own kit. The prebuilt version will set you back $349.99 (about £285 / AU$525) in the US, and that's already a little too steep for most people. Building your own if you were to mod every single part will cost you a whole lot more, with the barebone kit already setting you back $169.99 (about £140 / AU$250), which is about the same as many prebuilt keebs from other enthusiast keyboard brands.
My own kit cost $169.99 for the barebone kit plus a $19.99 polycarbonate switch plate, $34.99 Glorious Lynx switches, $34.99 Glorious Pandas, $49.99 pastel PBT keycaps, a $59.99 aqua blue top frame, a $9.99 aqua blue rotary knob, and a $49.99 electric blue coiled cable. I also got a $7.99 switch puller as well. That's a lot of money for many beginner modders to spend.
If you can afford it, however, you'll be pleased to know that Glorious ships to the UK and Australia.
Glorious GMMK Pro: Specs
Swipe to scroll horizontally
| | |
| --- | --- |
| Layout: | 75% |
| Switch: | Glorious Panda or Lynx mechanical switches |
| Programmable keys: | Yes |
| Dimensions: | 332 x 134.8 x 32 mm (13 x 5.3 x 1.3 inches) |
| RGB or backlighting: | Yes, customizable per-key RGB |
Should you buy the Glorious GMMK Pro?
Swipe to scroll horizontally
| | | |
| --- | --- | --- |
| Value | This is a pricey piece of kit – the barebones board alone costs as much as many pre-built mechanical keyboards. | 3 / 5 |
| Design | The Glorious GMMK Pro is a fully-modifiable, fully-customizable keyboard that looks great and is solidly-built. | 4 / 5 |
| Performance | Despite the initial bug, it's a responsive and great-feeling gaming keyboard that's amazing to game and type on. | 4 / 5 |
| Average rating | It's not perfect, but it'll get your foot in the keyboard building door, it's feature-rich, and it's very responsive. | 4 / 5 |
Buy it if...
You want to build your own keyboard for the first time
It's not for the budget-minded, but the Glorious GMMK Pro is still an easy and convenient way to start your keyboard building journey.
You want a highly-customizable keyboard kit
Despite the low-quality screws and the occasional quality control issue, this is one highly-customizable keyboard and great for those who love modding.
Don't buy it if...
You are an experienced keyboard builder or modder
You'll find more affordable parts elsewhere if you are experienced and know where to get the ones.
You are on a budget
If you're strapped for cash, this isn't the most appealing or wise option. You're better off doing your research or asking the modding community where to get the best bits.
Glorious GMMK Pro: Also consider
Swipe to scroll horizontally
| | Glorious GMMK Pro | Lofree 1% Transparent | KiiBOOM Phantom 81 |
| --- | --- | --- | --- |
| Price: | From $169.99 (about £140 / AU$250) | $219 / £181 (about AU$320) | $159 / £128 / AU$233.18 |
| Layout: | 75% | 65% | 75% |
| Switch: | Glorious Panda or Lynx mechanical switches | Pre-lubed Kailh Jellyfish switches | KiiBOOM pre-lubed Crystal switches |
| Programmable keys: | Yes | No | Custom key programming, macro function mapping |
| Dimensions: | 332 x 134.8 x 32 mm (13 x 5.3 x 1.3 inches) | 306 x 144 x 30.6 mm (12 x 5.6 x 1.2 inches) | 330 x 150 x 35 mm (13 x 5.9 x 1.4 inches) |
| RGB or backlighting: | Yes, customizable per-key RGB | 7 white LED backlit effects | Yes, south-facing and side lighting |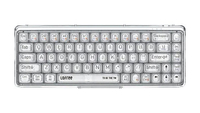 Lofree 1% Transparent
The Lofree 1% Transparent delivers great performance, a comfortable, satisfying experience, and that glorious thocky sound of an impressive pre-lubed linear switch.
Read our full Lofree 1% Transparent review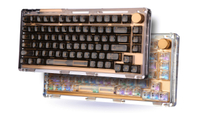 KiiBOOM Phantom 81
The KiiBOOM Phantom 81 is another impressive linear mechanical keyboard with a transparent design. It's a lot heavier and a little bigger than the Lofree 1% Transparent, but it's also a little cheaper.
Read our full KiiBOOM Phantom 81 review
How I tested the Glorious GMMK Pro
I spent half a day building this then a couple of weeks testing it
I tested it for work and for gaming
I used it on my work applications as well as different PC games
Because I got the keyboard-building kit version, I spent some time building the actual keyboard before getting around to testing it. After it was built, I tested it for two weeks, using it as my main keyboard for productivity and play.
I used it for composing work emails, writing work documents and articles, and playing PC games like Cyperpunk 2022, Rocket League, Hogwarts Legacy, and Kena: Bridge of Spirits.
A self-professed keyboard enthusiast with a modest but expanding mechanical keyboard collection, I've also been testing and reviewing keyboards for gaming, productivity, and creative work for years. While this is my first time building a keyboard from scratch, I have been modding my own keebs since 2022.
We pride ourselves on our independence and our rigorous review-testing process, offering up long-term attention to the products we review and making sure our reviews are updated and maintained - regardless of when a device was released if you can still buy it, it's on our radar.
First reviewed March 2023