The Asus ROG Zephyrus G14 is so thin and light a women's bag can fit it
The Asus ROG Zephyrus G14 is powerful, light, and a women's bag's dream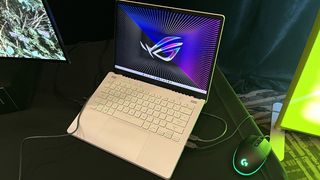 (Image credit: Future)
One of the biggest and most welcome surprises at CES 2023 turned out to be the Asus ROG Zephyrus G14 (2023), a refresh of last year's model with updated specs across the board. Its thin and light form factor concealing some serious firepower made it incredibly attractive, and I found myself thinking about it long after the event ended.
In fact, it was one of the thinnest gaming laptops we've seen at the major trade show, with other companies going the desktop replacement route. And while I do love and appreciate a large and powerful gaming laptop, my bags tend not to and it ends up staying trapped at home. Which is fine most of the time but if there's an industry event that requires me to bring a laptop for testing, it's difficult to carry around a 15-inch and over machine with a power brick the size of my hand.
The Asus ROG Zephyrus G14 (2023) features all the bells and whistles of other gaming laptops including much-improved specs (the mobile RTX 4090 GPU is particularly impressive), a better ventilation system that features a vapor chamber and liquid metal cooling, a QHD+ display, and more. In short, it's not lacking in the slightest and yet fits so much into such a small package.
The issue with women's bags
Women's clothing is already cursed, as we're forced to bear non-pocketed jeans, dresses, and skirts all in the name of forcing us to purchase bags and pocketbooks instead. But good luck trying to find a large enough bag to fit anything past a wallet, keys, a phone, and an umbrella.
The major issue comes with women who need to carry devices, especially laptops and especially gaming laptops, in said bags. And the prognosis is bleak, as most women's bags aren't meant to carry wider and heavier gaming laptops. Even a 13-inch is a difficult fit at times and anything above that display size, like the 18-inch behemoths that are making a comeback, will be a difficult if not impossible squeeze.
My own terrible experience with this comes from my trip to LA in 2019 to cover a video game's launch. I need to lug my 15.6-inch Acer Predator Helios 300 across the US and, even with my largest overnight bag at the time, an inch was still visible above the bag that I couldn't even zip up. And that's not mentioning the brick of an AC adapter that it comes with, which also adds a lot of weight and takes up even more space in my already over-encumbered bag.
What makes the Asus ROG Zephyrus G14 so special
Seeing and lifting up the Asus ROG Zephyrus G14 during the company's CES 2023 conference reminded me of that day. Though I'm now outfitted with much better laptop bags thanks to Lo & Sons, seeing a gaming laptop housing premium components like the RTX 4090 GPU and a Ryzen 9 CPU but containing them into a chassis that can fit comfortably in many women's bags was a breath of fresh air.
And it's not only the size but the weight and thickness that also overburdens most women's bags. That Helios 300 I mentioned before was over an inch thick and nearly six pounds, making it more arduous to lug it between airport gates and through LA.
Meanwhile, the Zephyrus G14 refresh weighs only 3.81 pounds and is 0.77 inches thick, and that's the largest version outfitted with the AniMe Matrix feature. And the form factor is so well balanced that it feels like it weighs way less than that.
Why more gaming laptops should emulate the Asus ROG Zephyrus G14
As pointed out before, many laptops like the Razer Blade 16 and Razer Blade 18 which boast incredible specs across the board, are thicker and heavier machines. The latter is especially large and was developed specifically for desktop replacement purposes. It was impressive for sure, but even carrying it from table to table during our demonstration was a chore.
And while though those laptops certainly have their purpose and place in the gaming market, for many people including and especially women who already have to fight to get anything larger than a tablet to fit into some of these bags, the Asus ROG Zephyrus G14 is a standard for next-generation gaming laptops.
As many manufacturers will undoubtedly trend more toward the "bigger is better" mindset, it's vital that they remember that many simply don't have the means to carry such large and heavy machines. Hopefully, the price is right and the Asus ROG Zephyrus G14 does well enough to send a clear message to other companies that they should reserve at least one or two models to be smaller and more portable. Please, women's bags are crying out for some relief here.
Sign up for Black Friday email alerts!
Get the hottest deals available in your inbox plus news, reviews, opinion, analysis and more from the TechRadar team.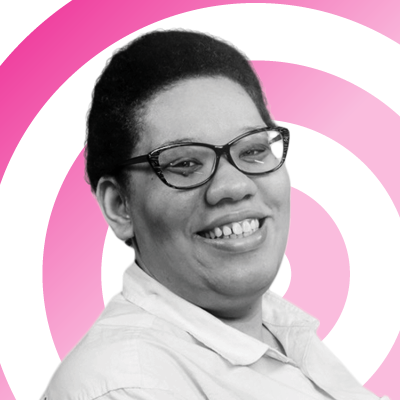 Named by the CTA as a CES 2023 Media Trailblazer, Allisa is a Computing Staff Writer who covers breaking news and rumors in the computing industry, as well as reviews, hands-on previews, featured articles, and the latest deals and trends. In her spare time you can find her chatting it up on her two podcasts, Megaten Marathon and Combo Chain, as well as playing any JRPGs she can get her hands on.