Thor: Love and Thunder: release date, trailer, cast and more
News
Contributions from
last updated
Thor: Love and Thunder bolts into theaters this week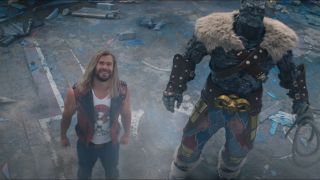 (Image credit: Marvel Studios)
Key information
- Launching in theaters on July 8
- Chris Hemsworth is back as the god of thunder
- Natalie Portman returns as Jane Foster/Mighty Thor
- Christian Bale will play the villainous Gorr the God Butcher
- Plot synopsis officially unveiled
- Guardians of the Galaxy feature in some capacity
- Trailer reveals how Mighty Thor and Gorr fit into the film's plot
- Film's official runtime confirmed
- Movie will have ties to Moon Knight and Black Panther 2
- Could be Hemsworth's last outing as Thor
It's official: Thor: Love and Thunder has stormed into theaters.
Well, in select world regions, anyway. UK, Australian, and Indian Marvel fans have already started to catch the latest Marvel movie in cinemas, with Thor: Love and Thunder launching in those nations earlier than expected. Marvel Cinematic Universe (MCU) fans who live in the US and most other international territories will have to wait for its arrival on Friday, July 8.
If you're among those who have already seen the film, you'll want to read our ending and post-credits scene explainer. Meanwhile, if you're still waiting to watch the Marvel Phase 4 project, we've got some other light reading for you. Our spoiler-free review of Thor: Love and Thunder has gone live so, if you're interested in finding out what we thought of the latest MCU flick, go and wrap your eyeballs around it.
"But what if I've already read TechRadar's awesome Thor 4 review?", we hear you cry. Fear not, dear reader, for there's plenty more to peruse in this Thor: Love and Thunder guide. Below, you'll find everything worth knowing about the superhero film before you see it in theaters. That includes its multiple trailers and TV spots, all-star cast, potential plot points, Thor's future in the MCU, and more.
A word of warning before you dive in: we deal with full spoilers for Thor's other three solo movies, plus his appearances in every Avengers film to date. Oh, and there may be slight spoilers for Thor 4 itself. If you're actively avoiding everything to do with Thor: Love and Thunder before you take your seat in a cinema, you'll want to skip parts of our cast and plot sections. You'll find another spoiler warning in each section, though, so you'll know when to move ahead.
Thor: Love and Thunder release date
Thor: Love and Thunder release date: July 8
Thor: Love and Thunder will be released in theaters on Friday, July 8. Well, in the US and most international territories as it's already out in select world regions.
In May, Hemsworth also confirmed (via Instagram) that the film's official runtime was two hours:
Following Hemsworth's post, we confirmed that Thor: Love and Thunder would run for just shy of two hours – the film clocking in at one hour 59 minutes. That's been ratified by MCU insider BigScreenLeaks, who revealed that its runtime (down to the second) is 1:58:34. But that's just splitting hairs, in our view.
Interestingly, though, the film's original cut made it the longest MCU movie of all-time. Hemsworth and director Taika Waititi have confirmed that they shot over four hours worth of footage for Thor 4, but most of it was left on the cutting room floor as it didn't fit into the story Waititi wanted to tell. Unsurprisingly, it didn't take long for Marvel fans to call on the studio to release a director's cut of the film. #ReleasetheWaititicut, anyone?
Finally, Thor: Love and Thunder-specific episodes of Marvel Studios' Legends series are available to stream on Disney Plus. If you need a refresher on the MCU journeys for Thor, Jane Foster, or Valkyrie before you watch Love and Thunder, you'll want to check those eight to 12-minute episodes as soon as possible.
Thor: Love and Thunder trailer
Thor: Love and Thunder trailer: watch the final teaser
Thor: Love and Thunder's official trailer is packed with humorous, thrilling, slightly terrifying, and wonderfully cosmic moments.
Opening with a story from Taika Waititi's Korg, the trailer hints at what Thor's been up to since the end of Avengers: Endgame. It isn't long, however, before a reunion with Jane Foster and the Guardians of the Galaxy, plus the MCU's vast array of gods pull Thor out of retirement and force him to tackle a new, menacing foe in Gorr the God Butcher.
Christian Bale's Gorr is the biggest highlight of the trailer reveal. We'd only seen leaked images of the MCU's latest big bad before the official trailer was released, so it's satisfying to get a good look at him before the movie arrives later this year. Here's hoping he's as scary and dangerous as the cast and crew have made him out to be.
One thing that isn't so frightening (depending on who you ask) is that nudity shot that Hemsworth's Thor is subjected to by Russell Crowe's Zeus. Speaking to Stephen Colbert, Waititi explained that he wanted that particular scene to pay homage to how hard Hemsworth works at bulking up for the role, hence its inclusion. Whatever the reason, we suspect plenty of Hemsworth fans will be delighted to see the unpixellated version when the film arrives.
If you're curious to learn more about what was on show in Thor 4's official trailer, be sure to read our 'eight things you may have missed' trailer breakdown article. We discuss what comics the film was inspired by, cover Easter eggs present in the trailer, and speculate on where the movie fits on the MCU timeline.
Did you miss the film's first teaser when it landed in mid-April? Fret not, dear reader, as you can find it below:
Additionally, a number of TV spots and featurettes have been released ahead of the movie's launch. You can watch the Speech, Team, Classic, Army, and Journey teasers at the links provided.
Alternatively, watch the Legacy of Thor or A Taika Waititi Adventure featurettes instead. And, if you're interested, here's a confirmed list of every licensed song in Thor 4 (thanks to Reddit for the find). Michael Giacchino's full original soundtrack is out now on YouTube, too, so go and give this thunderously good score a listen whenever you're ready.
Thor: Love and Thunder cast
Thor: Love and Thunder cast: who's playing who?
Here's Thor: Love and Thunder's confirmed cast:
Chris Hemsworth as Thor Odinson
Tessa Thompson as King Valkyrie
Natalie Portman as Doctor Jane Foster/Mighty Thor
Christian Bale as Gorr the God Butcher
Taika Waititi as Korg
Chris Pratt as Peter Quill/Star-Lord
Dave Bautista as Drax
Karen Gillan as Nebula
Pom Klementieff as Mantis
Vin Diesel as Groot
Bradley Cooper as Rocket Raccoon
Sean Gunn as Kraglin
Russell Crowe as Zeus
Jaime Alexander as Sif
Matt Damon as actor Loki
Liam Hemsworth as actor Thor
Sam Neill as actor Odin
Melissa McCarthy as actor Hela
Unsurprisingly, Chris Hemsworth returns as Thor, while Tessa Thompson and Taika Waititi are also back as Valkyrie and Korg respectively.
According to Reddit, Hemsworth's own son Tristan portrays the boy version of the Norse god in the film. Hemsworth's daughter also features as a character called Love (per film critic Kevin McCarthy).
The Guardians of the Galaxy will also show up in Thor: Love and Thunder. Avengers: Endgame, well, ended with Thor in the company of Marvel's most beloved bunch of a-holes but, according to MCU leaker NoobMaster69, they'll only appear in about 15 minutes' worth of footage. Per Guardians director James Gunn, a couple of things were also "adjusted" – likely from character arc and plot perspectives – to help their roles in Thor 4 tie into Guardians of the Galaxy Volume 3.
Natalie Portman also returns as Doctor Jane Foster, with the actress agreeing to reprise her role after a single meeting with Waititi (per Variety) as long as he reinvented her character.
Having appeared in Thor and its maligned sequel Thor: The Dark World, Portman wasn't involved in Thor: Ragnarok, with Thor spending most of that movie on the alien world of Sakaar. Now, Porter will be back in a thoroughly beefed up role in Thor: Love and Thunder, with Foster wielding Mjolnir and taking on the goddess of thunder mantle. Obviously, part of that reworking saw Portman pack on serious muscle for the role, with Portman telling Variety that it was "an amazing challenge" to bulk up to play Foster's superpowered alter-ego.
Oh and, with a bit of movie making magic, Portman will be able to literally stand shoulder-to-shoulder with Hemsworth's Thor in scenes – the actress explaining (via Variety) how she 'grew' in height to do so: "We'd rehearse the scene, they'd see the path, and then they'd build a path that was like one foot off the ground or whatever, and I would just walk on that."
Them ❤️ Check out the brand-new poster for Marvel Studios' #ThorLoveAndThunder and witness it only in theaters July 8. pic.twitter.com/HCEr2b9qktMay 24, 2022
As you can see in the image above (courtesy of Empire magazine), Thor and Jane Foster have received makeovers for Thor: Love and Thunder. Our opinion? Both costumes look suitably fetching and comic book-esque. Two thumbs up from us.
Another Ragnarok absentee making a comeback is Jaimie Alexander, who returns (per Deadline) as Asgardian warrior Sif. She was absent when her usual sidekicks – the Warriors Three – were bumped off in Ragnarok, though she did cameo in Loki's fourth episode.
Meanwhile, former Batman star Christian Bale becomes the latest actor to score roles as both DC and Marvel characters as he takes on villain duties as Gorr the God Butcher. In the comics, Gorr gains divine powers thanks to a series of unfortunate events, and then takes it upon himself to rid the universe of gods wherever he finds them. Gorr won't look like he does in the comics, but Waititi has confirmed his new appearance was to stop fans comparing Gorr to Harry Potter villain Voldemort (per IGN).
According to Moon Knight head writer Jeremy Slater (per The Direct), Gorr was going to be namedropped in the MCU TV series. However, those plans were shelved when Marvel decided to release Moon Knight before Thor 4.
They're back and better than ever ❤️ + ⚡️ #GodOfThunder Check out the brand-new character posters for Marvel Studios' #ThorLoveAndThunder. Witness it only in theaters July 8! Get Tickets Now: https://t.co/33dJfCellu pic.twitter.com/B4pqHtYJ6nJune 13, 2022
Regardless, Waititi believes that Bale's Gorr is "probably one of the best villains that's Marvel's had in their films" (per Entertainment Weekly (EW)). Online film pundit Erin Cummings has also suggested that Bale's Gorr is "absolutely terrifying" (per The John Campea show, for what that's worth), which a bold claim to make, what with the MCU villains we've previously seen.
As for Bale himself, the beloved actor told Total Film that he took inspiration from Nosferatu for his portrayal. Additionally, Bale's Gorr nearly followed in Stranger Things 4's footsteps by dancing to a Kate Bush song. Unfortunately, Waititi and Bale couldn't work out how to incorporate that into the final film. Sad faces all round.
Russell Crowe also joins the exclusive DC and Marvel actors club. He's playing Zeus, so we'll see Greek and Norse mythology existing side-by-side in the MCU for the first time.
Jeff Goldblum was expected to return as The Grandmaster from Ragnarok. However, Bale has since confirmed that his scenes with Goldblum were cut from the final edit (via Prensa Escanario), so it's unclear if The Grandmaster will appear at all. Peter Dinklage had also teased his possible appearance after his MCU character – Eitri – helped Thor forge Stormbreaker in Avengers: Infinity War (via Empire). But, again, Bale revealed that his scenes with Dinklage were cut, too, so don't expect Eitri to show up either. Portman has also confirmed that "whole sequences, characters, and planets" were cut from the film (via IndieWire). We can't help but wonder what wonderful worlds, eccentric individuals, and potentially spectacular scenes were removed...
There will, however, be cameos from Luke Hemsworth, Matt Damon and Sam Neill, who return as the actors playing Thor, Loki and Odin, in an in-movie play retelling the story of Asgard. Melissa McCarthy is also rumored to be portraying Hela (per Entertainment Tonight Canada) in that theatrical play recreation. Finally, McCarthy's husband Ben Falcone, singer Jenny Morris, and Sir Simon Beale (Mary Queen of Scots, Penny Dreadful) have reportedly been cast in undisclosed roles (per ET Canada and Comicbook.com).
One Thor regular who won't be back to cause mischief is Loki. The trickster god died in Avengers: Infinity War but, as we saw in Endgame and Loki's own TV show, he's technically back in the MCU. Or, rather, the Marvel Cinematic Multiverse. That said, don't expect him to feature, with actor Tom Hiddleston stating that he won't turn up in a June 2021 interview. He's since re-confirmed he won't appear in the movie in a Total Film interview.
A whole new cosmic wave of Funkos, Hasbro figures, and LEGOs inspired by Marvel Studios' #Thor: Love and Thunder has arrived. ❤️⚡️ https://t.co/r7L5RCmXg1April 18, 2022
As for characters who may (or may not) appear, prominent Marvel leaker MyTimeToShineHello has claimed that Brie Larson's Captain Marvel was supposed to make an appearance and, while that may no longer be the case, another insider in Greatphase claims Captain Marvel will appear. Place your bets on who'll be proven right.
Meanwhile, The Cosmic Circus had claimed that Bast, a Wakanda goddess who helped Bashenga become the first Black Panther in Wakanda's history, will appear in Thor 4. Akosia Sabet (Clickbait) is rumored to be portraying Bast.
Based on a new image that Marvel released on May 16, Bast's appearance has been confirmed. The screenshot shows Sabet's Bast sitting in front of Jane Foster and Valkyrie in what we suspect is the Parliament of Pantheons, with Odd Studio – the prosthetics company involved in Thor 4 – confirming that Bast features in the film (thanks to the Black Panther News Twitter fan account for the assist).
It seems, then, that Thor's next cosmic adventure may tie into Black Panther 2. She's also related to the Egyptian god of the moon, aka Khonshu, who plays a major role in Moon Knight. Speaking to The Playlist, Jeremy Slater has confirmed that Moon Knight's writing team frequently checked in with their Thor 4 counterparts to ensure they weren't stepping on the latter's toes. So the supposed unlinked Marvel show may actually tie closely to other MCU projects after all.
Lastly on the rumor front, MCU insider Daniel Richtmann (thanks to Nação Marvel for the catch) alleged that Game of Thrones' Lena Headey will appear. However, as Variety reports, Headey joins Goldblum and Dinklage in having her scenes cut – a decision that's resulted in Headey's former agency suing her for $1.5 million. Ouch.
Thor: Love and Thunder story
Thor: Love and Thunder story: what's it about?
Here's the official plot synopsis, courtesy of Marvel Studios: "Thor: Love and Thunder finds Thor (Chris Hemsworth) on a journey unlike anything he's ever faced – a quest for inner peace. But his retirement is interrupted by a galactic killer known as Gorr the God Butcher (Christian Bale), who seeks the extinction of the gods.
"To combat the threat, Thor enlists the help of King Valkyrie (Tessa Thompson), Korg (Taika Waititi) and ex-girlfriend Jane Foster (Natalie Portman), who – to Thor's surprise – inexplicably wields his magical hammer, Mjolnir, as the Mighty Thor. Together, they embark upon a harrowing cosmic adventure to uncover the mystery of the God Butcher's vengeance and stop him before it's too late."
Unsurprisingly, Thor: Love and Thunder picks up sometime after Avengers: Endgame, with Thor being overweight and teaming up with the Guardians of the Galaxy before he heads off on an intergalactic adventure. It's one positioned as a romantic comedy by Waititi, too, who told Fandango that An Officer and a Gentleman, as well as Bob Seger songs, chiefly influenced the film's story.
Official plot synopsis, teaser trailer, and Waititi's comments aside, though, Marvel is understandably (and rightly) playing its cards close to its chest when it comes to Thor 4's overarching narrative. But that won't stop us from speculating about what will play out.
As we see in the teaser trailer, he's putting in the hard yards (with some seriously heavy chain battle ropes) to get back into shape. Expect a training montage, in the style of the Rocky movies, to feature in the film's first act.
Before that, however, it seems that Thor needs a kick up the butt to get back into the (hammer) swing of being a hero. According to the description on a piece of Thor 4 merchandise (thanks to Reddit for the spot), it'll be the Guardians who must "convince Thor to return to the battlefield". It appears that they'll be successful, too, which may lead to Thor becoming a Ravager for a spell before he heads off to stop Gorr's rampage across the universe. And we say universe because Waititi says there'll be no multiverse elements in Thor 4 (per Total Film, as reported by Culture Crave).
We also know Thor: Love and Thunder has been inspired by the Mighty Thor comics, which were penned by writer Jason Aaron. Incidentally, Aaron has confirmed that he acted as a primary consultant on Love and Thunder. Given that Marvel Studios hasn't always asked its writers, artists, and other comic book veterans to be part of a film's development, this is pleasing to hear.
Anyway, in Aaron's series run, Thor loses the ability to lift Mjolnir, and Jane Foster assumes his mantle while simultaneously battling cancer in her human form. "When we were shooting Ragnarok, I was reading one storyline by Jason Aaron, The Mighty Thor," Taika Waititi said at San Diego Comic Con 2020 (per Deadline). "And for those of you who know that storyline, it's incredible, it's full of emotion, love and thunder, and it introduces, for the first time, female Thor."
The one is not the only ⚡️ (via Natalie Portman IG) https://t.co/NyoXbSPkZ4 pic.twitter.com/JoGudfEiEvApril 20, 2022
Just as Thor: Ragnarok only superficially referenced the Planet Hulk storyline from Marvel's comics, we'd be surprised if Love and Thunder is a literal adaptation of the Mighty Thor series. That said, Portman confirmed in a 2020 Yahoo interview that "[Jane]'s going through cancer treatment and is a superhero on the side", hinting that the movie will take significant inspiration from the comics.
Foster will also be able to control Mjolnir's multiple parts – you know, after Thor's half-sister Hela destroyed it in Ragnarok. Elaborating on how Foster's fighting style differs to Thor's, Waititi alluded to Portman's dancing skills as a key influence behind the Mighty Thor's almost balletic moves.
Speaking about the dynamic between the duo after they reunite, Waititi told Empire magazine: "It's been about eight years [since they last spoke]. She's had a whole other life, and then the love of your life comes back on the scene, and is now dressed like you. It's a real mindf**k for Thor."
Meanwhile, Waititi has previously told Collider that Thor 4 is "so over the top now in the very best way. It makes Ragnarok seem like a really run of the mill, very safe film…this new film feels like we asked a bunch of 10-year-olds what should be in a movie and just said yes to everything."
He's since emphasized Thor: Love and Thunder's over-the-top nature in an interview with Empire, saying: "I've done some crazy s**t in my life. I've lived, like, ten lifetimes, but it's the craziest thing I've ever done. If you wrote down all the elements of this film, it shouldn't make sense. It's almost like it shouldn't be made. If you walked into a room and said, 'I want this and this and this.' Who's in it? These people. What are you going to call it? Love and Thunder. I mean, you'd never work again. Maybe I won't after this..."
It also looks like he's not holding back on the central love story, which suggests Thor 4 could be the MCU's first bona fide romance movie. "What I wanted to do from the beginning was to ask, 'What are people expecting the least from this franchise?'" Waititi told Wired. "Oh, I know – full blown love story!" He also told BBC News the script is "very romantic".
Elaborating on the theme of love, Waititi told Empire: "I wanted to embrace this thing that I was always a bit dismissive of, and explore this idea of love, and show characters who do believe in love. On paper, it feels kinds of cringy to me, but there's a way of doing it with cool characters making a cool movie, and also having a thing that no fan ever wants in a superhero movie, which is people talking about love, and characters kissing."
The set photos below, tweeted by Thor: Love and Thunder News, play up the love story angle. It's also widely assumed that the couple's hairstyles suggest these are flashbacks to The Dark World era, so expect some flashback scenes in the film. That's been confirmed by Portman, too, who told D23 magazine (via The Direct): "There actually wasn't a whole lot of evidence to definitively say, 'This is how they broke up. This is what happened.' It was left open for interpretation, which was great because it allowed us to go on this fun journey; 'What did their relationship look like when they were together? What did it look like when they were breaking up? Why did they break up?' It's some of the funniest stuff in the film."
New Thor: Love and Thunder set photos (They're still in their TDW wigs from the other day) pic.twitter.com/2JJxalqwhVNovember 1, 2021
Away from the film's positioning as a rom-com, Waititi sees it as the first "midlife crisis" film that Marvel has ever produced (per EW). Expect some deep, meaningful themes to be played alongside the expected laughs, then.
Additionally, Valkyrie is the ruler of New Asgard, a seaside village on earth. And, based on the teaser, the Asgardians' new home is both a tourist attraction and a potential source of consternation for energy corporations. We see Valkyrie doing business with a bunch of companies – including the villainous Roxxon corporation, who we saw in 2008's Iron Man. Is it possible that some companies see New Asgard as an illegal settlement that's siphoning electricity off from them without paying? If it is, it would explain why Roxxon and company have rocked up to cause problems.
That won't be the only issue that Valkyrie has on her plate. According to a leaked LEGO set (thanks to the Marvel News Twitter fan account for the find), Gorr will attack the Asgardians' new earth-bound settlement. That's been backed up by The Cosmic Circus, who suggests that the goofy-looking monster in the LEGO set may actually appear in the film.
Considering LEGO sets don't always tease what will happen in upcoming Marvel movies, though, we're taking this with a pinch of salt for now. Regardless, we suspect Gorr will come in search of Thor as part of his 'god extinction' mission, with Thor – and Jane Foster – showing up to help stave off Gorr's attack. Additionally, according to NoobMaster69, Gorr's origin story has been slightly tweaked for Thor 4, but the "general story beats" are all there.
For her part, Valkyrie actor Tessa Thompson has opened up on wanting to explore the character's sexual orientation in more detail. In an interview with The Wrap, Thompson said it "totally exciting" that Valkyrie was the first openly LGBTQ+ MCU character, before hinting that we may see her bisexuality examined in Thor: Love and Thunder.
With the Guardians' inclusion in the movie, Waititi tapped that movie series' director James Gunn for his thoughts on how best to use them in Thor 4's plot. Asked by a fan how much input he'd had on Love and Thunder, Gunn replied: "Not much, and Taiki is doing a great job – the script is amazing. We talked before he started writing it about where the characters are & where they're going & he read the script for Vol 3 & then I read his script & shared my thoughts."
Finally, NoobMaster69 has teased who or what will appear in the film's two post-credits scenes, while there have been confirmed reports of who will show up in one of those scenes. We won't link to any of those articles as they contain massive spoilers, but you should be extremely vigilant as they're floating around in the ether. In fact, it might be best if you mute certain words on phrases on social media as a cautionary measure.
Thor: Love and Thunder: MCU future
Will Thor: Love and Thunder be the Norse god's final MCU outing?
That's unclear right now. Before Ragnarok's release in 2018, Hemsworth had become tired with portraying the same, slightly one-dimensional take on the character. Waititi's revitalization of the superhero in Ragnarok, then, breathed new life into the god of thunder, with Hemsworth later telling UK TV program This Morning that he'd "play this character for as long as anyone would let me".
Those comments were made all the way back in April 2019, so nobody – Hemsworth aside – knows if he'll return as Thor in future MCU projects. Hemsworth alluded to the prospect of hanging his hammer and cape up for the final time in a Wired interview, but he's since told multiple outlets that he'd love to continue if there's a compelling story to tell in subsequent movies.
For his part, Waititi suggests that the appearance of Jane Foster's Mighty Thor doesn't automatically mean that Thor's MCU journey has come to an end. "I think a lot of fans are gonna potentially assume, 'Oh, OK, this is the passing on of the torch'," he told Total Film. "I'm not privy to any plans Marvel has for the future, but I don't think that's the case."
So, do we think Hemsworth will call time on his MCU adventure? We wouldn't begrudge him if he does, but it'll be a sad day when he eventually brings the curtain down on his portrayal of Thor. Of course, we could see Hemsworth return as a Thor variant in future seasons of What If...?, Marvel's animated anthology series on Disney Plus. He also briefly voiced a different version of Thor known as Frog Thor in Loki season 1, so there are still opportunities available for him to continue playing Thor even if he's done with live-action productions.
For what it's worth, Marvel Studios president Kevin Feige has implied that there are "other incarnations" of Thor we're yet to see (per SlashFilm). Even if Hemsworth calls time on playing Thor in a live-action capacity, then, he could feasibly return as an animated character in another project. Time will tell if he dons his cape and picks up Stormbreaker (or Mjolnir) again, or if we'll only hear Hemsworth's dulcet tones post-Love and Thunder.
Sign up to receive daily breaking news, reviews, opinion, analysis, deals and more from the world of tech.
Richard is a freelance journalist specialising in movies and TV, primarily of the sci-fi and fantasy variety. An early encounter with a certain galaxy far, far away started a lifelong love affair with outer space, and these days Richard's happiest geeking out about Star Wars, Star Trek, Marvel and other long-running pop culture franchises. In a previous life he was editor of legendary sci-fi magazine SFX, where he got to interview many of the biggest names in the business – though he'll always have a soft spot for Jeff Goldblum who (somewhat bizarrely) thought Richard's name was Winter.