The Flash movie: release date and everything you need to know
News
Contributions from
last updated
The Flash movie races into theaters this June – here's the complete lowdown before it resets the DCU as we know it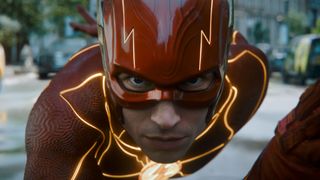 (Image credit: Warner Bros. Pictures)
The Flash: key information
- Launches in theaters worldwide on June 16
- Second trailer released in late April
- Runtime reportedly confirmed
- Stars Ezra Miller, Sasha Calle, Michael Keaton, Ben Affleck, and Michael Shannon among others
- Plot synopsis revealed
- New story details teased at CinemaCon 2023
- Will reset the DC's Cinematic Universe
- Miller's future as The Flash up in the air
Get your jet-fuelled sneakers, on, everyone, because The Flash is speeding into theaters very soon.
That's right, the next DC Extended Universe (DCEU) movie sprints into cinemas worldwide in mid-June, with its launch officiating ushering a reset of the DCEU. In short: the DCEU will be known as the DC Cinematic Universe (DCU) once The Flash is released.
But we're getting ahead of ourselves. If you're curious to learn more about the forthcoming superhero film, we've got you covered. Below, you'll find a ton of information about the Ezra Miller-starring flick, including its release date, cast, plot, trailers, the character's big-screen future, and more.
Major spoilers follow for Man of Steel, 1989's Batman and 1992's Batman Returns, and Zack Snyder's Justice League. Potential spoilers for The Flash are also discussed.
The Flash release date
The Flash speeds into cinemas worldwide on Friday, June 16.
Per industry insider Cryptic4KHD, it'll have a runtime of two hours and 24 minutes, while a page listing on AMC theaters' website confirms it'll carry a PG-13 age rating (that's 12A for UK audiences).
According to Box Office Pro, The Flash is predicted to bring in $115 to $140 million in the US on opening weekend. For comparisons sake, Guardians of the Galaxy 3 – James Gunn's final Marvel film – raked in $118.4 million in its first three days. If The Flash can eclipse that flick with its own global takings, it'll be off to a grand start.
The Flash trailer
The Flash movie's second trailer was unveiled in late April. It's packaged in much the same way as the first teaser – you can watch that trailer below – with plenty of recycled footage shown off.
There are some new spoiler-free clips in the latest trailer, though, which give us a bit more information to go on from a plot perspective. You can find out more about what's shown off, as well as any secrets or DC movie references house within, in our trailer breakdown of The Flash's second teaser.
All done? Grand, scroll down to watch the film's first trailer, which aired in February as part of this year's Super Bowl:
Want even more footage to pour over? Check out this 50-second TV spot, which also debuted during Super Bowl LVII:
Lastly, here's the first of a new featurette-based series, called Flashback Fridays, which details the making of The Flash (and the eagerly awaited return of Michael Keaton's Batman):
The Flash confirmed cast
Big spoilers follow for Man of Steel, the Michael Keaton's Batman films, and Zack Snyder's Justice League.
Here's The Flash's cast list so far:
Ezra Miller as Barry Allen/The Flash
Sasha Calle as Kara Zor-El/Supergirl
Michael Keaton as Bruce Wayne/Batman
Ben Affleck as Bruce Wayne/Batman
Michael Shannon as General Zod
Kiersey Clemons as Iris West
Ron Livingston as Henry Allen
Maribel Verdu as Nora Allen
Antje Traue as Faora-Ul
Ian Loh as young Barry Allen
Ezra Miller reprises their role as the world's fastest man alive after they made their debut as Barry Allen/The Flash in Zack Snyder's Justice League.
They'll portray two versions of Barry in this film, too – the SnyderVerse one, and another, seemingly unpowered variant created as part of this new timeline. Miller could also portray another character, but we won't spoil the surprise here as it could ruin a major part of the plot. Ian Loh will play the child version of Barry Allen.
Ben Affleck's Batman and Kiersey Clemons' Iris West also return from the SnyderVerse, albeit in cameo roles. Ron Livingston replaces Billy Crudup as Barry's dad Henry, who was wrongly convicted of murdering Nora Allen, aka Barry's mom.
Michael Shannon and Antje Traue are back as General Zod and Faora-Ul (Zod's lieutenant) from Man of Steel. Zod died in that Superman flick, meaning Shannon didn't understand why he was asked to be in this DCEU movie. Once it was explained to him, though, he was on board. Shannon also sought out Snyder's blessing before agreeing to appear (per Vanity Fair).
Meanwhile, Faora-Ul was sent to the Phantom Zone in Man of Steel. Thanks to Barry's time traveling escapades, however, they're both alive in the newly formed timeline that Barry inadvertently creates.
Turn your volume up – the first 2 singles from #TheFlash by @BenWallfisch are available now. Check out the music here:https://t.co/cF9FLVTbjj pic.twitter.com/B0mQG8hSjYMay 12, 2023
Sasha Calle has been cast as Kara Zor-El, a Kryptonian who arrives on Earth instead of Kal-El (i.e. Superman) in this alternate timeline. Judging by the trailers, she was captured and imprisoned (seemingly by the Russian military) after her arrival. However, it's clear she'll be broken out by the two Barrys with the aid of a certain Dark Knight (more on him in a bit).
Maribel Verdu has also been cast as Nora, aka Barry's mom. It's unclear how big of a role she'll play in the story but, considering the original Barry has traveled back in time to save her, she should feature heavily in the movie's middle act.
Michael Keaton dons Batman's infamous cape and cowl for the first time since 1992's Batman Returns, which is one of the best superhero movies of all-time (in our view). He'll be the main Caped Crusader in this movie, with Affleck's Bruce Wayne/Batman cameoing in the first act. According to Variety reporter Rebecca Rubin, Keaton's Wayne will be embodying 'The Dude' from The Big Lebowski early on, i.e. he'll be slacking on his role as Gotham's protector for reasons we'll find out.
Lastly, Saorise-Monica Jackson, Rude Mancuso, and Luke Brandon Field have reportedly been cast in undisclosed roles (per Variety and Screen Rant). It's possible that their roles have been cut in The Flash, though – and the next paragraph might hold clues as to why.
Potential spoilers follow for The Flash's cast.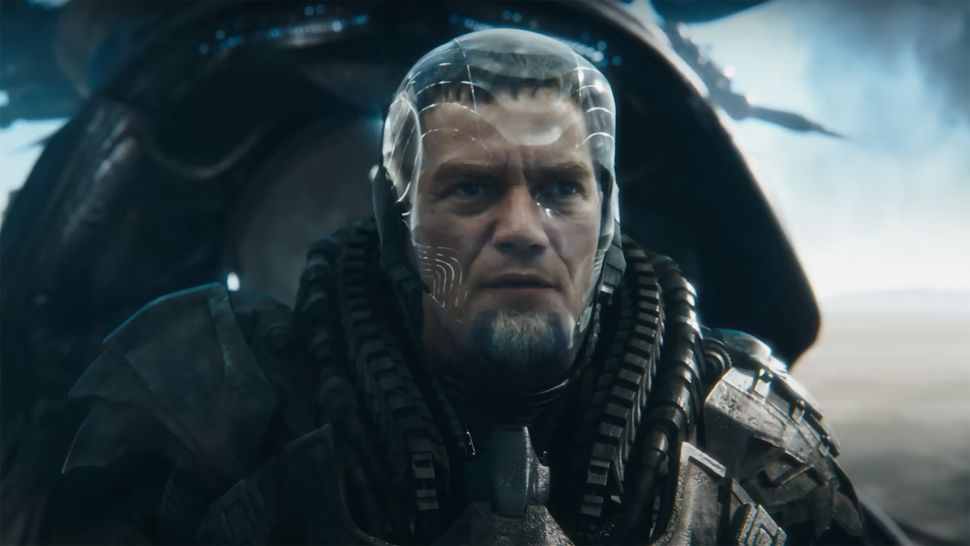 According to Hollywood Critics Association founder Scott Menzel, the movie's original theatrical cut contained cameos from a host of major DCEU players. That included Jason Momoa's Aquaman (who'll reprise his role as the water-dwelling hero in Aquaman and the Lost Kingdom in late 2023), Gal Gadot's Wonder Woman (who made a big cameo in Shazam! Fury of the Gods), and Henry Cavill's Superman. You might think it unlikely this trio will feature now, but industry insider ViewerAnon insists Wonder Woman will appear. The other two, however, aren't expected to show up.
Elsewhere, industry insider Grace Randolph has suggested another former Batman actor, plus an ex-Superman star, could make surprise cameos at the end of the movie or in post-credits stingers. Place your bets on who they'll be now.
Finally, director Andy Muschietti revealed (per Nerdist) that a bunch of other multiversal cameos have been cut from the final edit. Lynda Carter's Wonder Woman, Grant Gustin's Flash from the character's CW series, Marlon Brando's Jor-El from 1978's Superman, and two villains from Batman's 1960s TV show – Meredith Burgess' Penguin and Cesar Romero's Joker – are no longer in the film.
The Flash story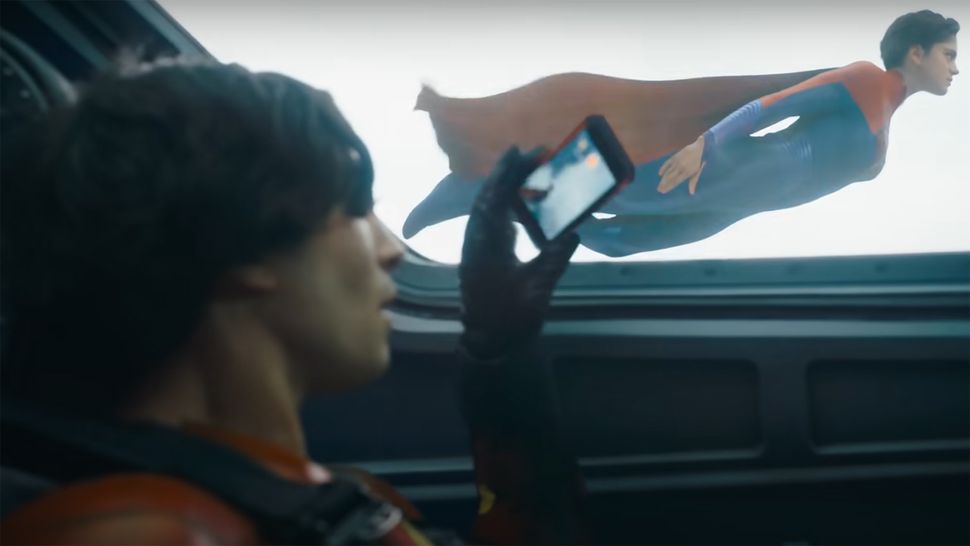 Here's The Flash's official plot synopsis: "Worlds collide in The Flash when Barry Allen uses his superpowers to travel back in time in order to change the events of the past. But when his attempt to save his family inadvertently alters the future, Barry becomes trapped in a reality in which General Zod has returned, threatening annihilation, and there are no superheroes to turn to.
"That is, unless Barry can coax a very different Batman out of retirement and rescue an imprisoned Kryptonian… albeit not the one he's looking for. Ultimately, to save the world that he is in and return to the future that he knows, Barry's only hope is to race for his life. But will making the ultimate sacrifice be enough to reset the universe?"
According to Twitter user Amos Wacker, the movie will open with Barry Allen working alongside Ben Affleck's Batman to thwart a robbery. It's only once that sequence ends, and the pair discuss the prospect of Barry going back in time to save his mom – likely born out of Barry asking Bruce if he could travel back in time to save his parents, would he – that the multiversal shenanigans begin.
So, what should you expect once Barry travels into the past? The Flash movie is partially inspired by Geoff Johns and Andy Kubert's iconic 2011 comic-book story arc, which is titled Flashpoint. In the comics version, Barry Allen finds himself in an unfamiliar alternate universe where his late mother is still alive, Aquaman's kingdom of Atlantis is at war with Wonder Woman's home of Themyscira, and Thomas Wayne became Batman instead of his murdered son Bruce.
In the DCEU film, Barry will use his time-traveling abilities in an effort to save his mom, Nora – and in so doing, inadvertently make major changes to the space-time continuum. However, the movie has only incorporated certain elements from the comic series, choosing instead to add various characters and plot points from previous DC films to tie it to the wider DCEU (and Warner Bros' previous superhero movies).
As director Andy Muschietti explained at August 2020's DC Fandome event: "His [Barry Allen] mother was murdered, his father was framed and incarcerated, and all his journey from then was of a man trying to make things right."
"Batman lost his parents, Superman lost his planet, Harley Quinn lost her egg sandwich…" added screenwriter Christina Hodson. "But Barry, because he's got this ability to go back and manipulate time, he's the only one who can actually go and change his own personal story. [But] time travel isn't simple. It's not always a straightforward case of 'Go back and change one thing, and another thing changes in the future.'"
Crucially, just as multiple Marvel movies and TV shows, including Loki season 1 and Spider-Man: No Way Home, opened the door for the Marvel Cinematic Multiverse (MCU) to arrive, The Flash will break down the barriers between alternate dimensions in the DCEU.
"The cinematic multiverse is going to be born out of this movie," Hodson revealed. "It's born out of Barry's story."
Check out the teaser poster for The Flash and tune in during the big game for the official trailer. #TheFlashMovie pic.twitter.com/CEDjDD3fuCFebruary 10, 2023
"This film is immensely important," added star Ezra Miller. "If you look around the DC Universe, obviously you have all of these characters that exist within their own bubbles. We even have now multiple iterations of the same story. This movie, by opening that door that Flashpoint did in the comics, all of these stories and characters can start to collide."
"This movie is a bit of a hinge in the sense that it presents a story that implies a unified universe where all the cinematic iterations that we've seen before are valid," Andy Muschietti also told Vanity Fair. "It's inclusive in the sense that it is saying all that you've seen exists, and everything that you will see exists, in the same unified multiverse."
All of that still appears to be the case, despite some of the changes to The Flash's story and the forthcoming reset of the DCU. Understandably, Warner Bros., as well as the movie's cast and crew, are being extremely cautious about what they reveal pre-release, too, so audiences can enjoy the biggest surprises when The Flash arrives later this year. With the film receiving its first public screening at CinemaCon 2023, though, there are certain spoilers doing the rounds online. In short: be careful out there.
It's unclear how much of The Flash's story been altered due to Gunn and Safran's new DCU plan, but we know it'll have a major impact on rebooting the DCU and helping to usher in its new batch of movies and TV shows. Speaking of which...
How will The Flash reset the DCU?
There are two big questions on everyone's minds heading into The Flash: Ezra Miller's future and how the film reboots the DCU.
Let's start with the latter. James Gunn and Peter Safran were installed as the new co-heads of DC Studios in October 2022, and the pair quickly set about making plans to streamline DC's flagging cinematic franchise.
Three months, Gunn revealed the first phase of their new-look DCU, which is titled Chapter One: Gods and Monsters. He also confirmed The Flash will "reset the entire DC universe", thus giving Gunn and Safran a clean slate to work from.
However, there are caveats to this rebooted universe. Gunn and Safran will retain some actors from the DCEU for their newly-formed DCU, meaning there's some confusion over how much will actually be reset. It's possible that the likes of Viola Davis, who is being kept on as Amanda Waller, will simply be playing a multiversal variant of their character in the DCU. Hopefully, Gunn and Safran will shed more light on this ahead of Chapter One officially kicking off.
Here are just a few of our plans. Up, up, and away! #DCStudios #DCU @DCComics pic.twitter.com/8XNDNLUEPqJanuary 31, 2023
Crucially, there was no mention of a sequel to The Flash in Gods and Monsters' current line-up, either – and with good reason.
Without diving too deep into the troubling waters surrounding Miller, the actor was embroiled in numerous controversies and legal issues between April 2020 and August 2022. Multiple allegations of grooming minors, theft, and personal threats have been leveled against them, with outcomes for each charge yet to be determined. Miller has apologized for their actions, citing mental health issues as the cause behind their spate of problems and agreeing to attend therapy sessions to get better.
In August 2022, The Hollywood Reporter claimed WBD was considering axing Miller as Barry Allen in future Flash projects. Miller's apology and undertaking of mental health treatment, though, has put a cap on WBD's plans to remove them from the DCU at this time.
Speaking at a private press event in January, Safran declined to confirm (or deny) whether Miller's services would be retained. "Ezra is completely committed to their recovery," Safran said (per Variety). "And we are fully supportive of that journey that they're on right now. When the time is right, when they feel like they're ready to have the discussion, we'll all figure out what the best path forward is. But right now, they are completely focused on their recovery. And in our conversations with them over the last couple of months, it feels like they're making enormous progress."
Gunn and Safran, then, aren't ruling anything out. And, if the movie is as successful as it's expected to be – The Flash is one of our most anticipated new movies of the year – director Andy Muschiett isn't ruling out a sequel.
"We didn't talk about it [a follow-up]," he told Collider. "I think that we're all waiting to see how this movie does. Of course, there's excitement about continuing the story, especially if this movie is successful. There's an architecture in DC that is brewing and it's being created. And the question is 'Will this new architecture absorb this story?' The good thing about the multiverse is that it is possible. The multiverse allows all of these different worlds to coexist and interact, and so, hopefully, yes, I mean, we don't know yet. That's the truth."
However, if Gunn and Safran want to give Barry Allen a fresh start, Miller's time in the DCEU/DCU might be over already. If it is, at least they'll have helped give WBD "one of the best superhero movies ever", according to Gunn.
For more DCEU and DCU-based coverage, find out how to watch the DCEU movies in order. Additionally, read our ranking of the best Batman movies and which DCU movies and shows we're most excited for.
Sign up to receive daily breaking news, reviews, opinion, analysis, deals and more from the world of tech.
Senior Entertainment Reporter
As TechRadar's senior entertainment reporter, Tom covers all of the latest movies, TV shows, and streaming service news that you need to know about. You'll regularly find him writing about the Marvel Cinematic Universe, Star Wars, Netflix, Prime Video, Disney Plus, and many other topics of interest.
An NCTJ-accredited journalist, Tom also writes reviews, analytical articles, opinion pieces, and interview-led features on the biggest franchises, actors, directors and other industry leaders. You may see his quotes pop up in the odd official Marvel Studios video, too, such as this Moon Knight TV spot.
Away from work, Tom can be found checking out the latest video games, immersing himself in his favorite sporting pastime of football, reading the many unread books on his shelf, staying fit at the gym, and petting every dog he comes across.

Got a scoop, interesting story, or an intriguing angle on the latest news in entertainment? Feel free to drop him a line.