Samsung shows off two new curved monitors at CES 2023 and we're obsessed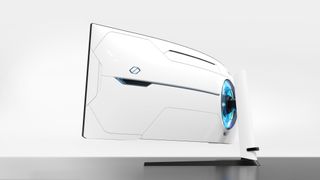 (Image credit: Samsung )
CES is the holy grail of new, funky, and fresh technology and this year Samsung has graced the Las Vegas event with some new curved monitors. Curved displays are increasingly popular for gamers, professionals, and creatives alike, so the new additions to their monitor range are welcome.
We got to have a look at the two most interesting monitors from their CES 2023 showing: the Odyssey Neo G9 and the Odyssey OLED G9.
Odyssey Neo G9
The Odyssey Neo G9 is the world's first dual-UHD gaming monitor that delivers 7,680 x 2,160 resolution in a ridiculously wide 32:9 aspect ratio within one curved screen. This massive monitor sits 57 inches diagonally and has a 1000R curvature to create a semi-circle of immersion around gamers and bendy monitor enthusiasts.
Samsung boasts another first with DisplayPort 2.1 support, which transfers data twice as fast as the previously used DisplayPort 1.4. This will be of particular interest to anyone who snapped up a new AMD Radeon RX 7900 XTX or XT graphics card since those GPUs support the new DP 2.1 connection.
A few specific features of the Odyssey Neo G9 demonstrate that it was designed with the gamer and the gaming experience in mind. The matte display reduces light reflection on the screen to get rid of any distractions, like light from your window, or perhaps the LEDs you may have in the room to keep your setup looking snazzy.
No pricing was listed for the monitor as of yet, but we cannot wait to see the big lug in person when we can get our reviewing hands on it.
Odyssey OLED G9
The OLED G9 shares the 32:9 aspect ratio and 240Hz refresh rate in a slightly less comical 49-inch package. The monitor has a 1800R curvature and is all about color!
The Odyssey OLED G9 has a dual-QHD resolution and uses 'quantum dot technology' that controls illumination on a pixel-by-pixel basis, ensuring dynamic and super-sharp color contrast. It aims to deliver the truest sRGB and truest blacks without color filters.
You'll have access to apps like Prime Video, Netflix, and YouTube through the Samsung Smart Hub so any potential buyers will be able to watch content without needing a full PC setup. Users will also have access to the Samsung Gaming Hub, a streaming platform that allows gamers to play cloud games from Xbox Game Pass and Nvidia GeForce Now without a console. The emphasis on true color coupled with the integration of content streaming apps makes this a very compelling monitor - more than a monitor, perhaps closer to a smart TV.
All in all, the Odyssey OLED G9 is the perfect monitor for the casual gamer that doesn't want to invest in a full-fledged gaming PC, or anyone who really enjoys immersive cinema at home that may want to 'drop in' every now and then. Again, we don't have prices for the monitor yet, but we will be sure to update you when we do.
Sign up to receive daily breaking news, reviews, opinion, analysis, deals and more from the world of tech.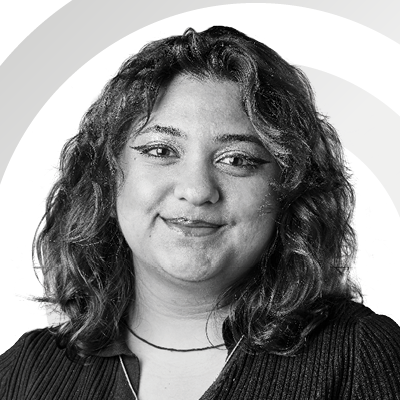 Muskaan is TechRadar's UK-based Computing writer. She has always been a passionate writer and has had her creative work published in several literary journals and magazines. Her debut into the writing world was a poem published in The Times of Zambia, on the subject of sunflowers and the insignificance of human existence in comparison.

Growing up in Zambia, Muskaan was fascinated with technology, especially computers, and she's joined TechRadar to write about the latest GPUs, laptops and recently anything AI related. If you've got questions, moral concerns or just an interest in anything ChatGPT or general AI, you're in the right place.

Muskaan also somehow managed to install a game on her work MacBook's Touch Bar, without the IT department finding out (yet).