Samsung phones vs Motorola phones: which have the best Prime Day Android phone deals?
Which phone deal to snap up before Prime Day ends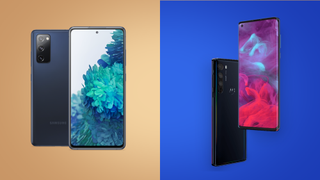 (Image credit: Future)
If you're looking for Prime Day deals on Android phones, you have until midnight PDT to nab some of the best prices we've seen. You won't find iPhone deals today, but we've spotted some excellent deals on Samsung, Motorola, OnePlus, TCL, Nokia, and other phones. The question is, which brand or phone should you pick?
In theory, the choice is clear: the 2021 Samsung lineup is excellent, and the Galaxy S21, S21+, S21 Ultra and S20 FE all have hefty Prime Day price drops. But even discounted, these are expensive purchases for flagship phones that you'll have to consider carefully.
On the flip side, there are about two dozen Motorola Prime Day deals, most of which fall anywhere from $150 to $300. For half or even a quarter the price of a Galaxy phone, you can buy well-reviewed phones like the Motorola Edge, Moto G9 Plus or Moto G9 Play.
So which offers the best Prime Day deals? We've highlighted the best options below, after which we'll discuss which could be the 'best' for you specifically.
Best Motorola Prime Day deals
Best Samsung Prime Day deals
Samsung vs Motorola – which to buy during Prime Day
You can get 25% off the Galaxy S21 and Galaxy S21 Ultra and 30% off the Galaxy S21 Plus or Galaxy S20 FE. Those are some significant discounts on pricey phones, saving you hundreds of dollars. Purely from a maximum-discount perspective, Samsung has the 'better' Prime Day deals.
But you do have to spend between $479 and $900 to buy one, and many shoppers aren't willing to drop that kind of moolah even if it's a deal. For comparison, almost all of the above Motorola phones also have 20–30 percent discounts, except their final prices are more in the $150–$250 range.
One odd coincidence, the Motorola Edge and Galaxy S20 FE both have the same list price ($699) and same Prime Day sale price ($479). Between the two, the Edge has a larger display, higher MP for its main camera, and a fancier aluminum back than the plastic S20 FE; but the FE clearly wins the battle with a faster Snapdragon, 120Hz display, IP68 protection, better software support and other upgrades.
So Samsung wins for its premium and mid-range offerings, unsurprisingly. But if you truly want to save money – and don't need a phone for gaming or pro photography – our TechRadar reviewers are big fans of Motorola's cheap phones, with the Moto G Power ($50 off) and Moto G Fast (20% off) as two of our favorites.
Personally, I took advantage of the S21 deal to switch from my iPhone to Android; I'm someone who likes to buy a flagship for cheap and make it last for years. But plenty of people like to cycle through cheap Android phones from year to year, and in that case, Motorola is undoubtedly your best bet.
More Motorola and Samsung Prime Day deals
No matter where you live, you'll find all the lowest prices for Samsung and Motorola phones from around the web right here, with offers available in your region.
More Amazon Prime Day deals
Sign up to receive daily breaking news, reviews, opinion, analysis, deals and more from the world of tech.
Michael Hicks began his freelance writing career with TechRadar in 2016, covering emerging tech like VR and self-driving cars. Nowadays, he works as a staff editor for Android Central, but still writes occasional TR reviews, how-tos and explainers on phones, tablets, smart home devices, and other tech.