Samsung announces US prices for new QLED TV lineup, arriving this week
Samsung's 2023 Neo QLED TVs land early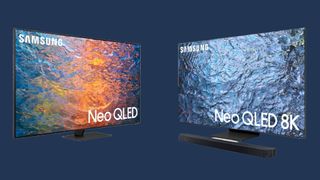 (Image credit: Future)
Here's some good news for viewers in the US who are on the hunt for a new high-end TV: Samsung's Neo QLED models for 2023 are arriving early, with its latest 4K and 8K premium sets shipping to retail stores this week. The announcement follows on the heels of news that the company's flagship 77-inch OLED is available for pre-order, with shipments for that model scheduled to start by the end of the month.
Samsung's 2022 Neo QLED TVs rank high on our list of the best 4K TVs, the QN95B having received a solid five-star rating. The company's QN900B also tops our list of the best 8K TVs owing to its refined backlighting and 144Hz gaming support.
Announced earlier this year at CES, the range of new TVs on offer all employ mini-LED backlighting and a quantum dot layer for enhanced color and brightness. They are available in 43-inch up to 85-inch screen sizes, and each packs the company's latest picture processing, smart interface, gaming, and convenience features.
Neo QLED 8K
There are two 8K Neo QLED series: the QN900C (75- and 65-inch) and QN800C (85- and 65-inch). These feature the company's Quantum Matrix Ultimate technology with 14-bit processing, have up to 1,000 local dimming zones, and are specced for up to 4,000 nits peak brightness. A Quantum Neural processor upscales 4K and lower-res content to 8K and uses machine learning to enhance both video and audio performance.
Neo QLED 4K
Samsung's 4K Neo QLED models will arrive in three series: the QN95C (85-, 75-, 65-inch), QN90C (85-, 75-, 65-, 55-, 50-, 43-inch), and QN85C (85-, 75-, 65-, 55-inch). The flagship 4K QN95C series will feature 14-bit processing, along with new local dimming tech to improve brightness and black detail. The flagship QN95C sets also feature a new slim power board that eliminates the need for the external One Connect box used in last year's QN95B series.
All Samsung Neo QLED models provide a new AI deep learning-fueled Auto HDR Remastering feature that applies high dynamic range effects to standard dynamic range images on a scene-by-scene basis. They also feature Q Symphony 3.0, which integrates the TV's built-in speakers with a Samsung soundbar for an expanded Dolby Atmos audio presentation.
Pricing details
QN900C
75" MSRP $6299.99
65" MSRP $4999.99
QN800C
85 inches: $5999.99
65 inches: $3499.99
QN95C
85 inches: $5799.99
75 inches: $4199.99
65 inches: $3299.99
QN90C
85 inches: $4799.99
75 inches: $3299.99
65 inches: $2799.99
55 inches: $1999.99
50 inches: $1599.99
43 inches: $1199.99
QN85C
85 inches: $3799.99
75 inches: $2699.99
65 inches: $1999.99
55 inches: $1499.99
Analysis: The best Samsung TV deal? That depends on what ends up being the best Samsung TV tech for 2023
With prices starting at $1,199 for the smallest-screen QN90C and extending up to $6,299 for the largest 8K QN900C, these are premium TVs aimed at quality conscious viewers. What's interesting about Samsung's pricing strategy is that the company's 77-inch OLED costs $4,500 while the 75-inch QN900C is $1,800 higher and the 75-inch flagship QN95C 4K model is $4,199. To me, that indicates Samsung is prioritizing its new top OLED model, which could end up being an excellent deal, especially after prices drop and late-season sales kick in.
Will viewers be inclined to spend an extra $1,800 on a 75-inch 8K Samsung TV? That will depend on whether or not they find the extra resolution to be worth it. 8K TVs have had a rough time of late, with new EU regulations threatening to shut down sales of the higher-res displays, which consume more power than equivalent-size 4K models.
There's also an ongoing shortage of 8K content, with YouTube being the main source for 8K streaming. Gaming is another potential use for 8K TVs, though playing games at that high a resolution requires the kind of high-end PC setup that only the most avid and deep-pocketed DIY builders can muster.
Depending on the performance of Samsung's new QN95C, that 4K mini-LED model could end up being a better deal than the Samsung S95C OLED. Do next generation QD-OLED (aka OLED) models from Samsung provide enough of a picture quality advantage to justify the higher price over Neo QLED? Our early hands-on Samsung S95C review can help with that – and we have a guide to whether you should buy a Samsung OLED TV.
Get daily insight, inspiration and deals in your inbox
Get the hottest deals available in your inbox plus news, reviews, opinion, analysis and more from the TechRadar team.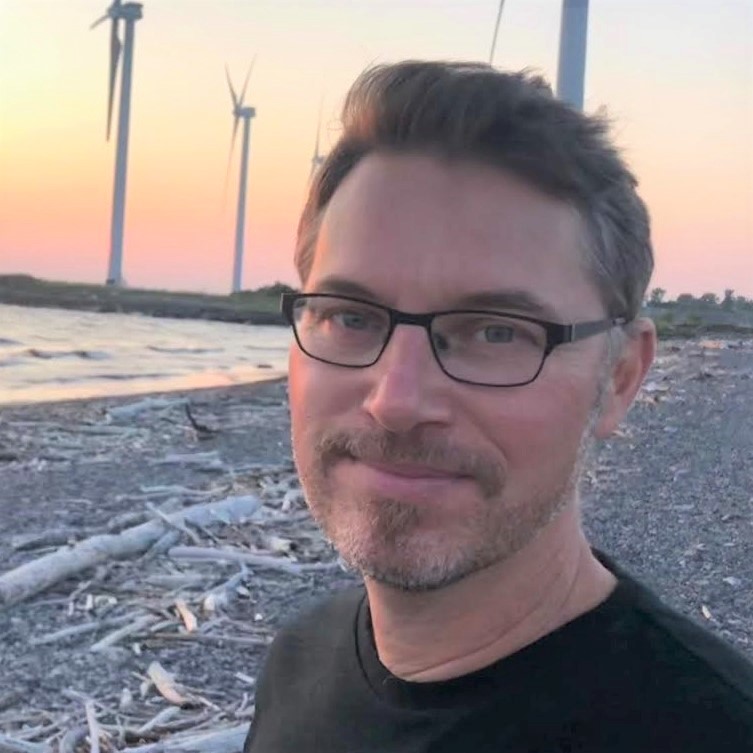 Senior Editor Home Entertainment, US
Al Griffin has been writing about and reviewing A/V tech since the days LaserDiscs roamed the earth, and was previously the editor of Sound & Vision magazine.
When not reviewing the latest and greatest gear or watching movies at home, he can usually be found out and about on a bike.