Samsung is relatively new the world of the best OLED TVs. The company released its first OLED TV in 2022 – the impressive Samsung S95B – and now it has its sights on claiming a bigger piece of the market by launching two new OLED TVs in 2023.
This isn't your normal OLED tech, though. Thanks to quantum dot technology that enables higher brightness than traditional OLED screens have managed in the past, Samsung's QD-OLED TVs combine the best of existing OLED tech with the vibrance of the firm's QLED sets. The first QD-OLED set quickly established itself as one of the best Samsung TVs available.
Below, we'll explain everything you need to know about Samsung OLED TVs, breaking down prices, features, and just how they compare to the best OLED TVs from LG.
What are the Samsung OLED TV models?
Samsung released its first ever OLED TV last year, which is the excellent Samsung S95B; a stunning QD-OLED we rate highly, that comes in 55-inch and 65-inch sizes only.
There are two new Samsung OLED TVs for 2023. First up is the more premium Samsung S95C. Then there's the slightly cheaper Samsung S90C. Both of these QD-OLED panels come in 55-inch and 65-inch sizes. Those who have a colossal amount of wall space will be pleased to hear both sets also come in a new 77-inch size, which has really impressed us in the testing we've done so far for our initial hands-on Samsung S95C review.
What are the prices of Samsung OLED TVs?
2022's Samsung S95B OLED is the second best OLED in 2023. The 55-inch model will set you back $1,599 / £1,599 / (around AU$2,499), while the 65-incher costs $1,899 / £1,999 / AU$2,969.
As for the two 2023 Samsung OLED TVs, the biggest version of Samsung's new flagship S95C QD-OLED will retail for $4,499 in the States, and we'd expect it to sell for around £4,500 in the UK, and close to AU$7,000 in Australia.
So far, only US prices for the new Samsung OLED TVs have been announced. The smaller versions of the Samsung S95C in the US will be $2,499 (around £2,000 / AU$3,700) for the 55-inch model, and $3,299 (around £2,700 / AU$4,900) for the 65-incher.
As for S90C pricing, the 77-inch version in the US will be $3,599 (around £2,900 / AU$5,400), while the 55-incher will be $1,899 (around £1,550 / AU$2,800). A US price for the 65-inch S90C has yet to be announced.
European prices for the slightly paired-down OLED, meanhwile, have leaked. The 55-inch version costs €2,000, the 65-inch €2,800, while the 77-incher costs €4,000.
What features do you get from Samsung OLED TVs?
When it comes to the feature set of both new Samsung OLED TVs, the S95C predictably has the edge over the S90C OLED. Before we get to the differences, here are the main features the two TVs have in common.
Both sets are 4K TVs with a quantum dot OLED panel, and Samsung's latest-generation image processor. Both panels boast a 144Hz refresh rate and HDMI 2.1 support for 120Hz gaming from consoles, or 144Hz gaming from PCs. There's AMD FreeSync Premium Pro and regular VRR for smooth-looking framerates. Both support HDR10+ and Dolby Atmos, but not Dolby Vision.
As for differences, the S95C comes with a One Connect box where all the external connections are in a separate box that can be hidden away, whereas the S90C has connections on the TV itself, so the TV is thicker.
The S95C pulls ahead of the S90C in the audio department, too. The higher-end OLED packs in a 4.2.2 channel Dolby Atmos speaker system, while the S90C is features only a 2.2.2-channel system.
It's also worth noting that Samsung claims both the S95C and the S90C use up to 25% less energy than last year's S95B, which is obviously welcome news with continuing sky-high electric bills.
Are Samsung OLED TVs better than LG OLED TVs?
Whether Samsung OLED TVs are better than equivalent LG OLEDs is subjective, but both manufacturers offer features that may sway your purchasing decision.
If we compare the Samsung S95B OLED with the LG C2 OLED – two of the best OLED sets you can currently buy – they prove to be similarly matched. Both have four HDM1 2.1 ports that support 4K at 120Hz, and they also sport variable refresh rate features and low latency modes to take advantage of the latest PS5 and Xbox Series X games.
If you're a hardcore gamer, LG's OLEDs hold a slight advantage over the Samsung S95B. Where the Samsung model only offers FreeSync support, the latest LG OLED TVs support both FreeSync and Nvidia's G-Sync frame-smoothing tools. The addition of a dedicated 'Game Optimizer' (which lets you switch between various RPG and FPS presets) on the likes of the LG B2, C2 and G2 OLEDs give LG OLED TVs another gaming edge, though Samsung has its own equivalent to this.
Samsung OLED TVs pull ahead when it comes to brightness, though. During our Samsung S95B OLED review, we found it to be 10% brighter in all modes than the LG G2 OLED. This is mainly down to Samsung's excellent quantum dot tech that helps boost both color and contrast, though the S95B has trouble with deep black tones in brighter rooms.
The future is only going to get even more blinding for Samsung OLED TVs, with the S95C beating last year's model for brightness by over 30% in our tests The 2023 LG C3 isn't set to get any brighter than the LG C2 it replaces, though the LG G3 OLED looks light it will rival the S95C's rightness thanks to its use of a version of Micro Lens Array tech.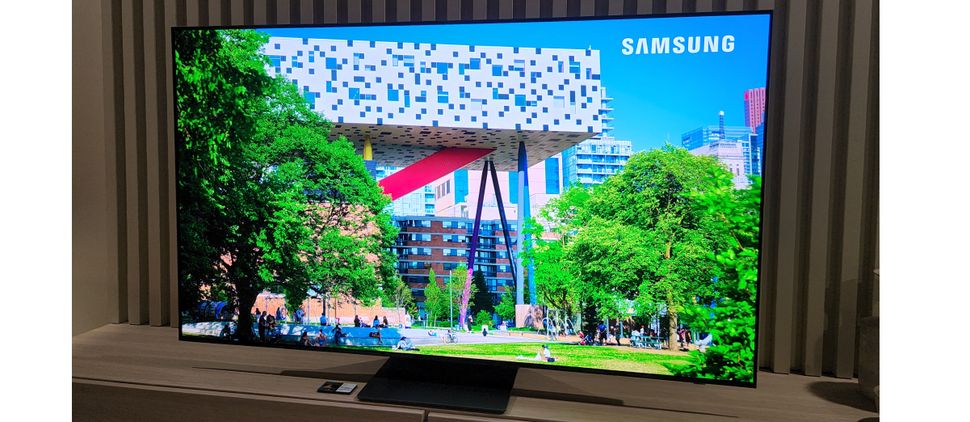 Are Samsung OLED TVs better than QLED?
Before it got into OLED tech, Samsung improved on traditional LED technology by launching QLED TVs. With its newest 'Neo QLED' models powered by a Mini-LED array of local dimming lights, QLED panels are able to deliver brightness and colors well beyond regular LED screens – and often OLED, at the top end. While the blacks of QLED TVs may not be quite as convincing as the best OLED TVs, QLED panels are able to go brighter than traditional OLED sets.
That's why QD-OLED is so exciting: it combines the best of both OLED and QLED technologies into a single screen.
Like with regular QLED TVs, QD-OLED panels have a quantum dot layer incorporated into the OLED screen. While the OLED pixels produce blue light, the quantum dot layer generates green and red light to display full-color, more vibrant images than regular OLED panels.
Though QLED TVs do offer deep black tones and wide viewing angles, they're still not quite as dark or quite as wide as what a Samsung QD-OLED can offer. By implementing quantum dot technology, Samsung has finally been able to get around the main flaw surrounding existing OLED tech: a lack of brightness.
The best Samsung QLED TVs do have some advantages over QD-OLEDs, though. As the tech has been around longer, there are far more QLED TVs on the market than QD-OLEDs. QLED screens are generally cheaper, come in a far greater range of sizes, and even include some of the best 8K TVs.
By comparison, QD-OLEDs are still in their infancy, so if you're looking for a smaller screen that would be a good fit for a home office or you only watch content in a bright room, buying a QLED TV over a QD-OLED could be the wiser, money-saving choice.
Should you buy a Samsung OLED TV?
If you're looking for a new TV, buying a Samsung OLED is a great choice. The range and sizes of the earlier S95B may be limited, but it made an instant impact on the whole market.
The upcoming S95C and S90C will almost certainly improve on an already stellar foundation, with both set to offer even brighter pictures and class-leading 144Hz refresh rates. We're also glad to see both models getting a 77-inch version, which wasn't the case with the S95B in the UK last year.
While LG OLEDs still lead the way in terms of gaming features and sizes offered (from 42 inches to 97 inches), the brightness of Samsung's quantum dot technology is a real boon for its QD-OLED displays, especially if 2023's models are around the same price as the S95B from 2022 was after discounts.