Pro Nikon 1 still a 'possibility'
Feedback is being given to Japan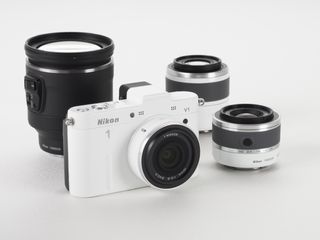 Nikon has not ruled out the possibility of a more advanced version of its Nikon 1 compact system cameras, to include more manual control.
Speaking to TechRadar, Jeremy Gilbert, UK marketing manager for Nikon UK, said, "We are listening and trying to feedback what we hear. It's mostly journalists and high-end photographers who would like us to produce one, but whether we should or not is a different matter."
The Nikon 1 V1 and J1 were announced in September 2011, with the J1 going on to become the biggest selling compact system camera.
Read our Nikon 1 J1 review
Read our Nikon 1 V1 review
"A pro version would be quite nice," Gilbert said, "But ultimately, we want pros to be buying our DSLRs, so while it would be pretty nice to have within the market, it's so niche that I'm not sure it would help us to be the number one brand."
Buyers
Nikon has admitted in the past that it is still not sure who is buying the J1 and V1, with Gilbert telling us that he was surprised by the number of men buying the camera.
"It's more male than I thought, and more SLR owners too - that could be the early adopters though," he said.
"We think we're marketing it right, but because it's a system that sits between compact and DSLR, we're finding a lot of DSLR users are buying it as their super-compact camera."
It is of course a bit too early to speculate, but perhaps a new Nikon 1 body will make an appearance at the Photokina show in Germany in September.
In the pro, or high-end enthusiast area of the market, Nikon would face competition from the Sony NEX-7, Olympus OM-D and Fujifilm X-Pro1.
Sign up to receive daily breaking news, reviews, opinion, analysis, deals and more from the world of tech.
Amy has been writing about cameras, photography and associated tech since 2009. Amy was once part of the photography testing team for Future Publishing working across TechRadar, Digital Camera, PhotoPlus, N Photo and Photography Week. For her photography, she has won awards and has been exhibited. She often partakes in unusual projects - including one intense year where she used a different camera every single day. Amy is currently the Features Editor at Amateur Photographer magazine, and in her increasingly little spare time works across a number of high-profile publications including Wired, Stuff, Digital Camera World, Expert Reviews, and just a little off-tangent, PetsRadar.