Most Galaxy S4 phones to reportedly use quad-core, not octa-core CPU
70 percent of Samsung Galaxy S4 phones won't have Exynos 5 Octa chip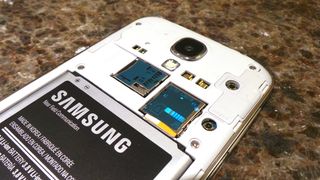 It turns out that much-hyped octa-core processor in the Samsung Galaxy S4 won't actually be available in most versions of the April-bound handset, according to a report out of South Korea today.
Instead, 70 percent of the first 10 million Galaxy S4 smartphones will opt for the Qualcomm Snapdragon 600 CPU, a quad-core processor, said the report picked up by Unwired News.
We already know the UK won't see any Galaxy S4s with Samsung's Exynos 5 Octa system on a chip, and it looks like the US and Australia can also be added to that list, with the super powerful handset being reserved for Asian and African nations that lack LTE.
The report indicates that not enough of these chips will be available for the launch of Samsung's new flagship smartphone.
Samsung's much-talked-about processor is said to be scheduled for mass production in Q2 2013, whereas the Korean manufacturer's Galaxy S4 release date is at the end of April.
Galaxy S4 quadcore vs octacore
The good news for the Western world is that there's been some debate over whether or not Samsung's octa-core is that much better than the Qualcomm's quad-core system on a chip.
The octa-core-equipped Samsung Galaxy S4 packs a 1.6 GHz quad-core Cortex-A15 and a 1.2 GHz quad-core Cortex-A7 CPU, with an IT tri-core PowerVR SGX 544 graphics chip.
The faster and slower cores switch between performance and efficiency modes.
The quad-core version of the Galaxy S4 uses a speedy 1.9 GHz Qualcomm Krait 300 chip at all times and takes advantage of an Adreno 320 GPU.
Which CPU configuration bests the other is going to be up to Samsung Galaxy S4 tests that are sure to happen the moment this highly anticipated phone arrives.
Either way, Samsung, knowing that it can't manufacture enough octa-core processors in time for the Galaxy S4 launch, may have made the right choice - even if this doesn't back up the company's eight-core marketing bluster.
Sign up to receive daily breaking news, reviews, opinion, analysis, deals and more from the world of tech.