Apple has announced a new selection of MacBook Pro models, using the new M2 Pro and M2 Max processors and coming in 14- and 16-inch variants. We're looking at the 14-inch version here, breaking down everything we know so far.
The new silicon at the heart of these Apple laptops could render them some of the best MacBooks ever made, following on from the excellent 2022 MacBook Pro 13-inch - which used the same standard M2 chip found in last year's MacBook Air.
Fortunately, it looks like Apple hasn't pulled the same trick here as it did with the new M2 Air, since pricing is largely the same for the M2 MacBook Pro models as it was for the 2021 M1 Pro and Max models. Read on for all the rest of the key details we have right now - we'll be reviewing this new MacBook Pro as soon as we get our hands on one, so watch out for that too!
MacBook Pro 14-inch (2023): Cut to the chase
What is it? The 14-inch model of Apple's 2023 M2 MacBook Pro
When will it be available? Available for order now, official release on January 24
What will it cost? Starting at from $1,999 / £2,149 / AU$3,199 to $3,099 / £3,349 / AU$4,999, optional upgrades cost extra
MacBook Pro 14-inch (2023): Release date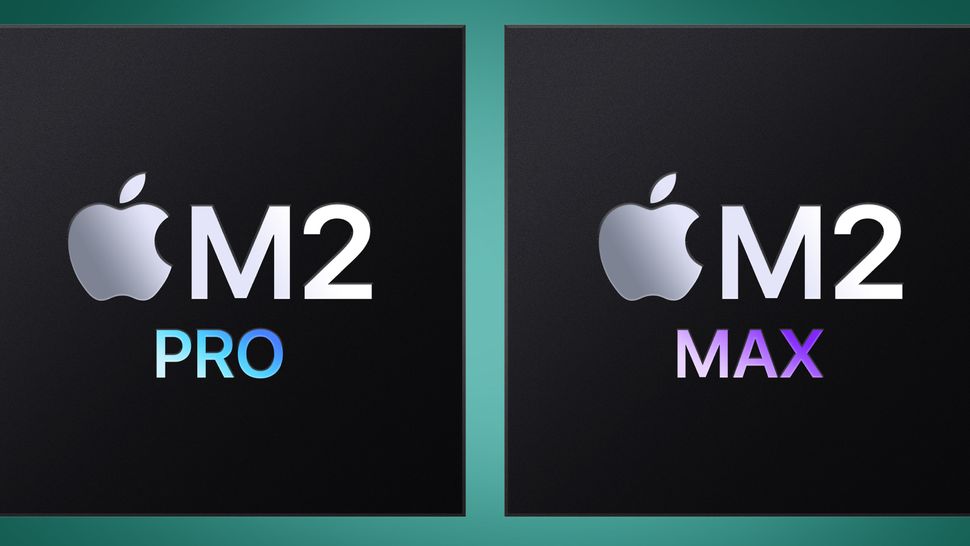 Apple has posted a video on its website (opens in new tab) detailing much of what we want to know about the new MacBook Pro 14-inch. Most importantly, we have a release date - January 24, with pre-orders available now through the Apple website and supporting retailers.
That release date will be shared with the new M2 MacBook Pro 16-inch and the M2 models of the Mac mini. If you order direct from Apple's website, dispatch is guaranteed by January 23, meaning you should get it on release day or very shortly afterward.
MacBook Pro 14-inch (2023): Price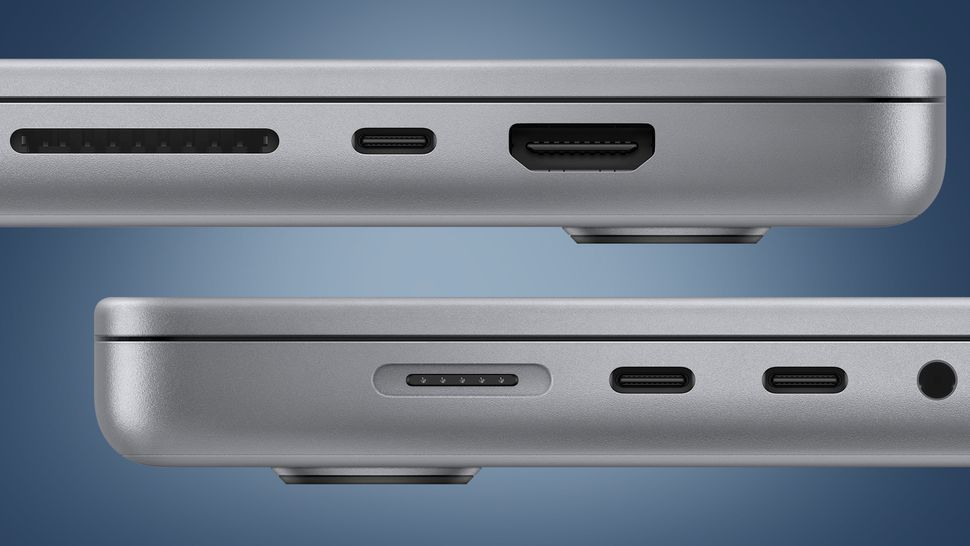 Good news, folks: we're not getting a hefty generational price increase here as we did with the M2 model of the MacBook Air last year. In the US, the M2 MacBook Pro 14-inch will start at $1,999 for the base model with 512GB of storage and the M2 Pro chip – exactly the same starting price as the M1 MacBook Pro 14-inch, which is good to see.
At the higher end, the M2 Max version starts at $3,099 – that's slightly more expensive than its predecessor, but only by $100. If you want to go all-out, there are a bunch of optional extras here - including more powerful versions of the M2 Pro and M2 Max chips, and additional memory and storage.
If you fully kit our your MacBook Pro 14-inch with the most powerful M2 Max chip at the maxed-out configuration (not including any of the preinstalled software options like Final Cut Pro) it'll run you a tidy sum of $6,299. Yikes!
Frustratingly, it looks like users outside the US are going to get burned here. The M2 Pro version starts at £2,149 in the UK – that's about $2,640. Meanwhile, the M2 Max model starts at £3,349, and the fully specced-out M2 Max version will cost £6,549, which is more than $8,000.
If you're looking to pick one up in Australia, prices start from AU$3,199 for the base specs for the M2 Pro model. Upgrading to a 1TB SSD will set you back AU$3,999 while picking up the higher-end M2 Pro Max will cost AU$4,999.
Oddly, it looks like only the base pricing varies significantly between regions. The costs of extras like more RAM or a bigger drive seem to have been translated directly into pounds from the original USD MSRP; for example, upgrading the M2 Max model from a 1TB SSD to 2TB costs $400/£400. What gives, Apple?
MacBook Pro 14-inch (2023): Specs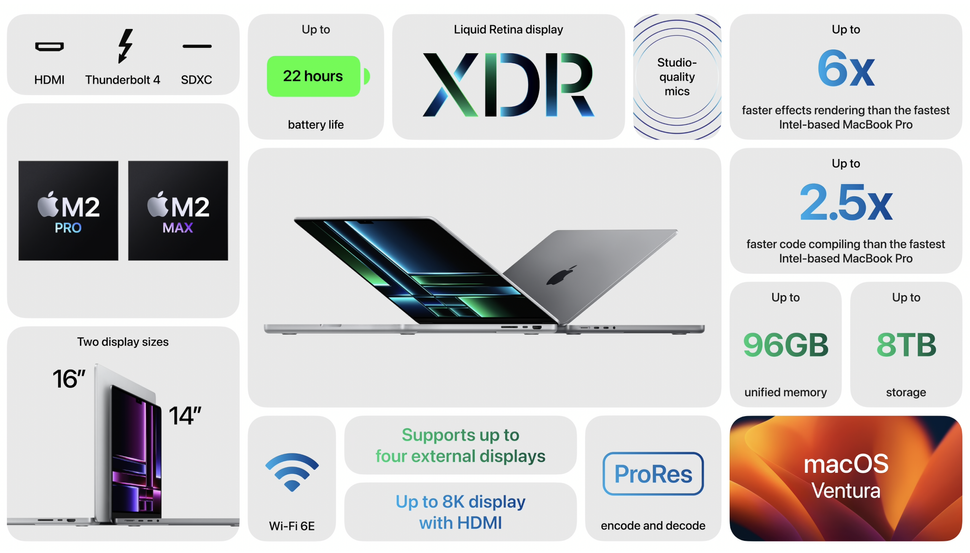 As we've already discussed, these new-for-2023 MacBook Pros will come with either the M2 Pro or M2 Max chip powering them. Each of these chips has two variants; the M2 Pro can come with either 10 or 12 CPU cores and 16 or 19 GPU cores, while the M2 Max always packs 12 CPU cores but can utilize either 30 or 38 GPU cores.
That's going to make the M2 Max a force to be reckoned with in graphical terms. every version of the M2 Pro and Max chips also has a 16-core integrated Neural Engine for machine-learning workloads.
Beyond the processor, the M2 Pro models of the MacBook Pro will start with 16GB of unified RAM and a 512GB SSD, scalable up to 32GB and a whopping 8TB respectively. Meanwhile, the M2 Max version starts at 32GB of RAM and can be configured to 64GB (or all the way up to 96GB, but only with the more powerful M2 Max chip), with the same drive options.
Apple also boasts that this MacBook Pro has the longest battery life of any model released so far, apparently capping out at a staggering 22 hours of use. In terms of connectivity, we've got Thunderbolt 4, HDMI, and SDXC ports alongside speedy Wi-Fi 6E.
The screen is the same crisp Liquid Retina XDR display we've come to love Apple's laptops for, and all models will support up to 8K video output via HDMI, along with the ability to support up to a maximum of four external displays.