La locura de los teléfonos: el ZTE Axon 30 Pro tendrá una cámara de 200 megapixel
Nos estamos volviendo locos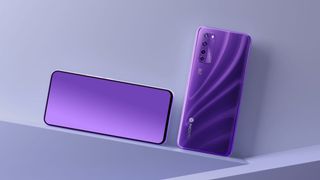 (Image credit: ZTE)
Desde la presentación del chipset Qualcomm Snapdragon 888 en diciembre del año pasado, todas las marcas de teléfonos celulares quieren venderte su burra particular con algo que el resto no tenga. Ahora le ha tocado el turno al ZTE Axon 30 Pro, que tendrá una cámara de 200 megapíxeles. Una locura.
Ni Fei, presidente de ZTE, usó la red social china Weibo para hablar del próximo ZTE Axon 30 Pro y, más concretamente, de su cámara. Confirmó que el próximo teléfono inteligente de la compañía será capaz de tomar fotos con una resolución de 200MP — más de 2,7 mil millones de píxeles.
Además, Fei afirma que será capaz de capturar fotos en escenarios con poca luz de hasta 0,1 lúmenes. Y contará con grabación de vídeo 4K HDR y soporte de color de 10 bits. Lo dicho, una locura total.
El post de Weibo también menciona el uso del procesador de señal de imagen Spectra 580 y el Snapdragon 888. Esto supondrá un cambio muy significativo con respecto al ZTE Axon 20 del pasado mes de septiembre, ya que ese teléfono sólo contaba con el Snapdragon 765G, un procesador de gama media. El Snapdragon 888 es la CPU más potente de Qualcomm.
Otra filtración en Weibo arroja algo más de luz sobre este sensor de 200MP, aunque hay que tener en cuenta que esta información no procede directamente del presidente de la compañía.
El rumor es que el sensor de imagen sea el S5KGND de Samsung. Un sensor que aún no se ha anunciado oficialmente pero cuyas filtraciones coincide con lo que dice Fei.
Los rumores apuntan a que el chip tiene un tamaño de 1/1,37 pulgadas, lo que le permite disparar imágenes de 50 MP a 0,64μm con agrupamiento (binning) de cuatro píxeles e imágenes de 12,5 MP a 1,28μm con grupos de 16 píxeles. No está claro si también será capaz de disparar a la resolución completa de 200MP, ya que eso significaría cambiar a un tamaño de píxel de sólo 0,16μm. Este tamaño sería bastante más pequeño que cualquier teléfono con cámara, lo que implicaría una menor sensibilidad a la luz que haría que este modo sólo fuera posible en condiciones de excelente luminosidad.
Al igual que su predecesor, es probable que el ZTE Axon 30 Pro cuente con una cámara selfie bajo la pantalla. Sería la segunda iteración y habrá que ver si mejora porque el primer intento no fue muy bueno.
También habrá dudas sobre la necesidad de una cámara con resolución tan alta cuando algunos de los mejores celulares siguen utilizando sensores de sólo 12MP con grandes resultados gracias a un tamaño mucho mayor del pixel.
ZTE aún no ha confirmado la fecha de lanzamiento del Axon 30 Pro.
Get daily insight, inspiration and deals in your inbox
Get the hottest deals available in your inbox plus news, reviews, opinion, analysis and more from the TechRadar team.
Aakash is the engine that keeps TechRadar India running, using his experience and ideas to help consumers get to the right products via reviews, buying guides and explainers. Apart from phones, computers and cameras, he is obsessed with electric vehicles.