El nuevo trailer de WandaVision da muchas pistas sobre los misterios de la serie
El resto de la temporada promete mucho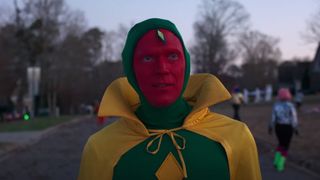 (Image credit: Disney Plus/screengrab)
Disney Plus y Marvel han publicado un trailer de lo que se avecina en el episodio 5 de la fantástica serie WandaVision y más allá. Si quieres llegar a los próximos episodios sin saber nada, te recomendamos que no lo veas, porque da sufientes pistas de lo que puede llegar a pasar.
Por supuesto, no leas más si no quieres ver SPOILERS.
El trailer ofrece pistas sobre dónde va la series que, en sus primeros cuatro episodios, ha creado un misterio en torno a la ciudad de Westview, en Nueva Jersey. Una ciudad que, según los acontecimientos del episodio 4, no existe en la realidad. En un giro al estilo de la icónica serie de terror y ciencia ficción Twilight Zone, la ciudad es un plató de comedias de situación de diferentes épocas, rodeado de un campo de energía que hace que sus habitantes tengan un bloqueo mental que les impide abandonarla.
Su carcelera es Wanda Maximoff, la Bruja Escarlata. Todo el pueblo está aparentemente manipulado por sus poderes de alteración de la realidad. Suponemos que la razón es el dolor de perder a su amor, el androide Visión, a manos de Thanos al final de Avengers: Infinity War.
Pero también es probable que esto no sea lo único que está pasando. Hay pistas de que hay más jugadores en este juego misterioso y, según el siguiente trailer, veremos nuevas piezas muy pronto.
¿Qué pistas da el trailer?
En el trailer probablemente está hecho con trozos de los próximos episodios de WandaVision y no sólo del número cinco. Lo podemos deducir porque hay varios guiños a diferentes épocas del mundo sitcom, incluyendo una breve referencia a The Office, cuando Wanda habla directamente a la cámara en el mismo estilo que falso documental de esa serie. Y, por lo menos hasta ahora, WandaVision ha elegido jugar con un estilo sitcom de una década por episodio (del 1al 3 han cubierto los años 50, 60 y 70).
El trailer también nos muestra que los residentes de Westview son más conscientes de lo que ocurre en esta extraña ciudad de lo que pensábamos en un principio. En un momento dado, Agnes (Kathryn Hahn) le pregunta a Wanda si debería "comenzar desde arriba" (take it from the top), una frase típica del showbusiness. Es decir, que Agnes es consciente de que la realidad de esta sitcom es falsa. Esto es algo que ya se insinuó en el tercer episodio de la serie.
En internet se especula con que Agnes — que es la única de los habitantes del pueblo sin identidad en el mundo real — es en secreto la villana de Marvel Agatha Harkness. En los cómics, Harkness ha actuado tanto como mentora, como enemiga de Wanda. Quizás podría estar involucrada en lo que está sucediendo en la serie.
Visión, por su parte, parece que por fin se da cuenta de que Westview no es lo que parece y se le ve intentando romper la barrera entre Westview y el resto del mundo. Y, al parecer, enfrentándose a Wanda.
Finalmente, el trailer termina con a alguien atravesando la barrera, donde espera el personal de la organización SWORD. ¿Podría ser Wanda, vestida de Bruja Escarlata?
Este viernes (o este mes) lo descubriremos.
Sign up for Black Friday email alerts!
Get the hottest deals available in your inbox plus news, reviews, opinion, analysis and more from the TechRadar team.
Samuel is a PR Manager at game developer Frontier. Formerly TechRadar's Senior Entertainment Editor, he's an expert in Marvel, Star Wars, Netflix shows and general streaming stuff. Before his stint at TechRadar, he spent six years at PC Gamer. Samuel is also the co-host of the popular Back Page podcast, in which he details the trials and tribulations of being a games magazine editor – and attempts to justify his impulsive eBay games buying binges.