Best Nikon lenses 2022: 20 top lenses for Nikon DSLRs
The top lenses available for your Nikon DSLR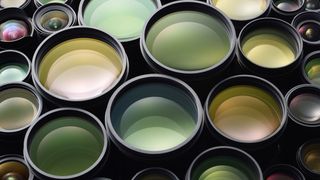 Looking for the best Nikon lenses for your DX or FX format DSLR? You've come to the right place – we've rounded up all of the top lens choices for all kinds of photography, and from all types of manufacturer.
Any DSLR is only as good as the lens that's mounted on it. Buy into a Nikon system and you have a wealth of own-brand optics to choose from, covering everything from ultra-wide-angle zooms to super-telephotos, and pretty much anything else in between. It's only natural to feel the urge to stick with Nikon's own NIKKOR lenses, but that can be missing a trick.
While Nikon's prime and zoom lenses tend to be of very good quality, they're certainly not always the 'best buys'. Over the last few years, independent lens manufacturers like Sigma and Tamron have been steadily raising their game. Many of the latest third-party lenses are brilliantly designed, beautifully engineered and perform every bit as well as Nikon's own offerings. Better still, they typically deliver all this at substantially reduced purchase prices, making them great value for money.
With that in mind, we've rounded up the best buys in all of the most popular categories of lens for Nikon DSLRs. Our new guide is split in two, so we'll kick off with the best optics for DX (APS-C) format DSLRs, then move onto lenses for FX (full-frame) cameras. That said, FX format lenses are sometimes the best options for DX format cameras in certain categories, and we'll explain when that's the case.
We base our purchasing recommendations on rigorous testing of lenses, both in our specialist photo lab as well as in real world testing. Ultimately, the lenses we suggest in this guide are the ones we'd buy for our own Nikon cameras.

Best Nikon lenses for DX format DSLRs in 2022:
Why you can trust TechRadar We spend hours testing every product or service we review, so you can be sure you're buying the best. Find out more about how we test.
Wide-angle zoom: Tamron 10-24mm f/3.5-4.5 Di II VC HLD
A lens that lets you get a broader perspective
Specifications
Maximum aperture:
f/3.5-4.5
Minimum focus distance:
0.24m
Reasons to buy
+
Good image quality and construction
+
Optical stabilizer
Reasons to avoid
-
Pricier than some competitors
-
Electromagnetic compatibility
This 'VC HLD' lens includes optical stabilization alongside a new autofocus system which is quick and quiet. Handling is great, while the high-quality build includes weather sealing and a fluorine coating for the front element. Image quality is beautifully sharp, while contrast is high. Distortions are kept under control, while there's also fairly minimal color fringing.
Great-value option: Sigma 10-20mm f/3.5 EX DC HSM
For about the same cash outlay as Nikon's budget AF-P DX 10-20mm f/4.5-5.6G VR lens, this Sigma is a more refined option. It's got better build quality and delivers greater image quality, but on the downside, lacks stabilization - something which is not too problematic at this focal length.

Wide-angle prime: Samyang 10mm f/2.8 ED AS NCS CS
A wide angle prime that stands alone in the market
Specifications
Minimum focus distance:
0.24m
Reasons to buy
+
Good build quality
+
Fast aperture rating
Reasons to avoid
-
No autofocus
-
No optical stabilization
When you're pretty much reliant on autofocus, stepping back to manual focus can feel like going backwards. However, lenses like this which promise a huge depth of field thanks to a short focal length make accurate focusing less of a critical issue. To help you out, you also get a handy distance scale to try traditional focus methods for landscape and street photography - you can try setting the hyperfocal distance and 'zone focusing'. There's also high-quality glass which helps ensure the best possible image quality, with minimal ghosting and flare.
Great-value option: N/A
Wide-angle prime lenses for DX format cameras are practically non-existent. That means that the Samyang 10mm is not only the best choice, it's also the best value.

Standard zoom: Nikon AF-S DX 16-80mm f/2.8-4E ED VR
Need a step up from the standard kit lens? This is it
Specifications
Maximum aperture:
f/2.8-4
Minimum focus distance:
0.35m
Reasons to buy
+
Pro-grade build quality
+
High-quality glass
Reasons to avoid
-
Image quality could be better
-
Relatively expensive
Typically bundled with higher-end cameras, such as the Nikon D500, this is the best DX format standard zoom lens. It's a great walkaround option with a flexible range and a wide maximum aperture that sees it well suited to a lot of different subjects. It's also beautifully built, with no less than four ED (Extra-low Dispersion) elements, plus nano-structure coatings along with fluorine coatings on the front and rear elements. Focusing is swift and accurate thanks to ring-type ultrasonic autofocusing, while the VR (Vibration Reduction) stabilization system is very effective. Sharpness drops off a little at the long end of the zoom range, while you can see some barrel distortion at the short end of the lens, but otherwise it's a great option.
Great-value option: Sigma 17-70mm f/2.8-4 DC Macro OS HSM | C
Relatively compact and lightweight, this Sigma has a variable yet fairly fast aperture rating and delivers impressive image quality, all at a bargain price.

Standard prime: Tamron SP 35mm f/1.8 Di VC USD
It's a cracking prime lens with the bonus of stabilization
Specifications
Minimum focus distance:
0.2m
Reasons to buy
+
Excellent build and image quality
+
Great handling characteristics
Reasons to avoid
-
Heavy for this class of lens
-
Nikon 35mm f/1.8 cheaper
Take into account the 1.5x multiplier (or 'crop factor') of Nikon's APS-C models and with this lens you get an effective focal length of 52.5mm, which makes it pretty much perfect as a standard prime. This lens is also FX (full-frame) compatible, so should you find you upgrade later down the line, you can use it as a wide-angle prime, without being limited only to 'crop mode'. As for usability and image quality, you've got fast ultrasonic autofocusing system, plus a Tamron's VC optical stabilization system which is highly effective.
Great-value option: Nikon AF-S DX 35mm f/1.8G
It's less expensive to buy than the Tamron, matches it for aperture rating and delivers very pleasing image quality, but it's not as well built and lacks stabilization.

Superzoom: Nikon AF-S DX 18-200mm f/3.5-5.6G ED VR II
Don't like swapping lenses on your camera? This one does almost everything
Specifications
Maximum aperture:
f/3.5-5.6
Minimum focus distance:
0.5m
Reasons to buy
+
Impressive image quality
+
Refined build and handling
Reasons to avoid
-
Relatively limited zoom range
-
Pricey for an 18-200mm
The main attraction of a superzoom lens is that it covers everything from wide-angle coverage to serious telephoto reach, without the need to swap the lens on your camera. You therefore don't have to carry additional lenses, and neatly avoid the worry of muck getting into your camera when changing lenses in dusty environments.
When it comes to superzoom range, more might seem merrier. Indeed, Nikon, Sigma and Tamron all make 18-300mm lenses, while Tamron also markets 16-300mm and 18-400mm superzooms. By comparison, the Nikon 18-200mm has a relatively limited overall range, equivalent to 27-300mm in full-frame terms. However, that should prove plenty for most shooting scenarios, and there are some serious plus points.
Compared with Sigma and Tamron superzooms, the Nikon has a more up-market ring-type ultrasonic autofocus system. This comes complete with the usual full-time manual override, and a focus distance scale mounted beneath a viewing panel. Quality glass includes three ED (Extra-low Dispersion) elements and there's a second-generation VR system which has switchable Normal and Active modes. The first of these includes automatic panning detection, while the second counteracts increased physical vibrations.
In our tests, sharpness proved better than in either of Nikon's 18-300mm superzooms and overall image quality is particularly good for a superzoom lens. There's always some compromise in image quality as you push the envelope in terms of zoom range but this lens strikes an excellent balance. All in all, it's our favorite superzoom on the market.

Portrait prime: Sigma 50mm f/1.4 DG HSM | AR II
This FX compatible fast prime makes a perfect portrait lens on DX format cameras
Specifications
Minimum focus distance:
0.4m
Reasons to buy
+
Fabulous image quality
+
Fast and accurate autofocus
Reasons to avoid
-
Fairly big and heavy
-
No weather-seals
In full-frame photography, a lens with an 85mm focal length and a fast aperture of around f/1.4 to f/1.8 is generally regarded as ideal for portraiture. It enables a comfortable working distance so you're not crowding your subject, but you'll still feel close enough to be engaged and to offer direction. Applying the 1.5x crop factor of DX format cameras, this lens has practically perfect effective focal length of 75mm. Meanwhile, the wide aperture rating of f/1.4 enables a tight depth of field, so you can blur fussy backgrounds when needed, to make the subject of the portrait really stand out.
On a tight budget, the Nikon AF-S 50mm f/1.8 is a good option, and the AF-S 50mm f/1.4 is nicely compact and lightweight for a 'faster' lens. For sheer image quality, though, neither of the Nikon lenses can match this Sigma 50mm 'Art' optic, which delivers supreme sharpness along with beautiful bokeh (the pictorial quality of defocused areas in images).
Compared with the Nikon lenses, the Sigma has a much more complex optical path, based on 13 elements in total and including both an aspherical element and three SLD (Special Low Dispersion) elements. Autofocus is particularly speedy, based on a ring-type ultrasonic system that enables full-time manual override. The only real minus points of the lens are that it's big and heavy for a 50mm prime and, unlike most of Sigma's more recent 'Art' lenses, it lacks weather seals.

Macro prime: Tamron SP 90mm f/2.8 Di VC USD Macro
A full-frame lens that performs just as well on DX bodies
Specifications
Minimum focus distance:
0.3m
Reasons to buy
+
Hybrid optical stabilization
+
Top-grade construction
Reasons to avoid
-
Pricier than some competing lenses
-
No lens pouch or soft case supplied
This 90mm macro lens provides a number of excellent specifications, including high-grade glass, nano-structure coating and high-quality weather sealing and fluorine coatings. The autofocus system has been optimized for close-up shooting, while the 'hybrid' optical stabilizer counteracts for axial shift (up-down or side-to-side movement) as well as the usual angular vibration (wobble). All that means that this is the best lens in its class for consistently sharp close-ups - you'll want to use a tripod though.
Great-value option: Sigma 105mm f/2.8 EX DG OS HSM Macro
It lacks the Tamron's hybrid stabilization system and weather seals, but offers refined handling and delivers superb image quality.

Budget telephoto zoom: Tamron SP 70-300mm f/4-5.6 Di VC USD
Another Tamron delivering well for the money
Specifications
Maximum aperture:
f/4-5.6
Minimum focus distance:
1.5m
Reasons to buy
+
Effective optical stabilizer
+
Good build quality
Reasons to avoid
-
Typically 'slow' aperture rating
-
Drop in sharpness at long end
This Tamron option offers better build quality than Nikon's own DX format 70-200mm lens, while being much cheaper than Nikon's FX format 70-300mm lens - it hits the sweet spot. Here, the ring-type ultrasonic autofocus system is fast and quiet, while sharpness and contrast are well rendered throughout the zoom range. Sharpness is a little softer at the full reach of the lens, but Tamron's own optical stabilization system works well to keep your handheld shots free of blur.
Great-value option: Nikon AF-S DX 55-200mm f/4-5.6G ED VR II
This DX format lens is significantly cheaper to buy than the FX format Tamron, and, while it doesn't offer as much telephoto reach, its retractable design makes it remarkably compact for stowing away.

Fast telephoto zoom: Nikon AF-S 70-200mm f/4G ED VR
For DX format, go for a slower maximum aperture for better balance
Specifications
Minimum focus distance:
1m
Reasons to buy
+
Fabulous image quality
+
Easy handheld shooting
Reasons to avoid
-
Slower than competing f/2.8 lenses
-
No tripod collar supplied
This is a lens that makes a heck of a lot of sense with DX format cameras. Try pairing a 70-200mm f/2.8 lens with even something like the Nikon D7500 and you'll end up with something bulky and unbalanced. By contrast, the 70-200mm f/4 option is about half the weight (and half the price) for much more comfortable shooting. This is still an FX format lens, so you'll be able to use it on either kind of body, which is good news for potential upgraders. Image quality is stunning, with excellent sharpness helped along by very effective stabilization.
Great-value option: Sigma 70-200mm f/2.8 EX DG OS HSM
A great bargain buy, the Sigma has the faster, often favored f/2.8 aperture rating and is a very good performer, although it lacks weather seals.